Photo Ops
Julian Wasser stood witness to 50 years of Hollywood—lucky for us, he brought his camera.
---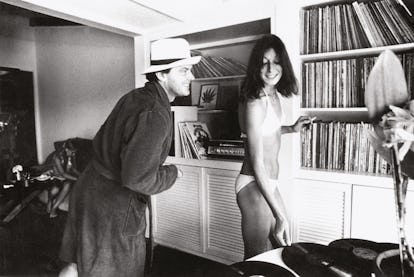 The Sunset Strip, 1964: Julian Wasser, a young photographer on assignment for Life magazine, brings Zubin Mehta, the director of the Los Angeles Philharmonic, to the Whisky à Go-Go, a brand-new nightclub. "I thought he'd get a kick out of it," Wasser said recently, flipping through a box of old prints in his apartment in West L.A. "He hated it: 'Ach, my ears.' " Wasser, on the other hand, was the proverbial pig in mud. Everywhere he looked there were stars, unguarded and un-self-conscious, enjoying a golden moment in a golden town. Wasser snapped a picture of the actress Jayne Mansfield in a tight spaghetti-strap dress doing the Jerk with a civilian in a blazer. "His father was a billionaire who owned cemeteries in Florida," Wasser confided. The photograph is featured in The Way We Were: The Photography of Julian Wasser (Damiani), a collection of Wasser's Hollywood candids, which just came out. Three years after the picture was taken, Mansfield was killed in a car accident in Louisiana. Wasser still sees the cemetery heir in the lobbies of five-star Paris hotels during Fashion Week.
Wasser won't disclose his age: "I'm like an actress," he says. He arrived in Los Angeles from Washington, D.C., in the early '60s and became the Cartier-Bresson of La-La Land. "This town was like a dream, the end of the rainbow. Everything was dirt cheap. I used to go for Time to East L.A. to photograph all the worst houses. The editor would say, 'That house on frame 6, get me a five-year lease.' It was a paradise here."
One of the first pictures Wasser took was of the actor Gregory Peck and his wife, Veronique Passani, underneath a black umbrella on Santa Monica Boulevard, a sighting as rare as the rain. (Peck is smiling, genial, and surprised; his wife, a journalist who met Peck on the job, looks wary.) "I was always just walking around Beverly Hills, shooting," Wasser says. "Garry Winogrand, Lee Friedlander, Diane Arbus—they all started that way in New York, on the street. The paparazzi lay in wait, with telephoto lenses; street photographers shoot anybody, anything that looks interesting. They don't have plans to sell."
With a press pass, Wasser had access to studio lots and film sets; he got his shots and then some. In a trailer at ABC, he captured Farrah Fawcett during her Charlie's Angels heyday, writing in her journal, drinking a can of sugar-free soda. "That girl was never startled," he says. "She was startling. It was her lunch hour. She was pissed. She was on the hottest show in the world, and she had to give up her lunch hour to do PR." He found John Travolta learning his moves for Saturday Night Fever from the choreographer Deney Terrio at a rehearsal space on Doheny Drive. He was there, on the lot of Samuel Goldwyn Studio, to witness an exchange between Martin Scorsese and George Lucas, two of the most powerful filmmakers in Hollywood at the time.
Wasser's style was to be as unassuming as possible. "I was an actor, I dressed for the occasion," he explains. (The one exception: when he provocatively shot hippies during the Summer of Love in Panhandle Park wearing a custom-made English suit.) Like the print journalists of his generation, he practiced a fly-on-the-wall technique; poses, he felt, were for phonies.
Working for the German magazine Stern, Wasser photographed Jack Nicholson in his bathrobe smiling wolfishly at Anjelica Huston—cigarette in one hand, record in another, tiny white bikini, pool hair—at his house on Mulholland Drive. "The beauty of Nicholson was his carefree demeanor and his youth," Wasser recalls. "He's a superstar now, and these days you don't get near superstars." But Wasser was never one to overstep. "There were a lot of sycophantic photographers," he says. "I wanted to be a real journalist. I was not going to be their pal, and I was very suspicious of those who were. I was just trying to shoot what was. Recording it for history. I wanted to make it a very accurate record."
Wasser's first real camera was a Contax, which his father gave him when he was a junior in high school in the 1950s. He got himself a scanning radio and tuned in to the frequency used by the police. The first pictures he sold, while still a student at Sidwell Friends, a private Quaker school in Washington, D.C., were of crime scenes. "Crime's exciting, and it sells," he says. He got a gig at the Associated Press and met Arthur Fellig, the legendary photographer known as Weegee. "He came in plugging some film," Wasser continues. "He was my hero." From Weegee, he learned to use a Speed Graphic. "He was this real gruff, tough, down-to-earth guy, the epitome of a hard-nosed photographer, a street guy on the level of the cops he worked with. He used to beat them to the crime scene."
That sensibility—an instinct for drama and the decisive moment, the dab of beauty with a smear of grit—put Wasser in the way of news. He was at the Ambassador Hotel the night Robert F. Kennedy was assassinated, and was with the crowd watching as Richard Ramirez, the infamous Night Stalker, was taken into custody by police. In 1969, three days after the actress Sharon Tate was murdered, Wasser, on assignment from Life, went to the crime scene on Cielo Drive with Tate's husband, Roman Polanski, a pair of detectives, and a celebrity psychic searching for vibrational clues. (The Manson family hadn't yet been named as suspects.) Wasser took a picture of Polanski, crouched and grim-faced beside a door smudged with fingerprint dust, where the word pig had been written in Tate's blood. "I felt so bad for Polanski and for being there photographing it," Wasser remembers. "He was just shattered." The psychic, meanwhile, stole Wasser's Polaroids and sold them to the tabs. Later, during the case brought against Polanski for having sex with a minor at Nicholson's house on Mulholland, Wasser photographed the judge.
Marcel Duchamp's favorite picture, according to Wasser, was the one Wasser took of the aging artist playing chess with the writer Eve Babitz. Duchamp is wearing a suit and spectacles. Babitz, full–figured and all of 20, is nude. "Big tits get 'em every time," Wasser says. He gave the picture to Duchamp—"Just for you"—and it is now in the collection of the Philadelphia Museum of Art. "Eve—you know what happened to her?" Wasser asks. "She was a very trendy girl. She was smoking a cigar in her car when it caught her skirt on fire. It burned off her skin."
Time is more ravishing in a place constructed to defy it. Wasser has worked as many funerals as red carpets. Guess which he prefers? "I hate red carpets," he says. "So degrading. Especially if you're there in a paparazzi row, and you see someone you once photographed, and they say, 'What are you doing here?' I say, 'I don't know.' " The dazzle of the Sunset Strip—the only lively place in town—was as white-hot and sulfurous as a sparkler, and as brief. Wasser made the most of it. He shot the lines outside the clubs and the green-room scenes inside, the producers, the promoters, the out-of-town acts and their groupies. "They were very shrewd girls, not a bunch of bimbos," Wasser says. "All the girls I thought were real sleazy became high-powered executives or married great guys."
Backstage at the Whisky one night in 1976, he overheard the record producer Phil Spector tell Debbie Harry—already a star—"Honey, there's no room for chicks in rock 'n' roll." A moment later, Wasser snapped a grinning Harry next to Spector, who was wearing a three-piece suit with a blingy cross hung from a chain, arms outspread and head cocked like Christ. David Bowie, Iggy Pop, the New York Dolls. Joan Jett and Chrissie Hynde having a beer before a show, cute and young, leathers undone.
When the glitter faded, the characters retreated. The famous ones put on their dark glasses and installed gates and security cameras at home. The others eat in diners now, and no one knows or cares who they once were. At his apartment, Wasser picked up a picture from the box: a goofy-looking guy in 12-inch silver platform boots, fishnets, fringed shorts, a crop top, and a fur jacket, with a banner from the British glam-rock band Sweet across his chest like a prom queen. An L.A. It boy, circa 1974. And now? "He became a counselor for Eskimos with AIDS," Wasser said. "Living here, it's an endless stream of stories like that. When you come from a normal place, you just become aghast at what you hear in this town."
The Photography of Julian Wasser
Jack Nicholson and Anjelica Huston, at Nicholson's house on Mulholland Drive, Los Angeles, 1971. Photograph courtesy of Damiani Editore.
Joan Didion with her yellow Corvette Stingray, L.A., 1970. Photograph courtesy of Damiani Editore.
Roman Polanski, Los Angeles, 1969. Photograph courtesy of Damiani Editore.
Jayne Mansfield at the Whisky à Go-Go, 1964. Photograph courtesy of Damiani Editore.
Steve McQueen on the set of Love With the Proper Stranger, 1963. Photograph courtesy of Damiani Editore.
Hugh Hefner and pals, L.A., circa 1974. Photograph courtesy of Damiani Editore.
Barbra Streisand at the Oscars, 1968. Photograph courtesy of Damiani Editore.
John Travolta rehearsing for Saturday Night Fever, 1977. Photograph courtesy of Damiani Editore.
Donna Summer, 1975. Photograph courtesy of Damiani Editore.
Eve Babitz and Marcel Duchamp, Pasadena, 1963. Photograph courtesy of Damiani Editore.
Jodie Foster in her mother's house, L.A., 1972. Photograph courtesy of Damiani Editore.
Joan Jett and Chrissie Hynde, 1981. Photograph courtesy of Damiani Editore.
George Lucas and Martin Scorsese, 1977. Photograph courtesy of Damiani Editore.
Farrah Fawcett on the set of Charlie's Angels, 1976. Photograph courtesy of Damiani Editore.
Andy Warhol, Billy Al Bengston, and Dennis Hopper at the opening of Marcel Duchamp's retrospective at the Pasadena Art Museum, 1963. Photograph courtesy of Damiani Editore.