Julian Woodhouse, Breakout Designer and Army Officer, Isn't Afraid of a Little Makeup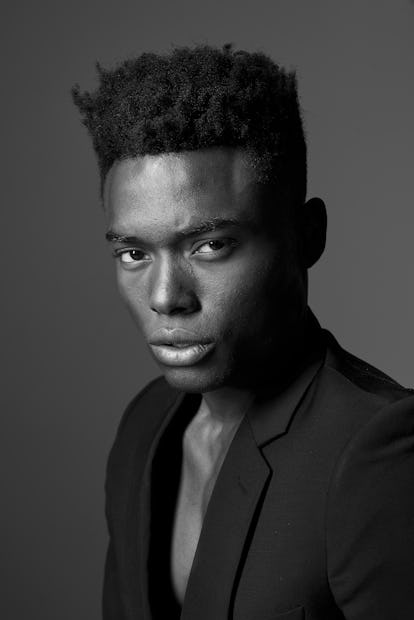 At 26, Julian Woodhouse has already worked as a model and stylist, but that hasn't stopped the current Army officer from adding another profession to his resume: menswear designer! Last week, he went on leave to officially debut his label Wood House during New York Fashion Week: Men's – and he effectively stole the show at the week's inaugural New York Men's Day showcase. Before heading back to his station in South Korea, where he lives with his husband (and fellow impressively chiseled male model) Kirill Kabachenko, Woodhouse took a break to talk wearing makeup and Hawaiian shirts, plus voguing in Seoul.
How do you define your personal style: It changes all the time. I love wearing coats and jackets that have a lot of character and colors, and I'm sometimes lucky enough to also find what I like with an interesting texture. In the summertime, I love wearing a lot of colors and clashing prints. To me, the silhouette is the most important; I look at it like coloring within the lines. If the lines are all in place, you can fill it with any color.
What is your off-duty uniform: My favorite vintage Hawaiian short-sleeved button-down shirt and Hawaiian shorts with a somewhat clashing print. I love it because I can throw it on and be comfortable all day.
What are your favorite stores in South Korea: ALAND and Beaker. Both have a great price point and normally have new styles from up-and-coming designers.
Who are your style icons: André Leon Talley in the fall and winter and Pharrell in the summer. I feel the two summarize how I feel and react to clothing in season.
Who are your design inspirations: J.W. Anderson is always a constant inspiration as well as Kaal E. Suktae.
Name your best recent discovery: Pokémon Go. But on a serious note, I grew up in a lot of places but never visited Beijing. Recently my husband and I had an 18-hour layover there and he showed me a lot of places he used to go to when he was modeling there on contract. The food, nightlife, and sites to see are extraordinary.
What is your style pet peeve: Bad fit. I have a pretty wide spectrum of fashion loves but if something doesn't fit well I don't typically like it.
Name your last purchase: A plain white tee. Since being in Seoul my style has gotten more extravagant and sometimes over the top, but coming back to New York helped me reconnect with the magic of simplicity. After a week of being back in the city, I just went and bought one.
What are you lusting after: Some really stellar sushi.
What is something you always carry with you: Korea has converted me to men wearing makeup. I know that probably sounds ludicrous to guys in the U.S., but a little concealer goes a long way and can literally erase blemishes and uneven skin tone in a heartbeat. So if I'm traveling, my NARS Dark2 is somewhere accessible.
And what is something you would never wear: A backwards baseball cap or high socks. I love my hair not only for the style but also for how the proportions of my face are balanced with it. Wearing a baseball cap backwards forwards or at all really messes with me so I steer clear of them. If I do wear a hat, I wear Brown Hat, made in Korea. I used them for my SS17 show and the guys looked amazing. And high socks are a style I've seen on the runway, but I don't think anything like that will be scooting its way into my wardrobe.
What is the most prized possession in your closet: My Cheap Monday black skinny jeans. Out of every pair I've ripped by dancing a little too hard in Seoul at Cakeshop's vogue party, these have always been right there with me. They may have been repaired about three or four times but when they are on they fit unlike any other pair of jeans I've owned.
What is your accessory of choice: My Stealer sunglasses. They're made in Korea and the quality is phenomenal, and I'm too obsessed with them to leave the house without them. They are lightweight and comfortable. If I'm on the go and I want to people-watch undetected I put them on. Anyone that may have a stock resting bitch face ready to be whipped out needs these.
What is your preferred footwear: Classic menswear shoes like wingtips, two-toned brogues, and monk straps. I think they go with everything and can update a street look or complement something a little more conservative.
What is your summer travel destination: St. John in the Virgin islands. I went there during university for a service/mission trip. We worked hard and spent a lot of time learning about the history of colonization there but after we discovered some ruins or helped archeologists uncover some unseen artifacts we laid out on the beach for at least eight hours a day. I love being near the water because I feel the most spiritually connected. Looking out at something so vast makes you think about life in ways you never imagined you would.
What are you listening to:
The full "Lemonade" album, followed by the entire Frank Ocean "Channel Orange" album, and lastly anything done by Jason Derulo.
What book are you reading right now:
Well when I'm not reading some Operations Order at my job in the Army, I spend time reading The Economist every day as well as research products dealing with theology. I'm fascinated by the creation of religion mostly because of my childhood clashing with adulthood and coming out of the closet. Once I dug into human history in conjunction with God and religion, I discovered so much. I ended up walking away from religion but kept my spiritual connection with God, so anything that talks about the human experience with religion, I'm all ears.
Favorite Instagrams to follow:
Wood House and my own. But once again, all jokes aside, I'm a huge fan of Iris Van Herpen's Instagram as well as Image Amplified.