Five Minutes with Fashion Illustrator Julie Verhoeven
Over the years, London-based Julie Verhoeven (above) has created a universe where art and fashion happily intertwine. Her signature melancholic doll-faced girls and technicolour palette have appeared in endless fashion magazines and books and on...
---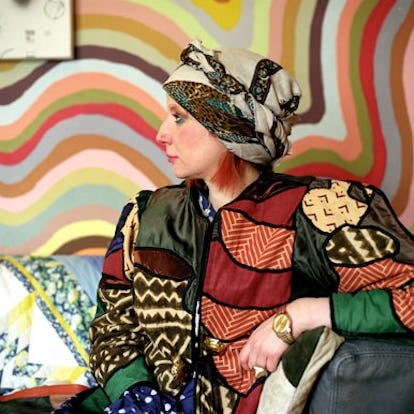 Your illustrations are beloved by the fashion industry and beyond – why do you think they have such resonance with people? I hope they see something of themselves in them. My goal is always to try and get the work to engage with people. It is an easier option than having a one to one! I'm just happy they are recognized, whether they get a positive or negative reaction.
How did you get started as an illustrator, and what keeps you inspired? I started in-house at John Galliano illustrating whatever needed illustrating. This was in the late 80's when he was still based in London. I then moved on to working as a freelancer for a bit, but found the fashion drawing niche to be a very limiting one, so I reverted to design. I have continued to alternate from one to the other my entire career, confusing as it may be. Years passing keeps me inspired. I always expect to be run over by a London bus, so feel I need to work harder to move the work forward and find a new visual language without wanting to sound pretentious. I people-watch and listen and just attempt to absorb, sponge like, as much visual stimuli as possible.
How would you describe your illustrations – and what is your process? That's a difficult one. My drawings are less pretty and fey now. More visceral and crude, but fragile and steely in a way. Just a mush of contradictions. My process is very basic. I have concentrated research days sourcing materials and then intense studio shut-down time. I block out the outside world and just draw to loads of music in hour-long sessions. It's pretty basic really. I think about stuff a lot when I draw too, and respond to the music and lyrics.
What have been some of the most exciting moments of your career? My first museum show, 'Man Enough to be a Woman', at MU in Eindhoven with accompanying book, 'A Bit of Rough', was exciting. Working with Marc Jacobs for Louis Vuitton and Donatella Versace for Versace also. But my all time favorite was designing a limited-edition Sky Box HD [British cable TV] cover and receiving free Sky Plus indefinitely! It's changed my life.
What are some recent or upcoming projects and collaborations? I am presently showing a new large canvas at The Dandies Ball at Ritter Zamet, London. I am doing a beauty product film for Anothermag.com and new installation work for forth-coming art fairs in Rotterdam and Basel. I have a new drawing story in the first issue of PonyStep coming out soon and have a Fairtrade scarf coming out with ASOS. And finally, I'm participating in BirdsEye Film Festival 2011.
What are you most looking forward to in 2011? I am very excited about self re-invention through hair. I have been 'adopted' by Real Hair in Chelsea, London, and now I can have new looks courtesy of John Vial and colorist Hannah. It really is so exciting planning the next reincarnation. They know no bounds.
Who are some of your favorite designers or labels at the moment? I am still currently inspired by a 70/80s vibe… Loving Per Spook, Louis Feraud and Fong Leng at present. I worked for The Daily during London Fashion Week, illustrating several shows, so naturally we attended lots of them. I always look forward especially to Richard Nicoll, Roksanda illincic and Central Saint Martins graduate show.