Juliette Lewis Stars in Acne Studios's '90s-Inspired Campaign
The SS18 Acne Studios collection was reportedly inspired by Lewis's career in the '90s.
---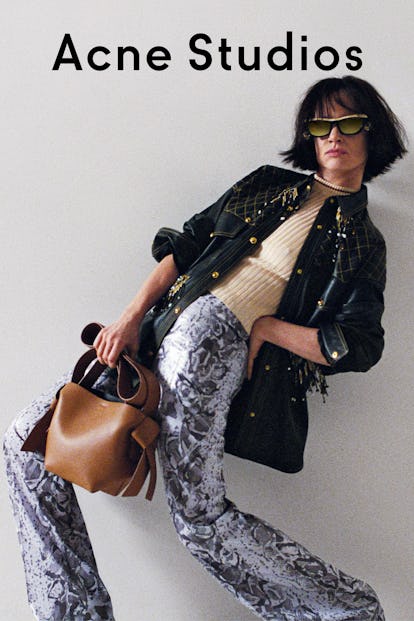 Leave it to none other than '90s screen star Juliette Lewis to keep the spirit of the '90s alive with a vibrant new campaign for Acne Studios.
The brand's new Spring 2018 campaign was shot in London by photographer Talia Chetrit, and includes looks that creative director Jonny Johansson felt were inspired by the women of the '90s, including Lewis. "For SS18 I was thinking about the strong women of 90s cinema," explained Johansson in a press release. "When Juliette Lewis arrived on set and saw the collection, she started to interpret the pieces by creating a character. During the shoot Talia mirrored Juliette, creating this amazing and direct energy."
In the campaign, Lewis poses in everything from snakeskin denim and lizard-print dresses to printed heels that, frankly, seem made for her and the bold, independent image she's built for herself throughout her career. After appearing in Cape Fear, True Romance, Natural Born Killers and From Dusk 'Til Dawn Lewis advanced from being a young ingenue to becoming a badass stalwart of '90s neo noir cinema. (Of course, there's also nothing more '90s than being inspired by a very talented actress who once had a high profile relationship with Brad Pitt and once wore cornrows on the Oscars red carpet.)
The collaboration seems like it came out of nowhere, but actually we should have seen it coming. Lewis recently took over the Instagram account for Acne Studios during Paris Fashion Week, where she hinted at potential future collaborations with the label. And while her band Juliette and the Licks disbanded when she went solo with her own musical endeavors in 2009, Lewis has a few more projects coming down the pipeline. Aside from inspiring Acne Studios, she has been cast in an upcoming Blumhouse-produced horror thriller with Octavia Spencer, and is filming the adaptation of James Frey's controversial book A Million Little Pieces.
Related: At 78, Veruschka Just Stole Resort Season as the Face of Acne Studios