July Release: John Travolta
Actor John Travolta talks about Tom Cruise's tirade against drugs, scientology and his sexuality
---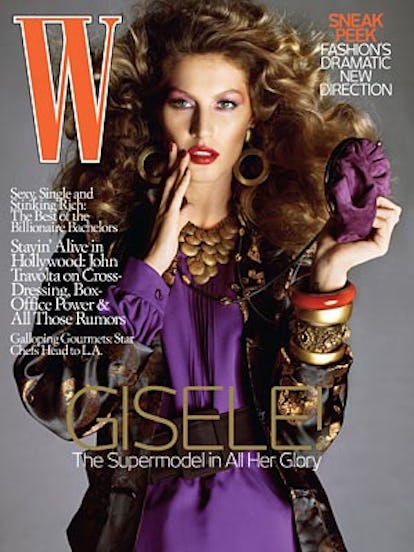 (June 11, 2007, New York, NY) John Travolta tells W magazine what he thinks about Tom Cruise's tirade against psychiatric medication: "I don't disagree with anything Tom says. How would I have presented it? Maybe differently than how he did, but it doesn't matter. I still think that if you analyze most of the school shootings, it is not gun control. It is [psychotropic] drugs at the bottom of it. I don't want to create controversy; I just have an opinion on things, and there is nothing wrong with stating your opinion if you are asked. Everyone wants that right, and because you are famous doesn't mean you have less of a right."
Following are other comments from John Travolta's interview found in the July issue of W:
ON WHETHER RUMORS ABOUT HIS SEXUALITY HAVE AFFECTED HIM AND HIS CAREER…"No and no. What affects your career is the quality of the product. I don't think anyone can hurt me."
ON FLYING HIMSELF DAILY TO CLASSES AT THE SCIENTOLOGY CENTER IN CLEARWATER WHEN IN FLORIDA…"I am on a program that I have designed to help me in whatever area I want to be helped in. Like tonight, I was here for three hours doing a certain thing, and I will do that tomorrow night as well. It gives me a nice reason to fly… [Scientology] has given me stability. It has given me the tools to handle life's issues, stresses and problems."
ON DEMANDING HIS CHARACTER EDNA IN HAIRSPRAY HAVE A TINY WASTE …"I said, 'If you give me a big waist, then I become Grandma. 'You can make her ass as big as you want, her tits as big as you want, but if you don't bring her in I can't play what I want to play…If you have done the biggest musical in history and you wait 27 years to do another one, you get those things."
ON DRAWING A LINE BETWEEN HIS PUBLIC AND PRIVATE LIFE…"I have never felt compelled to share with you my bathroom habits or share with you my bedroom habits. Everyone has a right to privacy, so I have never felt – even though I am famous – that I had to share that with anybody."
ON HOW HIS ROLE AS TONY MANERO IN SATURDAY NIGHT FEVER HELPED DEFINE THE DISCO DECADE…"I think I was the shift, directly or indirectly, from the Sixties to the Seventies. Even though it was not until 1977 that Saturday Night Fever came out, there wasn't an identity to the Seventies until the movie."
ON WHETHER HIS LIFE IS AFFECTED BY HIS FAME…"I will tell you the things that would be the same, fame or no fame. Being up all night would be the same. Liking empty restaurants, liking empty movie theaters – unless I am starring in it."
ON HIS NAME HELPING BOX-OFFICE SALES FOR HAIRSPRAY…"You have to trust that people want to see me be this big fat woman who can sing and dance."
Please credit the July issue of W for the above. For additional information or to schedule an interview with a W editor, please contact Engelman & Co. at 212.645.9222. Thank you.