Justin Bieber Serenaded Hailey Baldwin With "Fast Car" and Still Doesn't Understand the Song
He serenaded the Baldwin daughter with it on the street.
---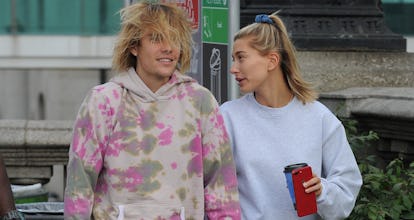 PALACE LEE / Barcroft Media via Getty Images
In case you haven't checked the Internet over the past two months, Justin Bieber and Hailey Baldwin are in love. They are so in love that they took their relationship abroad, to allow people minding their business on the street in London to witness their love. This display even included Bieber serenading his legal wife, whom he has yet to marry in a proper wedding before their family and friends.
As sweet as that sounds, Bieber chose a questionable song when grabbing a guitar and taking a seat at a fountain outside of Buckingham Palace: "Fast Car." It was eyebrow-raising not just because Bieber fumbled through the acoustic rendition, slightly off-key, but also because he and Baldwin don't seem to have any understanding of what the song is about. The 1988 folk song by Tracy Chapman was inspired by "the world that [Chapman] saw when [she] was growing up in Cleveland, Ohio, coming from a working class background," as she explained to BBC in 2010. "I [was] raised by single mom, I was just watching people, being in a community of people who were struggling," she said. "So everyone was really just, one, working hard; two, hoping that things would get better…. I never had a fast car. It's just a story about a couple, how they are trying to make a life together and they face challenges."
Bieber and Baldwin definitely don't face the same financial challenges Chapman did when she was writing the song and drawing from her own experience. Every relationship, of course, has its own issues, though, and theirs is no different. Still, another song—maybe the Rolling Stones' "Play With Fire"—would have been a better fit for their relationship and Bieber's voice.
Nonetheless, Baldwin seemed to be loving Bieber's serenade. She was photographed taking her own footage of the moment on her phone, and the two also had a make-out session that day on the London Eye. As Bieber wrote to Baldwin when the pair announced their engagement, "My heart is COMPLETELY and FULLY YOURS and I will ALWAYS put you first!" His latest serenade, where Bieber made himself vulnerable to criticism like this in the name of love, proves it.