Justin Timberlake and Jessica Biel Waltz in a Tavern in New "Man of the Woods" Music Video
JT wrote the sweet song for his wife.
---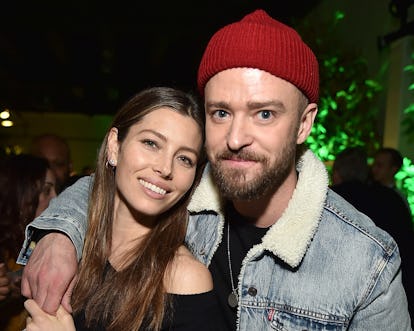 Getty Images
It was only a matter of time until Jessica Biel had to puller duty as a woman of the woods. Yes, the actress appears in Justin Timberlake's music video for his new song "Man of the Woods," released Friday, marking her first-ever appearance in one of her husband's videos. In the video, Timberlake, wearing an appropriately outdoorsy red plaid shirt, distressed jeans, and hiking boots, skips, jumps, and dances through the woods—incidentally, a great way to break an ankle and/or neck—while the camera acts as the eyes of a person following him. Midway through, it's revealed that it's actually Biel who had been following him all around. After the pair take a shot of tequila, they hop in a rowboat before being magically transported to the dance floor inside a rustic tavern. Biel, in a dreamy, backless white dress cinched at the waist with a belt, waltzes around the room with her husband, then, after a brief dance break for JT and an army of woodsy Timber-clones, dances off into a field, arm-in-arm with her husband.
Earlier this week, while going track-by-track through his new album Man of the Woods with Beats 1's Zane Lowe, Timberlake opened up about the romantic inspiration for the titular track. "There are other songs on the album, videos that I feel require a different level of performance, but that one was the first song written for the album that was written specifically about [Biel]," he said of the song, which includes sweet lyrics like, "How do I ever explain what I've got with you? / I try to find the words, but they hide and that's the truth / And nobody ever will understand what we do / There's only one, me and you." Timberlake continued, "There's two love letters on the album. 'Man of the Woods' is my love letter to her, and 'Young Man' is my love letter to my son. And so it just felt like nothing else would do."
The Super Bowl LII halftime performer also spoke about how happy he was to star alongside Biel in the music video for the song. "You hear all these stories about people who work together that are, you know, bonded otherwise, and it was so easy," he said. "I actually hope we get to work together again on more stuff, you know, because having her around, she's such an influence on the album. And so in that song being so special, it just felt like a great moment for us to share. And I just wanted it to be honest."
Related: Justin Timberlake Serenaded Jessica Biel On Their Anniversary, Because Of Course He Did
Jessica Biel's Style Evolution, From Teen Queen to Fashion Risk-Taker
A sexy red carpet look for Jessica Biel in a high cut out satin brown spaghetti strap dress in 2006.

Getty
A sun-kissed Biel on the field at the 2006 Mercedes Benz Polo Match, wearing a floor length powder blue maxi-dress .

Getty
Biel looked elegant in a flowing chiffon peacock gown paired with an emerald green shoulder bag at Gucci's 2006 Fashion Show Benefit.

Getty
Biel opted for a black and white spaghetti strap dress, paired with with nude pumps, at the 2006 Hollywood Life Breakthrough of the Year Awards.

Getty
Biel attended a 2010 premiere showing off ger risqué side in a Giambattista Valli sheer red gown.

Getty
Jessica Biel shines in a gold long-sleeve sequined gown at the 2011 premiere of New Year's Eve in New York City.

Getty
Biel channeled the 70's in an emerald velvet Gucci suit and black Louboutin pumps for the launch of a 2011 Revlon commercial.

Getty
Biel looked relaxed jetting out at LAX airport wearing black ripped jeans, a black tank, and white sneakers, paired with gold jewelry.

Getty
Biel was all legs and bangs in a tight leather Zeynep Arcay dress at the 2016 New Orleans Film Festival.

Getty
Biel keeps it casual while shopping in California, in an all grey cutout onesie paired with snakeskin sandals.

Getty
Jessica Biel attended 2016 Critics Choice awards in a plunging turquoise and black Ellie Saab confection.

Getty
Spotted January 2017, Biel arrived at Jimmy Kimmel Live un a Max Mara camel trench.

Getty
Biel looks poised in Ellie Saab at The Book of Love premiere in January 2017.

Getty
Biel worked the red carpet in a Kaufmanandfranco floor length gown and Tiffany and Co necklace at the 2017 Oscars.

Getty
And later the evening, the actress changed into a custom Ralph Lauren gown for the 2017 Vanity Fair Oscar's after party.

Getty