Justin Timberlake Serenaded Jessica Biel On Their Anniversary, Because Of Course He Did
And it was all posted on Instagram.
---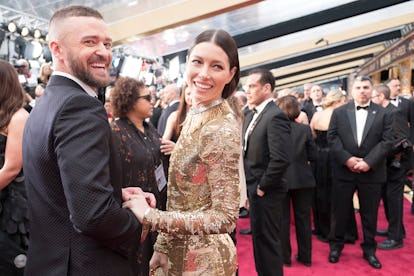 Adam Rose/Getty Images
Justin Timberlake is a Grammy-winning, Oscar-nominated musician who is known for some particularly catchy pop songs and impressive dance moves. So when the boy-band veteran wants to make a musical romantic gesture, he really needs to bring his A-game. And unsurprisingly, he did just that with his latest love letter to wife Jessica Biel in honor of their anniversary.
The couple celebrated their fifth wedding anniversary on Thursday, and in celebration of the occasion, Timberlake posted a video of him performing a cover of Donny Hathaway's "A Song For You," which played as they had their first dance as husband and wife. Timberlake could have let the song stand on its own, but he paired it with a sweet note to his bride.
Meditating on the day he became "the luckiest man in the world when I exchanged vows with my best friend," Timberlake wrote, "To my beautiful Jessica Biel: You have taught me so much about what a true love means. I can't put into words what these last five years have meant to me, so . . . 'Listen to the melody 'cause my love is in there hiding . . .'"
Biel was obviously impressed by his gesture. She posted the video on her Instagram, captioning the post, "My tender heart is yours, now until forever."
The power couple have been together for ten years now, and the pair are no stranger to the public display of social media affection, often sharing public declarations of love, goofy awards show photos, and of course, their 2-year-old son, Silas, who's so grown up now he's even sporting a man bun.. The trio have some big Instagram shoes to follow in the coming weeks, in fact, with the impending Halloween holiday; last year, the couple shared images of themselves and Silas dressed up as characters from the Trolls movie, which Timberlake voiced a character for. This year the multi-hyphenate is promoting his new Woody Allen film Wonder Wheel, so it will be interesting to see if that one makes it to trick-or-treating.
Related: From Justin Timberlake to Harry Styles: Why Fashion In Music Videos Is So Important For Boy Band Members Going Solo