Justin Timberlake and Jessica Biel Introduce Their New Baby Phineas
Biel's pregnancy was a complete secret.
---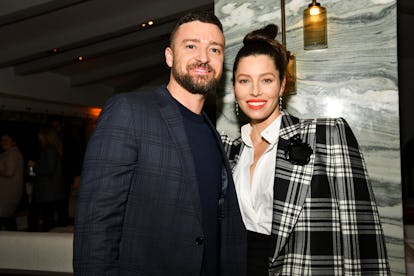 Photo by Rodin Eckenroth/Getty Images
Say hello to Phineas Timberlake! Justin Timberlake and Jessica Biel shared the happy news about the newest member of their family on The Ellen DeGeneres Show, despite no previous reports that the couple was even expecting. A whole entire pregnancy? That's quite a secret to keep quiet, but it's easier when we're all stuck inside.
"You're a dad again," announced DeGeneres, as Timberlake appeared on the show virtually. The crowd went wild, and the two talked about how DeGeneres was one of the first to know about Biel's pregnancy outside of their family. "I think we were FaceTiming," DeGeneres recalled, "and you said 'Hey, you wanna know a secret?' And Jessica walked by and you put your hand on her stomach and was 'We're having another baby!'"
Timberlake gushed about his new little man of the woods. "His name is Phineas," he said, "and he's awesome, and he's so cute, and nobody's sleeping," which every parent of a new baby knows all too well. But he said their family is "thrilled" and "very grateful," said that older brother Silas, 5, is "super excited" to have a new sibling.
He didn't reveal when Phineas was born, but judging by this look of sleep deprivation in Timberlake's eyes, it must have been fairly recent. He also said that Phineas "can't walk yet or chase [Silas] down yet," so he's probably still an adorable infant.
The couple joins the likes of Mindy Kaling, Amanda Seyfried, Constance Wu, and Rooney Mara as celebs who have managed to keep new additions to their family under wraps until after birth in the past year.
Meanwhile, Timberlake is starring in the new indie film Palmer, which is coming to Apple+ on January 29. He plays the titular character Eddie Palmer, a former football star who was released from prison and struggles to re-enter society. It's total awards-season fodder, so expect to see his name in drama categories.
Related: Justin Timberlake and Jessica Biel Waltz in a Tavern in New "Man of the Woods" Music Video