Justin Timberlake Might Have a New Album on the Way With an Interesting Title
Timberlake is feeling nature.
---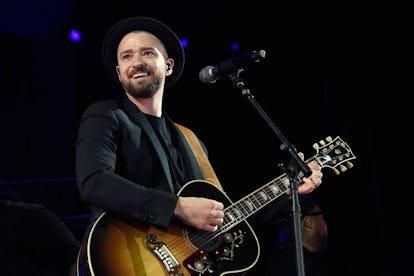 Kevin Mazur/Getty Images
It's been 14 years since "Nipplegate", when Justin Timberlake exposed Janet Jackson's breast on the Super Bowl stage on national television. Time does heal all wounds it seem; the Super Bowl Gods have forgiven the incident—lest we forget, conservative America was scarred. Timberlake begged for forgiveness, reconstructing his public image, so despite the controversy—and the fact that he has yet to release his new record—as we know, the singer will be taking the stage as the headliner in about two months at Super Bowl LII, the 52nd Super Bowl in Minneapolis.
It's been speculated that his new album, the follow-up to The 20/20 Experience — 2 of 2, will be released close to that time. And now, comes more news. As TMZ reports, the "Can't Stop the Feeling!" singer has recently trademarked "Man of the Woods"—presumably the name of the new LP—and "Fresh Leaves", perhaps the title of first single.
The evidence is compelling: "Man of the Woods" is aimed to be utilized for an array of uses—CDs and downloadable music to performances and tours, while "Fresh Leaves" would be primarily trademarked for clothing.
Woods? Leaves? Is it as obvious as it seems: An ode to a natural, more simple life? Well, Timberlake himself has said that this time around, he's been more influenced by his home state of Tennessee than ever.
"I think where I grew up in American has a lot of influence," Timberlake told Carson Daly on a morning radio show about the project in 2016. "Growing up in Tennessee, very central of the country, Memphis is known as the birthplace of rock & roll, but also the home of the blues, but Nashville's right down the street so there's a lot of country music."
Then, earlier this year, he told The Hollywood Reporter: "It sounds more like where I've come from than any other music I've ever made. It's Memphis. It's Southern American music. But I want to make it sound modern, at least that's the idea right now."
It's unclear the direction Timberlake is taking exactly, but "Man of the Woods" certainly brings to mind a certain "wildness", quite frankly the opposite of his squeaky clean persona.
Related: Justin Timberlake Serenaded Jessica Biel On Their Anniversary, Because Of Course He Did