The Son Also Rises
Can Justin Trudeau live up to Canada's most enduring political legacy?
---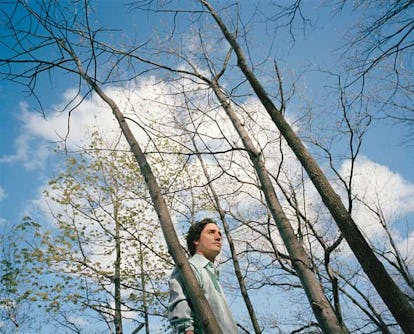 Born on Christmas Day, 1971, nine months after his debonair dad, Pierre Trudeau, the prime minister of Canada, surprised the nation by secretly marrying a 22-year-old flower child 29 years his junior, Justin Trudeau has lived much of his life in his father's shadow. He spent his childhood in the prime minister's residence, had an audience with the Pope when he was eight and laid eyes on his first dead body—that of Leonid Brezhnev—when he was 10. But in 2000, at age 28, he rose to national prominence in his own right when he delivered the eulogy at his father's funeral before such honorary pallbearers as Jimmy Carter, Fidel Castro and Leonard Cohen. "Friends, Romans, countrymen," he began, his stirring oratory instantly igniting speculation that he would follow his father into politics.
And he has. While Canadians prefer understatement and scorn comparisons to their neighbor to the south, they are apt to compare the Trudeaus to the Kennedys—as close as it gets to Canadian royalty. Last year, when Justin won his party's nomination to run for a seat in the House of Commons, 40 percent of Canadians polled said they'd like to see him as the next leader of the Liberal Party—even though he has yet to hold office. Now 36, he's a rising political star and likely to become a member of Parliament when he runs in the next federal election, which is expected to take place in the coming months. Few doubt that he'll make a bid at some point for the leadership of the Liberals—the party his father dominated for 16 years and, for now, the opposition.
To the party faithful in search of the lost Trudeau magic, Justin is the future, the one who can draw a younger generation into the political fold, much as Barack Obama has done. To his detractors he's an inexperienced lightweight simply leveraging his father's fame.
No one knows this better than Justin. "There were a lot of people who were really worried that I was going to come in as some sort of dauphin or enfant terrible with an expectation that this party's mine and it owes me," he says over lunch at an Indian restaurant­—one of several stops during a day of campaigning this past May in his district of Papineau, a multiethnic neighborhood in Montreal, where he's greeted with smiles and recollections of his father everywhere he goes. "I had to allay those fears."
Handsome and boyish, his dark curls flopping into his blue eyes, he's dressed in tidy jeans and a navy blazer. With his mother's good looks and warmth and his father's élan and idealism, he has an ease and buoyancy about him that makes it hard not to like him. "For all my history, I'm a political neophyte," he says. "The actual mechanisms of politics are something that I've stayed away from all my life, deliberately."
After studying English literature at McGill University, Trudeau became a schoolteacher and later earned a master's degree in environmental geography. A regular feature in local society pages, he chaired a national youth service program for four years and has also spoken out on winter-sports safety after his brother Michel, the youngest of the Trudeaus' three sons, was killed while skiing in 1998 when an avalanche sent him into an icy lake in British Columbia. Increasingly, Justin felt that to effect change, he had to enter the fray, not "wait until I'm 50 and have the gravitas and all that stuff." He decided to run after heading up the Liberal Party's commission on youth, crisscrossing the country in 2006 on a kind of listening tour meant to redress the political apathy of young Canadians. "For me, it was a way of serving that was my own," he says. "It wasn't helping with my father's legacy."
That legacy is a lot to live up to. Known for his fierce intellect, Pierre Trudeau captivated the world with his flamboyance, liberalism and swinging bachelor life. Educated at Harvard, the Sorbonne and the London School of Economics, he was swept to power in 1968 on a wave of Trudeaumania, so-called because packs of women chased him down the street. He drove sports cars, dated Barbra Streisand and welcomed John Lennon and Yoko Ono to the House of Commons during their world-peace tour in 1969. It was the half-Anglo, half–French Canadian Trudeau who made the nation officially bilingual and introduced a charter that expanded individual freedoms. He opposed the Vietnam War and encouraged economic relations with Castro's Cuba and peace with the Soviet Union, much to the ire of Ronald Reagan.
Though hailed as a man of the people, Pierre was private and reserved. "My father sort of forced himself to connect with people, whereas I think I'm naturally more gregarious," says Justin. "I draw that from my mom—an ability to have an impact without intimidating people."
Pierre and Margaret Trudeau with sons Justin (at left) and Alexandre at an official ceremony in Ottawa, 1976.
He had a close relationship with his father, especially after his parents separated when Justin was five and Pierre gained custody of the boys. The Trudeau marriage was storied, then stormy; its dissolution played out in the headlines. Before Diana Spencer, there was Margaret Trudeau, a former Cabinet minister's daughter who appeared in a see-through T-shirt in Cuba and partied with the Rolling Stones. She was, as The Washington Post called her at the time, "the youngest, most rebellious and most antic first lady in history," one who admitted to an affair with a U.S. senator (widely thought to have been Ted Kennedy) while still married to Canada's prime minister. In 1979, as her estranged husband campaigned for re-election, excerpts of her tell-all memoir were splashed across Canadian newspapers. The night he lost, she was photographed dancing at Studio 54. (He won re-election the following year.)
For Justin and his brothers, their mother's absences proved "traumatic," says Justin's wife, Sophie Grégoire-Trudeau, noting that it was many years later that Margaret was diagnosed with bi-polar disorder. Justin recalls that his mother "had a really tough go of it" as first lady and that in conversations with her, "I realized that my father had two priorities: this country and his children. His wife didn't really fit into that the way I know she would have wanted."
Still, Pierre shielded his sons from the media frenzy and, despite being a head of state, was a hands-on single father who arrived home promptly at 6:30 each night to swim with his sons, help them with their homework and tuck them into bed. Only then would he get back to his dossiers. "It's only much later that I realized the maneuvering involved in organizing his schedule so there would be that time," says his son. As a father, Pierre was "attentive, demanding and strict!" recalls friend Edward Johnson, his executive assistant in those years. "We talked theories, great principles," says Justin. "I wasn't raised on 'Little Red Riding Hood'; I was raised on Ulysses and Greek mythology." He was also taught the virtues of public service and, along with his brothers, learned to scuba dive, canoe through rapids, climb a mountain—any sport that required them to test themselves against the elements. But camping was the activity Justin liked best because "that was where our father got to be just our father—a dad in the woods."
In 1984 Pierre stepped down as prime minister to devote more time to his family. "We were raised by him," says Justin, "and when we moved back to Montreal, my mother stayed in Ottawa with the family she had started there." (Margaret remarried and had two more children, though she saw her sons regularly.)
Not surprisingly, Justin's parents crop up regularly in his conversation. His first date with Sophie, a TV entertainment correspondent, took place on his mother's birthday, he notes, and he proposed to her in 2004 on his father's birthday­—the same date that their son, Xavier James, was born last fall. Touring his district, he pops into a senior center and tells the group that his wife and son grace the cover of the latest issue of a leading Canadian women's magazine. The headline? HELLO, BABY TRUDEAU.
As with all sons of great statesmen, "there's admiration and awe because of his dad and a suspicion that he is not his dad," says leading Canadian pollster Michael Adams, noting that in recent surveys, the elder Trudeau was ranked "the most admired prime minister in our history." Justin, in his first political test, wanted to show that he wasn't cruising on his name. In Canada candidates may choose where to run, and he purposely avoided a safe seat in an affluent, mixed English-French area, selecting instead a working-class district of immigrants and Francophone professionals where his two rivals had long-standing ties. His against-the-odds win there and the fact that his former opponents are now cochairing his run for the House of Commons are all part of his personal campaign to "prove my chops in politics and work my way up from the grass roots," he says. "I want to demonstrate that it's all about what I bring, not the name and not the past."
To that end, he regularly chats up his constituents and lectures on his pet subjects: the environment, education and youth empowerment. He's his party's Facebook candidate, one conversant in Flickr and the possibilities of online fundraising—still largely untapped in Canadian politics. "He's learning the family business," says close friend Stephen Bronfman, scion of another famous Canadian clan and a major Liberal Party funder. "He's bright and he has magnetism. I'd like nothing more than to help him climb his ladder to one day guide the country."
But just how he'll fare in the rough and tumble of national politics is anybody's guess. As Edward Greenspon, editor in chief of The Globe and Mail, predicts, "The day he arrives on Parliament Hill he'll be viewed as few other rookie MPs are—as a potential future prime minister—and scrutinized through that lens."
Perhaps for that reason, Margaret tried to discourage him from political life. "Of course I did! It's very hard on the family," she says, though she now shows up regularly to support him. The night before, at a national fundraiser for the Liberals in Montreal, Margaret, 60, stood by Justin's side as he worked the crowd, murmuring greetings in English and French. "He's the most tenderhearted of my kids," she says. "He's the best listener." Margaret now lives near Justin as well as her son Alexandre, a documentary filmmaker, hosting weekly Sunday family dinners and, like her daughter-in-law Sophie, with whom she's grown close, is a mental-health advocate. Both recently spoke at the same forum—Sophie about the bulimia from which she suffered as a teenager; Margaret about bipolar disorder.
If times have changed for political spouses, Justin is still mindful of the balancing act he'll have to strike. Unlike his mother as a newlywed, his wife has her own career, and "there's a real sense of partnership." But even so, Sophie worries, he says. "I'm not even elected yet and I'm spending so much time in the [district]. Sophie says, 'Once you have to start spending three or four days a week in Ottawa, I'm never going to see you.' I desperately want to be with [her] and be the hands-on dad that my father was. I think it will be an ongoing struggle."
His lunch finished, he scans the restaurant for patrons to greet, suddenly recalling "one of those really great moments" years ago when his father came to visit him at the Vancouver school where he was teaching. As they strolled down a hallway, a student came running up behind them, shouting, "Mr. Trudeau?" and both Trudeaus turned around. Justin assumed the call was to his father. But the student wanted Justin. "And I thought, Oh that's right, you don't have to be prime minister to be important in someone's life," he says. "My father looked at me with a smile on his face realizing, You're Mr. Trudeau now."
Photo: Trudeau family, 1976: Chuck Mitchell/CP Photo