Did Kacey Musgraves and Kylie Minogue Accidentally Make the Same Album?
"Golden Hour" vs "Golden" is a battle of Kirakira cowgirls.
---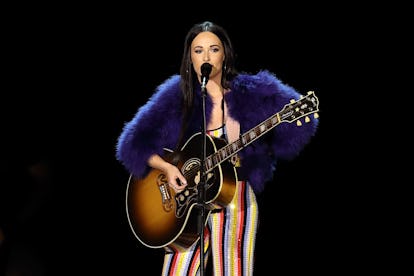 Burak Cingi
At first blush, Kylie Minogue and Kacey Musgraves have little in common other than the same initials and a recording contract. Minogue, who has reached near Madonna-levels of fame in Europe and her native Australia, is celebrating her 30th year as the impossible princess of international electro-pop. Musgraves is a Texas-born twenty-something who is rewriting the rules of outlaw country for a new generation. You would be hard pressed to find both on the same Spotify playlist let alone the same sentence, and, yet, in an odd pop music case of simultaneous innovation, the pair are releasing two very similarly titled albums within a week of one other, in which each takes a stab at dabbling in the other's trademark genre. Musgraves's Golden Hour, released today, features the country star's first undeniable dance floor bop, while Minogue's Golden, releasing next week, took the singer to Nashville to meld her club pop sensibilities with the talents of country music pros.
Driving the overlap home is the fact that both have lately adopted a wardrobe that can best be described as rhinestone cowgirl—or is is Kirakira cowgirl nowadays? Musgraves has made multiple late-night appearances in spangled Juicy Couture jumpsuits that wouldn't have seemed out of place on last night's RuPaul's Drag Race runway. Minogue, meanwhile, has reworked her trademark showgirl glam to better incorporate cowboy boots and Stetson hats. They're surely both making Dolly Parton, and maybe also Diana Ross, proud.
This comparison might seem to invite some inevitable competition (especially as both have carved out cult followings among gay audiences), but on listening to Musgraves's full album and the songs Minogue has released so far from hers, it's clear neither is coming directly for the other's gig. It just feels more as if each is at a turning point in their careers, even if one is much younger than the other.
The most talked about song on Musgraves's album is "High Horse." It's an uncharacteristic Chromeo-goes-country bit of disco-informed dance pop that makes you wonder if Musgraves doesn't have her eye on the sort of crossover career that Taylor Swift currently enjoys. Though, the rest of the album reveals that while she may be attempting to plant a flag in Top 40 radio, she's not intending to make a home there. Yet, anyway. There's a few other cross-genre gestures on the album ("Oh, What a World" features a sublime Daft Punk-esque vocoder voice woven in, "Velvet Elvis" is buoyed by a pop punk pluck, and you could argue there's a bit more of an undercurrent of folk than her previous records), but for the most part, Musgraves stays doing what she does best: breezy, personal mid-tempo country songs.
Though, more than many of her peers, she's attracted audiences that don't consider themselves traditional country fans and bristled some that are (she has a rather libertarian attitude about things like gay marriage and drugs that have carried over into her lyrics). Musgraves is enjoying owning her lane (and life as a newlywed), but isn't intent on moving that far beyond the genre anytime soon. The Golden in her album title seems to be a nod to her hometown of Golden, Texas after all.
Meanwhile, the Golden of Minogue's title is more a nod to the fact that at 49 she's entering her "golden years."
Several pop stars, including Madonna and, more recently, Lady Gaga and Justin Timberlake, have viewed country music as a vehicle for more personal and confessional songs. (Also, country is more forgiving to middle age in pop star years.) Golden, indeed, is being billed as one of Minogue's most personal albums yet. Minogue is no slouch with a pen, but this will be her first album in 20 years where she has co-writing credits on every single song (the last, incidentally, was her other notable cross-genre experiment, 1997's Impossible Princess).
So donning some country drag isn't particular notable (it's not even the first time Minogue herself has done it), bur what is interesting is what Minogue is using the genre for. She's tackling the taboo matter of aging while a pop star in a way that no one before her quite has. When she sings, "When I go out I wanna go dancing," on first single "Dancing," she doesn't mean "out" to the club. She means "out," like completely. Finality. Death. It's a declaration that she's been a pop star for 30 years, done it better than most, and doesn't intend to stop anytime soon. The title track "Golden," which premiered recently with a live performance on Australia's version of 60 Minutes, likewise addresses aging. "We're not young and we're not old, when the story's not yet told," she sings.
To create the album, Minogue spent weeks in Nashville working with local writers (many of whom had worked with Taylor Swift right up until she decided to go full-fledged pop herself), but most of the actual production was handled by European pop vets. Like Musgraves, while she's not afraid to try out some new things, she's not going too far out of her wheelhouse. We'll get the full picture upon the album's actual release, but it does not appear that Minogue is now going full tilt for the CMT set.
As it turns out, despite similar visual vibes, similar titles, and even similar genre description, both Minogue and Musgraves remain the artists they've always been. Though, for the first time, they may actually not sound too bad back-to-back together on your playlist.
Related: Kylie Minogue Didn't Mean to Shade Kylie Jenner in Their Trademark Dispute, It's Just Business
Kylie Minogue's Personal Style Has Always Been Unabashedly Flashy—And That's What Makes It Great
Kylie Minogue got her start on the hit soap opera Neighbors; here, see her as a epitome of '80s fashion in an off the shoulder top and big, big hair. 1980.

Getty
With a leopard-print baby doll dress and barrel curl up-do, Minogue was ready to take on a new decade of fashion. 1989.

Getty
Minogue at a party at the Regine in Paris. With pigtails and lace-up boots, the singer is worlds away from the over the top club queen glamour that she will soon become known for. 1993.

Getty
A redhead, Versace-clad Minogue at a book launch for Gianni Versace in London. 1995.

Getty
At the Brit Awards in a prim pink chiffon gown and scarf where she was introduced to the stage by RuPaul. 1997.

Getty Images
At an event celebrating her wildly successful album "Light Years," sporting a solid gold jumpsuit. 2000.

Getty Images
At the European MTV awards in a pair of blue vinyl pants and black corset top, displaying early 2000's excess at its best. 2001.

Getty Images
Minogue at the Studio NJR Music Awards wearing a sheer top with a colored bra underneath and plaid mini skirt. Strappy stilettos complete the look. 2002.

Getty
At WBLI's Summer Jam concert event wearing every early Aughts trend at once—complete with fedora—to great effect. 2002.

Getty
At the 2003 Grammy Awards wearing a strapless Givenchy Haute Couture gown.

Getty
Kylie Minogue during Z100's Jingle Ball 2002 – Backstage at Madison Square Garden in New York City, New York, United States. (Photo by KMazur/WireImage)

WireImage
At the Grammy's the following year, where she won for Best Dance Musical recording wearing a tiered pale pink mini-dress and heels. 2004.

Getty Images
At the London Music Trust awards celebrating her tenth studio album X in an embellished bronze tulle gown. 2007.

Getty Images
After recovering from breast cancer, the singer sports a new short crop haircut and black Dolce & Gabbana dress at a dinner in Milan. 2006.

Getty
Minogue chose a cream-colored gown emblazoned with stars to receive her OBE from Prince Charles for services to music. 2008.

Getty Images
Hosting the 2009 Brit Awards wearing a white Jean Paul Gaultier Haute Couture dress.

Getty
Wearing a metallic, silver and gold ombre mini-dress for the launch of her home goods line in London. 2009.

Getty
arriving at the Christian Dior Spring 2010 Haute Couture fashion show in Paris wearing a checked skirt-suit by the house.

Getty
Performing while wearing a Grecian goddess inspired look by Dolce and Gabbana for her "Aphrodite" world tour. 2011.

Getty
. Arriving in Tokyo wearing a chic, pared-down lined look with a safari hat. 2011.

Getty
Wearing a diaphanous red Emilio Pucci gown at the amFAR's Cinema Against AIDs gala at Hotel du Cap Eden Roc. 2012.

Getty
Minogue attends the Met Costume Institute Gala for the 'PUNK: Chaos to Couture' exhibition wearing a Moschino gown. 2013.

Getty
Wearing a metallic red body con dress at G-A-Y Club in London for a promotional event for her album Kiss Me Once. 2014.

Getty Images
At the Vanity Fair Oscars party wearing a lilac Haute Couture confection by Ralph & Russo.

Getty
A frosted blonde Minogue at Bocelli and Zanetti Night in Italy wearing a black-lace dress with colorful floral appliques by Dolce & Gabbana. 2016.

Getty
Minogue at the premiere of Absolutely Fabulous: The Movie in London in a dramatic crimson gown by Roberto Cavalli. 2016.

Getty
At the Fall 2017 Elsa Schiaparelli Haute Couture fashion show in a golden sun embellished sheath dress by the house.

Getty
Minogue is the image of casual French Girl chic at an art opening in Paris. 2017.

Gettu