Kylie Minogue Didn't Mean to Shade Kylie Jenner in Their Trademark Dispute, It's Just Business
Minogue's lawyers called Jenner "a secondary reality television personality."
---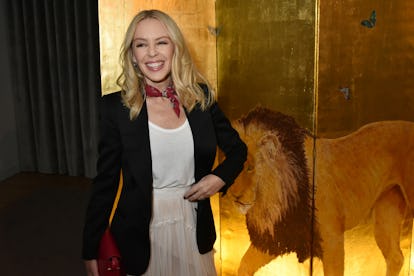 Foc Kan
The tabloid headlines might have lead you to believe that Kylie Minogue personally called Kylie Jenner "a secondary reality television personality" during their legal dispute over trademark rights to their shared first name, but Minogue wants you to know that that's not true. She's simply an experienced music icon and businesswoman whose lawyers must deal with these sorts of issues when they come up, and if one of those lawyers happens to accidentally shade a Kardashian-Jenner in the process, well, that's unfortunate. But it definitely wasn't personal.
"I've never met Kylie Jenner," Minogue tells Rolling Stone. "I've never met any member of the family," before she suddenly remembered, "Actually, I've met Kendall just in passing at a fashion event."
"It's awkward, because fans get so loyal and vocal, and we love that!" Minogue continues. "But it was nothing personal at all, I'm at pains to say."
"Trademark is long, it's boring, it's expensive, and it's really important. I've been doing that for years and years. It was just causing confusion with customers. As long as it's clear, then we can all win."
Of course, to put the story in context we have to wade a little bit into that long, boring world of trademark. Last year when Jenner attempted to trademark the word "Kylie" in conjunction with the promotion of certain product categories with the U.S. Patent and Trademark Office, Minogue's legal team understandably stepped in. After all, Minogue has owned the website Kylie.com since before Jenner was even born. She's arguably responsible for popularizing the name beyond its native Australia after all, and has been a worldwide pop star for close to 30 years.
In legal filings, Minogue's lawyers characterized Jenner as "a secondary reality television personality" who is best known for being "active on social media where her photographic exhibitionism and controversial posts have drawn criticism from, e.g., the Disability Rights and African-American communities."
Though, as we explained in our original story on the issue, this is just what lawyers do. They don't file paperwork to be nice. They file it to win their case.
Minogue wants you to know that she had no hand in writing it.
"Can you imagine me saying that?! That was just unfortunate that that is how those lawyers speak," she told Rolling Stone. "So I genuinely hope that it's understood: That certainly did not come from me. Good news is, that's all wrapped up, we didn't have to go to court. That's all done. And I'm sure I'll meet them one day."
We're sure Kris Jenner is somewhere writing down "Kylie Minogue cameo?" down on her pad of possible Keeping Up With The Kardashian storyline ideas right now.
While Jenner has stepped away from the spotlight during her reported pregnancy, Minogue is busy stepping back in to it in preparation of the release of her 13th studio album Golden. Indeed, just this week she released the video for first single "Dancing," a clip so sparkly that it puts your Kirakira app to shame.
We're also sure Minogue didn't mean to unintentionally shade Justin Timberlake by doing the whole "Popstar does country western drag" better than whatever is happening on Man of the Woods either. She can't help it. She's Kylie Minogue. These things just happen.
Related: https://www.wmagazine.com/story/kylie-jenner-reportedly-chose-baby-name
Kylie Minogue's Personal Style Has Always Been Unabashedly Flashy—And That's What Makes It Great
Kylie Minogue got her start on the hit soap opera Neighbors; here, see her as a epitome of '80s fashion in an off the shoulder top and big, big hair. 1980.

Getty
With a leopard-print baby doll dress and barrel curl up-do, Minogue was ready to take on a new decade of fashion. 1989.

Getty
Minogue at a party at the Regine in Paris. With pigtails and lace-up boots, the singer is worlds away from the over the top club queen glamour that she will soon become known for. 1993.

Getty
A redhead, Versace-clad Minogue at a book launch for Gianni Versace in London. 1995.

Getty
At the Brit Awards in a prim pink chiffon gown and scarf where she was introduced to the stage by RuPaul. 1997.

Getty Images
At an event celebrating her wildly successful album "Light Years," sporting a solid gold jumpsuit. 2000.

Getty Images
At the European MTV awards in a pair of blue vinyl pants and black corset top, displaying early 2000's excess at its best. 2001.

Getty Images
Minogue at the Studio NJR Music Awards wearing a sheer top with a colored bra underneath and plaid mini skirt. Strappy stilettos complete the look. 2002.

Getty
At WBLI's Summer Jam concert event wearing every early Aughts trend at once—complete with fedora—to great effect. 2002.

Getty
At the 2003 Grammy Awards wearing a strapless Givenchy Haute Couture gown.

Getty
Kylie Minogue during Z100's Jingle Ball 2002 – Backstage at Madison Square Garden in New York City, New York, United States. (Photo by KMazur/WireImage)

WireImage
At the Grammy's the following year, where she won for Best Dance Musical recording wearing a tiered pale pink mini-dress and heels. 2004.

Getty Images
At the London Music Trust awards celebrating her tenth studio album X in an embellished bronze tulle gown. 2007.

Getty Images
After recovering from breast cancer, the singer sports a new short crop haircut and black Dolce & Gabbana dress at a dinner in Milan. 2006.

Getty
Minogue chose a cream-colored gown emblazoned with stars to receive her OBE from Prince Charles for services to music. 2008.

Getty Images
Hosting the 2009 Brit Awards wearing a white Jean Paul Gaultier Haute Couture dress.

Getty
Wearing a metallic, silver and gold ombre mini-dress for the launch of her home goods line in London. 2009.

Getty
arriving at the Christian Dior Spring 2010 Haute Couture fashion show in Paris wearing a checked skirt-suit by the house.

Getty
Performing while wearing a Grecian goddess inspired look by Dolce and Gabbana for her "Aphrodite" world tour. 2011.

Getty
. Arriving in Tokyo wearing a chic, pared-down lined look with a safari hat. 2011.

Getty
Wearing a diaphanous red Emilio Pucci gown at the amFAR's Cinema Against AIDs gala at Hotel du Cap Eden Roc. 2012.

Getty
Minogue attends the Met Costume Institute Gala for the 'PUNK: Chaos to Couture' exhibition wearing a Moschino gown. 2013.

Getty
Wearing a metallic red body con dress at G-A-Y Club in London for a promotional event for her album Kiss Me Once. 2014.

Getty Images
At the Vanity Fair Oscars party wearing a lilac Haute Couture confection by Ralph & Russo.

Getty
A frosted blonde Minogue at Bocelli and Zanetti Night in Italy wearing a black-lace dress with colorful floral appliques by Dolce & Gabbana. 2016.

Getty
Minogue at the premiere of Absolutely Fabulous: The Movie in London in a dramatic crimson gown by Roberto Cavalli. 2016.

Getty
At the Fall 2017 Elsa Schiaparelli Haute Couture fashion show in a golden sun embellished sheath dress by the house.

Getty
Minogue is the image of casual French Girl chic at an art opening in Paris. 2017.

Gettu