Kylie Minogue and Kylie Jenner's Trademark Dispute Is Almost Over, Thank God
Kylie Minogue and Kylie Jenner's trademark disputes are far more boring than the tabloids let on, but they seem to be headed towards a resolution.
---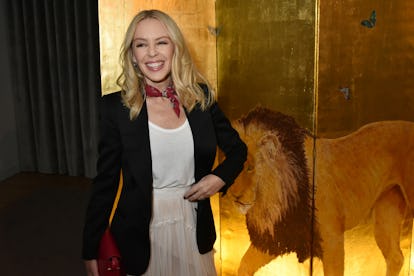 Foc Kan
Kylie Jenner may be one of the most followed people on social media, but does that even make her the most famous Kylie in the world? Kylie Minogue and her legal team would beg to differ. Afterall, Minogue kicked off her career as an international pop icon with her debut album Kylie nine years before Jenner was even born. She's owned the web domain Kylie.com a year before the name "Kylie" was put on Jenner's birth certificate.
So, when Jenner tried to register the term "Kylie" with the U.S. Patent and Trademark Office to promote certain products, Minogue's legal team stepped in to block the effort last year.
Thanks to the internet's thirst for Kardashian drama, the strongly-worded legalese filed in the complaint quickly made its way around the web.
The complaint filed with the Trademark Trial and Appeal Board characterized Jenner as "a secondary reality television personality" who is best known for being "active on social media where her photographic exhibitionism and controversial posts have drawn criticism from, e.g., the Disability Rights and African-American communities."
The complaint meanwhile cast Minogue as an "internationally renowned performing artist, humanitarian, and breast cancer activist … known worldwide simply as 'Kylie.'"
It was just lawyers doing what lawyers do and being overly protective of their client's rights. Subtlety doesn't win legal battles after all. Lawyers are even less here to make friends than a "secondary reality television personality."
Publicly, though, neither Jenner nor Minogue have ever commented on the dispute.
Minogue's lawyers point out that their argument that there is "Kylie" confusion in the marketplace seems to have some merit. A recent viral Tweet purports to show that counterfeit versions of Jenner's cosmetics line being sold in Indonesia bore an image of Minogue, not Jenner. Clearly, some people out there are confused.
Notably, though, the dispute didn't involve the use of the word "Kylie" to promote cosmetics, but rather for categories like "Entertainment in the nature of providing information by means of a global computer network in the fields of entertainment and pop culture; entertainment services, namely, personal appearances by a celebrity, actress and model," "Providing information by means of a global computer network in the field of fashion" and "advertising services." Minogue has owned the rights to the trademark "Kylie" in America for a variety of other categories since 2003.
See, once you get beyond the tabloid-baiting drama angle, the details are excruciatingly boring and technical.
Though, that didn't stop the tabloids from trying to draw juice out of the latest developments. The Daily Mail has claimed that Minogue's legal team has claimed outright victory in the dispute, and their reporting has been picked up be a number of other outlets.
The reality is slightly more boring. The dispute was settled out of the Trademark Trial and Appeal Board, and Minogue's lawyers have agreed to drop their challenge to Jenner's copyrights.
"Opposer's withdrawal of the opposition, filed January 19, 2017, is noted. Because no answer is of record, the opposition is dismissed without prejudice," reads the final paperwork in the case.
So depending on what out-of-court agreement was made, Jenner may be able to move forward with her copyrights. Meanwhile, her legal team continues to appeal a decision that outright blocked her attempt to trademark "Kylie" in two other categories.
Watch Kendall Jenner's W screen test: