With Love From Brooklyn
Sincerely, Tommy's Kai Avent-deLeon shares her guide to the borough—just in time for fashion week.
---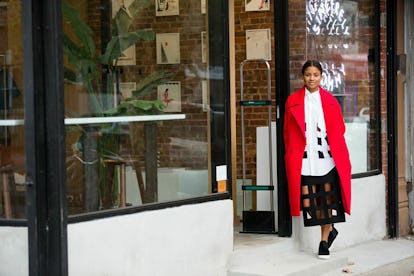 Kai Avent-deLeon's Bed-Stuy concept store is quickly becoming a destination for those in search of hot coffee and cool clothes. Sincerely, Tommy, which takes its name from its Tompkins Avenue location, combines inspiration from Avent-deLeon's travels with local authenticity. "There are subtle hints inside the store that are paying homage to the area," explains the Bed-Stuy native. "We try to be really aware of the music and make it versatile and play Biggie and artists that are from the neighborhood. And carrying local designers is a big thing for me." Among the 20 clothing, apothecary, and ceramics brands inside the store are hard-to-find Brooklyn-based labels like Lauren Levin, I Waited For You, Jamie McCarty, and an eponymous collection. In preparation for fashion week—during which designers like Moncler will follow in the footsteps of Alexander Wang and Christian Dior and head to the borough for their seasonal presentations—the stylish entrepreneur shared her go-to Brooklyn spots.
Aita 132 Greene Avenue, Fort Greene "I absolutely love the food and atmosphere here. It's tucked away on the corner of a primarily residential area in Fort Greene. The food is so fresh and seasoned so well."
M.O.B. 525 Atlantic Avenue, Boerum Hill "The owner of the restaurant actually opened the first M.O.B. in Paris and this location is the second. I think that's part of the charm. The food is incredible and very experimental; I love when vegan restaurants aren't afraid to play around."
Sun In Bloom 460 Bergen Street, Park Slope "My second favorite vegan go-to. Unlike M.O.B., the majority of the menu is raw, but it's still really good. They also make fresh-pressed juices that are delicious."
The Finch 212 Greene Avenue, Clinton Hill "This restaurant is brand new—it used to be a tattoo parlor. I love sitting at the bar and watching the chefs prepare everything right in front of you. They'll explain everything that goes into the dish, making the overall experience very memorable."
The Brooklyn Botanic Garden 990 Washington Avenue "My best friend and I have been coming here for years. Everything about the Botanical Garden is magical. It's a break away from the chaos of the city."
Doris 1088 Fulton Street, Bed Stuy "From the outside it almost looks like a boat, but the inside is bustling with great tunes (all vinyl) and drinks."
10 Ft Single by Stella Dallas 285 North 6th Street, Williamsburg "Located in Williamsburg, this not-so-little gem is where I go for a quick vintage fix. They sell men's and women's apparel and I always find something good."
Brooklyn Public Library at Grand Army Plaza 10 Grand Army Plaza, Prospect Heights "I grew up coming to this library, and it's one of the only monuments left. If you grew up in Brooklyn then you understand."
Frank's Cocktail Lounge 660 Fulton Street, Fort Greene "I am a sucker for old school disco and this place plays just that every night. Frank's is definitely older than I am, but I appreciate being able to dance to good music with a crowd who does, too."
Brooklyn Academy of Music 30 Lafayette Avenue, Fort Greene "I think it's mandatory that every Brooklynite loves BAM. They have the best to offer in cinema and theater."
Photos: With Love From Brooklyn
Kai Avent-deLeon at Sincerely, Tommy. Courtesy of Sincerely, Tommy.
Sincerely, Tommy, 343 Tompkins Avenue; 718.484.8484.
The Lily Pool Terrace at the Brooklyn Botanic Garden. Photo by Antonio Rosario.
Doris Bed Stuy. Courtesy of Doris.
The dressing room at Sincerely, Tommy.
BAM Opera House. Courtesy of BAM.
Kai Avent-deLeon. Courtesy of the subject.
Aita restaurant. Courtesy of Aita.