Kaia Gerber Looks Exactly Like Mom Cindy Crawford in Their High School Portraits
She's literally Cindy's mini-me.
---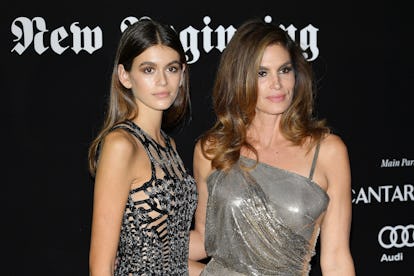 Venturelli/Getty Images
Glamour. Apparently it runs in the genes. Take it from Cindy Crawford and Kaia Gerber: Crawford shared a side-by-side photo of her and Kaia's high school portraits, and not only do they look unbelievably alike, but they also both look like they're posing for the after picture of a skincare ad.
Crawford posted the photo on Instagram on Tuesday. On the left is Kaia's portrait, a traditional school headshot in front of a gray-blue background. The 16-year-old wears a black V-neck top and a delicate gold necklace, lets her middle-parted hair down around her shoulders, and opts for minimal makeup with just a dab of lip gloss. On the right is one of Cindy's actual high school yearbooks from the 1980s, in which she also dons a black top and dainty necklaces, wears her dark hair down and loose, and sports almost no makeup. "School pics, now and then," Cindy captioned the Insta post, which proves, once and for all, that Kaia is truly her mini-me.
And speaking of school — Kaia recently opened up to Teen Vogue about how she's putting her studies before modeling. "I'm a junior in high school, so that's technically what I do. Modeling is really what I do during my free time. It's fun for me, so it doesn't feel like work. I choose to do it," the 16-year-old said. "It's definitely a lot of work, but because I appreciate them both so much, I don't let that get to me. It's what I want to be doing."
Smarts also apparently run in the genes. Crawford graduated high school as Valedictorian and received an academic scholarship to Northwestern University where she studied chemical engineering for a year before deciding to pursuit modeling full time instead.
Related: Getting Ready for Tom Ford's New York Show with Cindy Crawford
See All of Kaia Gerber's Fashion Month Looks, Both On and Off the Runway
Kaia Gerber is seen on September 06, 2017 in New York City. (Photo by BG021/Bauer-Griffin/GC Images)

BG021/Bauer-Griffin
Kaia Gerber walks the runway for the Calvin Klein Collection fashion show during New York Fashion Week on September 7, 2017 in New York City. (Getty Images)

ANGELA WEISS
Kaia Gerber attends Daily Front Row's Fashion Media Awards at Four Seasons Hotel New York Downtown on September 8, 2017 in New York City. (Photo by Paul Bruinooge/Patrick McMullan via Getty Images)

Paul Bruinooge
Kaia Gerber is seen on September 7, 2017 in New York City. (Photo by Marc Piasecki/GC Images)

Marc Piasecki
Kaia Gerber walks the runway at Alexander Wang show during New York Fashion Week on September 9, 2017 in New York City. (Photo by Antonio de Moraes Barros Filho/Getty Images)

Antonio de Moraes Barros Filho
Kaia Gerber attends the 2017 Harper's Bazaar Icons at The Plaza Hotel on September 8, 2017 in New York City. (Photo by Jim Spellman/WireImage)

Jim Spellman
Kaia Gerber walks the runway at the Fenty Puma By Rihanna fashion show during New York fashion week at Park Avenue Armory on September 10, 2017 in New York City. (Photo by Peter White/Getty Images)

Peter White
Kaia Gerber walks the runway at Coach Ready to Wear Spring/Summer 2018 fashion show during New York Fashion Week on September 12, 2017 in New York City. (Photo by Victor VIRGILE/Gamma-Rapho via Getty Images)

Victor VIRGILE
Kaia Jordan Gerber is seen arriving the FENTY PUMA by Rihanna Spring/Summer 2018 Collection at Park Avenue Armory on September 10, 2017 in New York City. (Photo by Gilbert Carrasquillo/GC Images)

Gilbert Carrasquillo
Kaia Gerber walks the runway for Marc Jacobs SS18 fashion show during New York Fashion Week at Park Avenue Armory on September 13, 2017 in New York City. (Photo by Slaven Vlasic/Getty Images for Marc Jacobs)

Slaven Vlasic
Kaia Gerber walks the runway at the Burberry show during London Fashion Week September 2017 on September 16, 2017 in London, England. (Photo by Jeff Spicer/BFC/Getty Images for The British Fashion Council)

Jeff Spicer/BFC
Kaia Gerber walks the runway at the Fendi Ready to Wear Spring/Summer 2018 fashion show during Milan Fashion Week Spring/Summer 2018 on September 21, 2017 in Milan, Italy. (Photo by Victor VIRGILE/Gamma-Rapho via Getty Images)

Victor VIRGILE
Kaia Gerber walks the runway at the Prada Spring Summer 2018 fashion show during Milan Fashion Week on September 21, 2017 in Milan, Italy. (Photo by Catwalking/Getty Images)

Catwalking
Kaia Gerber walks the runway at the Versace Ready to Wear Spring/Summer 2018 fashion show during Milan Fashion Week Spring/Summer 2018 on September 22, 2017 in Milan, Italy. (Photo by Victor VIRGILE/Gamma-Rapho via Getty Images)

Victor VIRGILE
Kaia Gerber walks the runway at the Moschino Ready to Wear Spring/Summer 2018 fashion show during Milan Fashion Week Spring/Summer 2018 on September 21, 2017 in Milan, Italy. (Photo by Victor VIRGILE/Gamma-Rapho via Getty Images)

Victor VIRGILE
Kaia Gerber walks the runway at the Moschino Ready to Wear Spring/Summer 2018 fashion show during Milan Fashion Week Spring/Summer 2018 on September 21, 2017 in Milan, Italy. (Photo by Victor VIRGILE/Gamma-Rapho via Getty Images)

Victor VIRGILE
Kaia Gerber walks the runway at the Versace Ready to Wear Spring/Summer 2018 fashion show during Milan Fashion Week Spring/Summer 2018 on September 22, 2017 in Milan, Italy. (Photo by Victor VIRGILE/Gamma-Rapho via Getty Images)

Victor VIRGILE
Kaia Gerber and Cindy Crawford attend theVogue Italia 'The New Beginning' Party during Milan Fashion Week Spring/Summer 2018 on September 22, 2017 in Milan, Italy. (Photo by Venturelli/Getty Images)

Venturelli
Kaia Gerber walks the runway at the Bottega Veneta show during Milan Fashion Week Spring/Summer 2018 on September 23, 2017 in Milan, Italy. (Photo by Andreas Rentz/Getty Images)

Andreas Rentz
Model Kaia Gerber is seen on September 25, 2017 in Paris, France. (Photo by Marc Piasecki/GC Images)

Marc Piasecki
Model Kaia Gerber leaves her hotel on September 26, 2017 in Paris, France. (Photo by Mehdi Taamallah/NurPhoto via Getty Images)

NurPhoto
Kaia Gerber walks the runway during the Saint Laurent Ready to Wear Spring/Summer 2018 fashion show as part of the Paris Fashion Week Womenswear Spring/Summer 2018 on September 26, 2017 in Paris, France. (Photo by Victor VIRGILE/Gamma-Rapho via Getty Images)

Victor VIRGILE
Kaia Gerber walks the runway during the Saint Laurent Ready to Wear Spring/Summer 2018 fashion show as part of the Paris Fashion Week Womenswear Spring/Summer 2018 on September 26, 2017 in Paris, France. (Photo by Victor VIRGILE/Gamma-Rapho via Getty Images)

Victor VIRGILE
Kaia Gerber walks the runway during the Off/White show as part of the Paris Fashion Week Womenswear Spring/Summer 2018 on September 28, 2017 in Paris, France.

Estrop
Kaia Gerber walks the runway during the Chloe show as part of the Paris Fashion Week Womenswear Spring/Summer 2018 on September 28, 2017 in Paris, France. (Photo by Peter White/Getty Images)

Peter White
Kaia Gerber attends "Her Time" Omega Photocall as part of the Paris Fashion Week Womenswear Spring/Summer 2018 on September 29, 2017 in Paris, France. (Photo by Bertrand Rindoff Petroff/Getty Images)

Bertrand Rindoff Petroff
Kaia Gerber walks the runway during the Isabel Marant Ready to Wear Spring/Summer 2018 fashion show as part of the Paris Fashion Week Womenswear Spring/Summer 2018 on September 28, 2017 in Paris, France. (Photo by Victor VIRGILE/Gamma-Rapho via Getty Images)

Victor VIRGILE
Kaia Gerber walks the runway during the Valentino show as part of the Paris Fashion Week Womenswear Spring/Summer 2018 on October 1, 2017 in Paris, France. (Photo by Peter White/Getty Images)

Peter White
Kaia Gerber is seen arriving at Chanel show during Paris Fashion Week Womenswear Spring/Summer 2018on October 3, 2017 in Paris, France. (Photo by Jacopo Raule/GC Images )

Jacopo Raule
Kaia Gerber walks the runway during the Chanel Paris show as part of the Paris Fashion Week Womenswear Spring/Summer 2018 on October 3, 2017 in Paris, France. (Photo by Pascal Le Segretain/Getty Images)

Pascal Le Segretain
Getting Ready for Tom Ford's New York Show with Cindy Crawford: