Kaia and Presley Gerber Are the Next Gigi and Bella Hadid
Cindy Crawford's spawn are already making their mark in modeling at just 14 and 17: Just ask Moschino, Dolce & Gabbana, Calvin Klein, and Steven Meisel.
---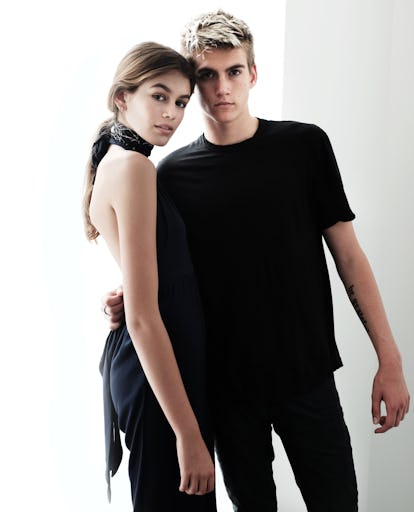 Photo by Biel Parklee.
His parents might be former model Rande Gerber and none other than Cindy Crawford, but 17-year-old Presley Gerber barely gave modeling a thought until this year. That turned around quickly: He made his runway debut last month at the Moschino show in Los Angeles, headed to Milan for Dolce & Gabbana, and landed himself a Calvin Klein campaign, all within a matter of weeks. His sister Kaia, on the other hand, already has an encyclopedic knowledge when it comes to fashion, not to mention a Miu Miu campaign, at just 14. Still, the Gerber babies are staying humble: In between errands to the Apple Store ("Our parents need chargers," Kaia said) and heading to Canada to unplug for a few weeks, they stopped by W's office to talk their dream collaborators, creepy DMs, secret Instagram accounts, and pro-tips from mom.
What's your first fashion memory? Presley: I think Bruce Weber for CR [Fashion Book]—that was the first actual shoot I did that was a serious thing. Kaia: I did Young Versace, their first time doing kids. I was 10 years old, and that was the first thing I ever did alone. Mert & Marcus shot it, and now, of course, I would freak out, but I had no idea what that meant when I was that old.
What's the craziest thing you've worn for a shoot? Presley: Fur coat and no pants. In front of a donut shop.
What magazine was that for? Presley: I have no idea. Kaia: You really need to figure out what you're shooting for! [Laughs.] They're like, "What photographer was it?" and I know and I wasn't in the shoot. But I don't know, probably when I had a sweater on and then a dress over it and shorts and a whole—it was Carine Roitfeld styling and there were so many different pieces to the outfit that it was insane, but it ended up looking really cool.
What music do you listen to? Kaia: I really like Rihanna and Drake, always – "Too Good," "Work," all those songs. I saw her concert and I was freaking out when she brought Drake out. Presley: I kinda only listen to classic rock, so like Rolling Stones, Guns N' Roses, all from that time. Kaia: I'm not allowed to have the aux in his car.
Do you have a hidden talent? Presley: Fixing things. I can fix stuff pretty good, kinda like everything. Kaia: Yeah, and he can pick locks. Mine's the flute. I don't know why I ever thought I would need it but I started when I was eight.
What's been your most surreal celebrity moment? Presley: I met T.J. Miller, that was cool. Nobody really knows who he is—he's a comedian actor, he's on Silicon Valley, which is a show that I'm obsessed with. I think it's so funny. Kaia: My biggest fan moments are when I'm on set with a photographer or editor. Like working with Steven Meisel, I was trying to keep it cool, but inside I was like, "Oh my god, this is crazy." And Carine Roitfeld. I don't usually get starstruck, but if I do, it's people like that who are just amazing visionaries.
How many unread DMs do you have on Instagram? Kaia: Oh, I think it's like 99-plus, but I don't check them. I've learned the hard way not to check them because they can be a little odd sometimes. Presley: I don't really get too many weird ones, but she definitely gets weird ones. I feel like girls usually get the weird ones. But for sure the weirdest one for me was someone said 'Look outside, I'm outside.' I was in my room, and it was obviously a joke, but still… Kaia: Someone told me they wanted to suck my toes. I was like, I don't really know if that's a compliment…
Do you have private accounts, too? Kaia: We both do, but I think I'm more active. Mine is more for funny things and things I wouldn't post on my real one because people wouldn't care except for my friends. It's not like completely unedited; I'm not just going to put random things out there, but it's nice to have one where it's not so much pressure to think about what you're going to post before. I'm really sensitive, so I take a lot of time before I post something—I'm like, "Is this good?" I don't wanna do anything wrong. [Laughs.] It's nice to have one where I don't have to think it through as much.
Is there anything on social media you wouldn't want your parents to see? Kaia: Before, I'm always like, "Am I okay with my parents seeing this?" because then I'm okay with everyone seeing it. So probably not because I know even if it's on a private account, it's still not private. I don't trust social media enough to put stuff on there that I wouldn't want my parents to see. Presley: I'm the same way. I don't really send anything I don't want everyone to see. No matter where it is, like a text or Snapchat or Instagram, it's all pretty public.
Any modeling pro-tips from your parents? Kaia: My mom tells us to always just have a thought, not to just stare at the camera and not think anything, because then it doesn't really read. So if you're supposed to be happy, to actually think of something that makes you happier, if it makes you sad or dreamy, just have something there so it's not just blank. That's helped me so much, because then you have a real emotion and you're not just posing. I think that's the biggest one she gave me—did she tell you that? Presley: Yeah, and that you gotta just have fun with it, no matter what it is.
What about on the runway? Presley, what'd did you think about during your debut at Moschino? Presley: Don't fall. That's all, I was like please don't trip, just make it to the end. Because I've done that, and Dolce I just did, and both of those, same thing: Please just make it. I get sidetracked really easily, so if I just think about what I'm doing, then I can do it better. Kaia: I watched him in Moschino and it was so good. We were sitting and right when he came out he looked at us and gave us a nod, and I was like, aww! And I haven't walked yet, because 16 I think is the proper age. I really want to, but at the same time I'm glad I get to chill until it starts, because once you start you can't really go back. I want to definitely wait until I'm 16 and then slowly build up, because I've just heard it's so exhausting.
Have you always wanted to model? Presley: I never even thought about it for a second, and I never really liked being in front of a camera. But then I did it and the first few times it was like, eh, it's alright. Then I started traveling and coming to New York a lot, and I love it here, and then I got to go to Milan, so I'm starting to like it a lot more. Kaia: I think I always knew. I had a moment when I was like, I want to act, I want to sing, but it was always there for me. And I love it and always had so much fun and these are the people that I look up to, so like seeing how many people you meet and all the places you go. It's just so fun to have your life documented and have these photos of me throughout the years. They're beautiful because they're shot by amazing people, and it's really cool I think to have that. I always print them because I don't want it all on digital—I think it's cool to have an actual hard copy. Even if I'm working for like 12 hours, I'm still having fun, and I think that's the reason why I keep wanting to do it.
So you're going to stick with it? Kaia: Definitely. Presley: Yeah, I think I will for as long as I can.
Is there any other career you've thought of? Kaia: I still do kind of want to go to college for criminal psychology—I just am really interested in it. I don't think I'd make a career out of it, but I just think it'd be cool. And psychology in general—I'm starting a college course in psychology and am just starting to get into that. I don't know if it would become anything, I just still want to have a bunch of things under my belt and surprise people. Presley: Yeah, I'm hoping to go to business school, so I'll see where that takes me if I even go.
Are you in school right now? Kaia: Well, it's summer, but I'm going to tenth and it's his senior year. We go to Malibu High but they let us do it online, so we go for two hours a day and then the rest we just do online so we can travel and get ahead or catch up, which works out perfectly for what we do. But I still get to see kids and have the social life of it and Malibu's super nice.
Do you have any guilty pleasures? Kaia: Mine's binge-watching Netflix—I feel like I've watched every show on there. I'll get into a show and literally finish six seasons in like two weeks, it's so bad. So I've tried to ween off of it, but once you get into it and it plays on for you and you don't even have to click—I'll just be laying down and let it play. I can watch TV for hours. It's so bad. Presley: That happens to me occasionally but I don't watch too much TV. I watch Game of Thrones, but only with my mom. Whenever we get a chance, like an hour, we'll watch one of those. Kaia: And we were both into How I Met Your Mother for a while. I think I finished it much before you. Presley: I think I took about four months and she got it done in about a month and a half.
Who are your dream people to work with? Kaia: I would love to work with Mert & Marcus again, and Patrick Demarchelier and Chanel and Versace. Even though I can't walk the shows, I'm always online looking at them right after, and I always watch the backstage and behind the scenes and all that. I think it's so cool to see how they do it and put it together and I feel like every season the shows get even more incredible. Presley: Belstaff would probably be ideal for me. It's kind of random, but— Kaia: That's his favorite, like his birthday was last week and everyone was getting him things from Belstaff. Presley: I wear a lot of jackets, and I've just always thought they've had the coolest ones for sure.
Are there any models you look up to? Kaia: I really look up to Kendall Jenner. I think she's really professional, and I know her a little bit, and she's so sweet. I think to be at the level she's at but still be super chill and down to earth. And then Gigi and Bella [Hadid] both grew up in Malibu and actually did the same high school program we're doing, so I think it's cool to see them flourish. And I really look up to Karlie Kloss—she's the nicest human being in the world. And then probably just my mom.
Would you all ever shoot together? Kaia: Yeah, we've done a few shoots together. I always love shooting with my family because we're just so comfortable, it's not awkward at all. So if you'd let me shoot with you, I would love to. [Laughs.] Presley: Yeah yeah yeah. No, it's fine, we've done a few and it's been great, nothing bad to say.
Related: Supermodel Kaia Gerber, Just 16, Is Now Also Designing Clothes with Karl Lagerfeld
[#cnevideo: /cnevideos/577e6c53e03cdd30499cbc60]||||||