Kaia Gerber's Latest Project Is A Slightly Sinister Music Video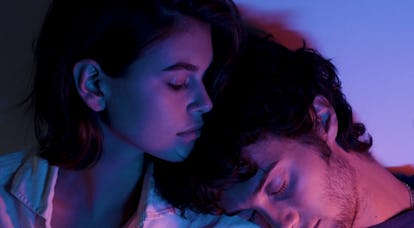 Instagram:@kaiagerber
If you're a Kaia Gerber fan, we've got some news for you. The good news is that the teen model of the moment just starred in her first ever music video, for John Eatherly's song "Burnout." The other news is that this video, and Kaia's character in it, are kind of scary.
Told in a montage of flashbacks and dreamy sequences, the video is the story of a hotshot author played by model Oli Green who goes to a diner where, as luck would have it, Gerber sits reading his book. They flirt and he gives her his number, but then he collapses on the street because Gerber put a white powder in his coffee. She duct-tapes his mouth shut, stuffs him in the trunk of her car, and drives him to the middle of nowhere, where she dons a silk slip and lights candles and flips a table. Then she kisses him. Then she slaps him. Then she kicks his chair over. You get the idea.
All in all, the video is moody and melodramatic, reminiscent of the Netflix show You, and the song is catchy. But would it kill the girl to have a little fun? After all, her mother, supermodel Cindy Crawford, made her music video debut in the anthemic "Freedom! '90" by George Michael. She's basically hanging out in a bathtub feeling her collarbone, but she's having like, the best time.
The shoot, at least, was fun, according to Gerber's Instagram. She posted three stills from the video with the caption, "BURNOUT out now! had the best time making this video with the people I love. thank you @john.eatherly @jonahfreud @promiseland and my lovely costar @ooroosgreen ❤️ superstars!" So will this experience inspire the up and comer to spend more time on screen? Crawford branched into commercials with an iconic Pepsi campaign, but maybe her daughter wants to stay in the arty lane. See Gerber's post and performance, below:
Related: Of Course Kaia Gerber's Apparent Boyfriend, Wellington Grant, Is Also a Model
Zendaya's '70s Glam, Kaia Gerber's Pastel Pageboy, and More of This Week's Best Beauty Looks on Instagram
Zendaya looked disco-ready in Rome. Photo courtesy of Instagram.
Mayowa Nicholas showed off watercolor-inspired eyes. Photo courtesy of Instagram.
Kaia Gerber rocked pink hair at the Fendi show. Photo courtesy of Instagram.
Cailee Spaeny sported white winged liner pre-Miu Miu. Photo courtesy of Instagram.
Janet Mock matched rosy tones with her purple ensemble. Photo courtesy of Instagram.
Sora Choi channeled A Flock of Seagulls at Givenchy. Photo courtesy of Instagram.
Tinashe coordinated her nails to her aqua shadow. Photo courtesy of Instagram.
Ashley Tisdale paired a red lip with fiery locks. Photo courtesy of Instagram.
Lizzo wore sunny shadow and a fuchsia lip. Photo courtesy of Instagram.
Imaan Hammam covered up natural curls with a bucket hat. Photo courtesy of Instagram.
Shay Mitchell showed off her new baby bump and bold lipstick. Photo courtesy of Instagram.
Mj Rodriguez got glittery for Pride. Photo courtesy of Instagram.