Kaia Gerber On Her New York Fashion Week Debut: "I Kind of Blacked Out"
The budding supermodel—and mom Cindy Crawford—talk about her runway debut.
---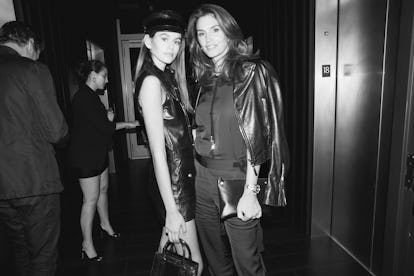 On Thursday, September 7th at approximately 8:33 p.m., a brand new runway star was born.
It was then that Kaia Gerber—daughter of supermodel Cindy Crawford—made her fashion week debut, walking her first ever runway show for Raf Simons at Calvin Klein. The 16-year-old, who just celebrated her birthday over the weekend, took to the catwalk in a color-blocked jacket and bright yellow pants, traipsing the runway with a confident strut that saw her fitting right in with the likes of runway veterans Liya Kebede, Julia Nobis, and Natalie Westling.
The immediate influx of Instagram posts made the verdict clear: Gerber killed it. But what did the teen think of her New York Fashion Week debut? "It was amazing, so exciting," she told W just hours later. "I couldn't have asked for a better show. I was trying not be nervous, and I kind of blacked out once I got out there."
The model was celebrating that post-show high at the rooftop of the ever-popular Public Hotel, which was hosting a blowout bash for Mert & Marcus's new tome. Dressed in a leather mini and matching hat, Gerber was joined by fellow models, including Kendall Jenner, Gigi Hadid, and Naomi Campbell, and other fashion week mainstays like Kim Kardashian and Nicki Minaj. Also in attendance: mom Crawford, dad Rande Gerber, and brother Presley, who has also started modeling.
"It was so good," Crawford, ever the proud mom, said of Gerber's walk. "She looked so comfortable. I was so excited for her and she was super excited. She told me on Saturday, and I told her, 'You know what, sometimes stuff happens—your shoe breaks or you trip. Don't pretend that it didn't happen—you'll feel it. But I knew she was going to be fine."
Gerber spent most of the night with the fam, bopping around to friends, including Brooklyn Beckham—whom she embraced upon spotting at the elevator bank—before ducking out into the night just after midnight. Early morning casting to prepare for, perhaps?
Related: Kaia Gerber on the New '90s-Inspired Images Where She Looks Just Like Mom Cindy Crawford
Marc Jacobs's First Kiss Was With a Girl, But It Was Just for Show