Kali Uchis Doesn't Regret Her Middle School Fashion Choices
The bilingual singer's nostalgic style can be as distinct and genre-bending as her music.
---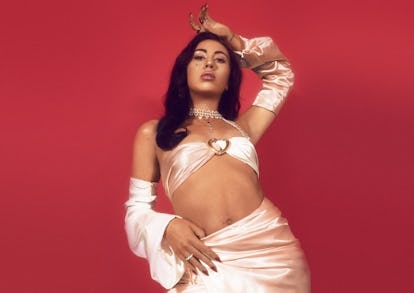 Kali Uchis/Felipe Q Noguiera
Kali Uchis's sound is not so easy to pin down—her debut album, Isolation, is a little bit '60s Motown, a little bit reggaeton, a little bit funk. It tracks, then, that her sense of fashion can also be as genre-bending as her music.
The Colombian-American vocalist moved back and forth between Virginia and Colombia as a child, standing out from her peers who she says "stuck to the mall or the flea market" while she found style inspiration from fashion spreads and advertisements that were created years before her birth, curating her distinct vintage femme fatale style.
She'll bring some of that nostalgic flair to the stage in April, when she embarks on a co-headlining tour with her friend and "Tyrant" collaborator Jorja Smith. Uchis says she plans to coordinate complementary looks with on stage, but before she gets started on that, the Grammy-nominated musician took a moment to break down her thoughts on fashion, what it means for her to embrace her sexuality in her style, and why she recently started obsessing over Louis Vuitton handbags.
What inspired the outfits worn by you and Jorja Smith on your tour poster?
I'm super hands-on when it comes to creating anything I'm involved in. This poster is very sexy. In my mood board there were a lot of '80s adverts. The style was meant to be very nostalgic and powerful in order to give it that iconic feel. And Jorja's face is so strong and she can pull off any look so we wanted it to be like a late '80s advert.
Describe your style in three words:
No boundaries, ever-evolving, fun! Fashion is supposed to be fun, it's not supposed to be taken so seriously. If you like something, you like it. When you wear the same brands everyone else is wearing, you're not taking any risks, but if you play with things people wouldn't expect or might not think is cool right now, you never know how you can make it cool in your own way and then later everyone else is wearing it like you.
Who is your ultimate style icon, and why?
I'm a '90s baby. I was born in '94 and I've always loved Thalia, Selena, advertisements, and any magazines I could get my hands on. I always loved to make collages from old magazines I would find in my aunt's house, anything obscure. I want to pay credit to more of my inspirations: Omahrya Mota, Grace Jones, Bjork, M.I.A, Yma Sumac, Kelis, Shakira, Salma Hayek.
What was your style like as a teenager?
When I was a teenager I was obsessed with Fiorucci adverts from the '80s and designers from the other side of the world, because where I came from everyone stuck to the mall or the flea market. As a kid I didn't realize it was vintage, but I was drawn to things that had been around for a while. I liked customizing my own clothes or finding clothes from the '70s or '90s and making them modern. Other '90s brands I loved are Chanel, Galliano, Alaia, Vivienne Westwood, Todd Oldham, Versace, and Mugler.
What were the other kids wearing when you were growing up?
I'm from Colombia so girls were all wearing the same jeans with no pockets on the butt, with the long hair, you know, and there was a particular standard of beauty. When I was growing up in Virginia, it was kind of similar, it was a small town. A lot more diverse, but no one was pushing boundaries when it came to fashion. I used to get made fun of a lot because I would wear crazy shit. In 6th grade I used to always wear big silver puffy Moon Boots that went up almost to my knee. I used to wear them every single day, and some people would be like, "I love your boots," but I remember one time this older girl told me she loved them and her friend said, "No you don't." That was when I realized that people don't want each other to do things that are different or fun. When you come from places like that, wearing stuff that's different makes people think you want attention, but fashion should be fun because it makes life interesting, and so much of the time life is just miserable.
Best fashion advice you ever received:
I can't remember if anyone has ever given me fashion advice. What's really inspired me is really powerful women and that in itself, even if you're barely wearing anything, I think that inspires a lot of clothes. When I was a teenager, I loved very androgynous and strong-looking women who were able to come across in photographs as powerful beings. That always inspired me to embrace sexuality in fashion.
Do you have any fashion regrets?
We all have those photos where we look back like, "What was I thinking?" My style changes so much that when I look at photos from when I was 19—which wasn't even that long ago—I'm like, "Bitch what were you doing?" I didn't know how to do my makeup, I was looking a hot mess. Evolving your fashion is part of evolving as a human being. It's the process. Nothing I regret, but there are pictures I wish weren't online.
Most prized possession in your closet:
Probably a locket that my dad gave me when he left back to Colombia. It's engraved. I only have a few items that have sentimental value.
First major fashion purchase:
Just this year I started splurging on myself because I grew up very frugal. I loved deals and I loved finding stuff for low, low, low. But this year I started splurging and it feels great, and once you start you can't stop. It's kind of sick. Once you buy your first designer handbag it's a special feeling! I bought my first Louis Vuitton bag and it was late last year, and now I have way too many designer handbags. [Laughs.] It's a sickness.
What was the most recent big thing you purchased?
A few days ago I just got some Louis Vuitton slippers and matching earmuffs. I love to match things.
Favorite red carpet outfit you've ever worn:
At a Grammys after party event last year, I was wearing a headpiece by Kim Shui. I love her stuff. That was fun to wear because I love when I can feel like a goddess. Very ethereal, otherworldly.
Favorite fashion moment from pop culture:
I think people were a lot more experimental in the '90s with their runway shows so I like to watch runway shows from the 90s that are kind of abstract. I saw one where all of the models like Cindy Crawford and stuff were basically pushing each other all over the runway. The Versace show where Naomi Campbell took out a gun and shot a guy on stage, that was cool. I think it was just a lot more fun, the type of runway shows that they used to do. It was more like performance art.
What is always in your bag:
My rose water spray. Let me spray that right now, it's pretty good. My throat spray, it's good for my vocal chords and it's peppermint which I love. My wallet, which is Louis Vuitton. My lip liner and my lip gloss. My hard drive that has all my music on it. Oil that helps me with anxiety and smells really good.
Song to listen to when getting ready:
Depends on the mood. Sometimes I like to be really dramatic and listen to Bolero. Half the time I really love dramatic, sad music and the other half of the time I wanna listen to upbeat shit that you would walk down a runway to or work out in a gym to. The amazing thing about music is you can use it to navigate those feelings and change those frequencies.
Related: Kali Uchis and Soko: Music Mavens