Kamala Harris's Converse and the Political Evolution of the Sneaker
The symbolism of a sneaker in politics went from a middle-aged man trying to prove his vitality to a woman who meant business.
---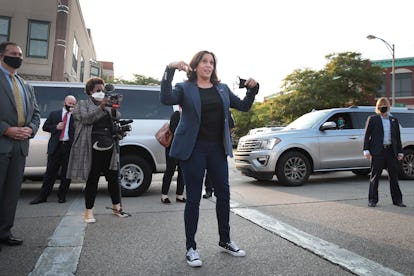 Kamala Harris took her first solo campaign trip as a vice presidential candidate this weekend, and made waves when she stepped off a jet in Milwaukee wearing a pair of trusty, black Converse Chuck Taylors. The senator herself highlighted the moment on Instagram with the caption, "Laced up and ready to win."
In the long scheme of Harris's own sartorial history, the moment was barely a blip. She could often be spotted in Chucks during her own primary run earlier this year (though to much less fanfare). It might have been odder if she stopped wearing sneakers on the campaign trail altogether once she was named Joe Biden's running mate. But in the context of that historic selection, the moment seemed to signify a notable development: female politicians rendering sneakers mainstream in the governmental sphere.
Throughout most of American history, the sight of a politician in any sort of casual shoe, let alone sneakers, was rare. Presidents even kept their formal footwear on when they threw out the fist pitch of the season at Major League Baseball games. They all seemed, uniformly, like the kind of gentleman who keeps his socks on in bed.
That changed with Jimmy Carter, whose habit of jogging was often captured by the press (though that backfired once, when he collapsed during a recreational race, spurring rumors of health concerns). Both George H.W. Bush and Bill Clinton repeated the tactic with highly publicized jogs, likely meant to affirm their perceived physical fitness and vitality. Those politicians usually kept their sneakers on the court or jogging path, and off the campaign trail (Barack Obama's Adidas Stan Smiths didn't make their first appearance until after he left office). Despite their differences, both Hillary Clinton and Bernie Sanders have only been spotted in sneakers during official duty while walking parade routes. It was all very practical, but not exactly a style statement.
There are some instances of more practical footwear taking on symbolic significance in politics—former Florida Senator and Governor Lawton Chiles walked 1,003 miles to elevate himself from a no-name state legislature. (The hiking boots he wore now sit in a museum; their existence was echoed by Rep. Alexandria Ocasio-Cortez, who showed off her own beaten-up walking shoes she laced up to knock on doors during her own historic campaign). But the sneaker didn't get its first truly significant moment in American political history until 2013.
Texas state lawmaker Wendy Davis staged a one-woman, 13-hour filibuster to successfully block restrictive regulations on women's health that year, and did so wearing a pair of pink Mizuno running shoes. Suddenly, the symbolism of a sneaker in politics went from a middle-aged man trying to prove his vitality to a woman who meant business. Harris, we should note, was not the only female candidate to slip into sneakers on the campaign trail this year. Elizabeth Warren famously promised to stay and personally greet every person who showed up to certain campaign rallies, and GQ noted that she often wore sneakers for the hours-long meet and greets.
The look of business attire on top and sneakers on the bottom also has some precedent on the runways, most specifically on those of Phoebe Philo. The former designer of both Chloé and Céline was celebrated for creating clothes that felt elegant and feminine, but reflected the modern ambitions of working women. Not only were models as likely to walk the runway in flats just as often as they wore heels, Philo herself almost always punctuated her own outfits with a pair of white Stan Smiths.
The attention paid to Harris's shoes will undoubtedly upset those who think paying attention to what a female politician wears is sexist (though, to be fair, Harris's Chucks moment came on the same weekend that a meme featuring Donald Trump in a "kitten heel" went viral). It may also rankle those who are wary of any glance given to a politician outside of their concrete policy proposals. Again, point taken—but Harris is up against the administration that forever changed the vibe of the simple red baseball hat.