Kanye West Cancels Yeezy Season 6 Show During New York Fashion Week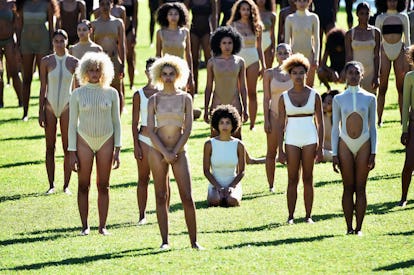 Bryan Bedder/Getty Images for Yeezy Season 4
Over the past five seasons, Kanye West has shaken up the New York Fashion Week calendar with his Yeezy presentations, for better or worse. This September, however, West will not be bringing the circus to town, at least not by way of a show or presentation for his Yeezy line.
The announcement came from a representative at Redken, which West had partnered with on the beauty looks of the Yeezy Season 6 show; Business of Fashion broke the news Wednesday morning. The representative said in an email to various outlets, including W, that the show "is no longer occurring," without elaborating.
It isn't unlike West to make last-minute decisions about his professional affairs; see his tortured The Life of Pablo rollout. But the show had been expected to take place next week on September 13. WWD had reported on the likelihood of the show returning to New York earlier this summer.
West has plenty in his personal life to keep him busy, as news was shared with the rest of the world this morning that he and his wife Kim Kardashian will be welcoming another child into their family. As the family matriarch spoke of on Keeping Up With the Kardashians, the married couple has been trying to give North and Saint a sibling for quite some time now, this time with the help of a surrogate. According to People, their surrogate is now pregnant. "The entire family is over the moon. Kim had been looking for a surrogate for months until recently when she found the perfect candidate," said the source to the tabloid. "Given her health scares in the past, Kim felt the need to hire a surrogacy agency that helped serve as the liaison in finding a healthy woman who would be a great surrogate option for her and Kanye. Both of them have been super involved in the process."
Outside of Kanye's involvement with his growing family, the artist has also been working on a followup to last year's shape-shifting album. Earlier this summer Def Jam's chief executive confirmed the performer was working on new music.
W has reached out to West's camp for confirmation of the cancellation, and will update accordingly. West first showed his Adidas-backed line of athleisure and footwear in New York in February 2015, attracting immense attention from the celebrity press, criticism from the fashion intelligentsia and ultimately outrage with a Season 4 show that saw models buckling under the heat at Roosevelt Island. His Season 5 presentation was a video project with models walking past the audience for the finale, and it received a tepid response at best, though industry publications say the items continue to sell well.
Yeezy Season 5 Fall 2017: See All the Looks from the Collection
A look from Yeezy Season 5 Fall 2017

Photo by Biel Parklee
A look from Yeezy Season 5 Fall 2017

GIF by Biel Parklee
A look from Yeezy Season 5 Fall 2017

Photo by Biel Parklee
A look from Yeezy Season 5 Fall 2017

GIF by Biel Parklee
A look from Yeezy Season 5 Fall 2017

GIF by Biel Parklee
A look from Yeezy Season 5 Fall 2017

Photo by Biel Parklee
A look from Yeezy Season 5 Fall 2017

GIF by Biel Parklee
A look from Yeezy Season 5 Fall 2017

Photo by Biel Parklee
A look from Yeezy Season 5 Fall 2017

Photo by Biel Parklee
A look from Yeezy Season 5 Fall 2017

GIF by Biel Parklee
A look from Yeezy Season 5 Fall 2017

Photo by Biel Parklee
A look from Yeezy Season 5 Fall 2017

GIF by Biel Parklee
A look from Yeezy Season 5 Fall 2017

GIF by Biel Parklee
A look from Yeezy Season 5 Fall 2017

Photo by Biel Parklee
A look from Yeezy Season 5 Fall 2017

GIF by Biel Parklee
A look from Yeezy Season 5 Fall 2017

Photo by Biel Parklee
A look from Yeezy Season 5 Fall 2017

GIF by Biel Parklee
A look from Yeezy Season 5 Fall 2017

GIF by Biel Parklee
A look from Yeezy Season 5 Fall 2017

Photo by Biel Parklee
A look from Yeezy Season 5 Fall 2017

GIF by Biel Parklee
A look from Yeezy Season 5 Fall 2017

Photo by Biel Parklee
A look from Yeezy Season 5 Fall 2017

Photo by Biel Parklee
A look from Yeezy Season 5 Fall 2017

Photo by Biel Parklee
A look from Yeezy Season 5 Fall 2017

Photo by Biel Parklee
A look from Yeezy Season 5 Fall 2017

GIF by Biel Parklee
A look from Yeezy Season 5 Fall 2017

Photo by Biel Parklee
A look from Yeezy Season 5 Fall 2017

GIF by Biel Parklee
A look from Yeezy Season 5 Fall 2017

Photo by Biel Parklee
A look from Yeezy Season 5 Fall 2017

GIF by Biel Parklee
Watch: Kanye West Just Wants to Bring Joy to the World Like Will Ferrell in 'Elf'
Kanye West Just Wants to Bring Joy to the World Like Will Ferrell in 'Elf'