Kanye West Is Blond, Back in Public, and Everything Seems Fine
After a very public hospitalization, Kanye West returns to life as normal and gives us something else to talk about in the process.
---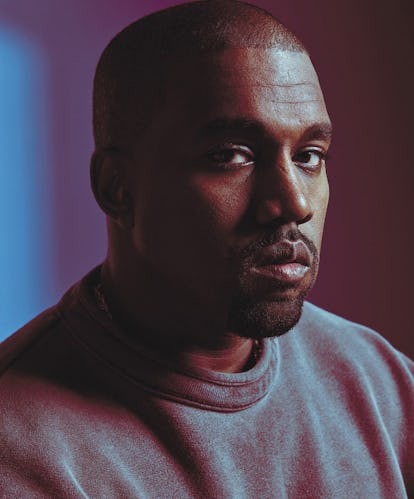 Photographs by Mario Sorrenti, Styled by Edward Enninful
You have to feel for Kanye West and Kim Kardashian. Their level of fame is such that even if they want to purposefully drop out of the spotlight for a while it just means that tabloids will make up rumors about them. So while the couple seems to have canceled all of their public plans for the rest of 2016, it doesn't mean that they're barricading themselves up in their mansion completely out of public view.
Last night, West was out in public for the first time, and, perhaps purposefully, he gave us something new to talk about besides rumors about the state of his marriage and his mental health: newly dyed blond hair. Which, of course, is a far less intense subject to discuss.
West's reemergence in public after his hospitalization echoes that of his wife's first foray outside after her own ordeal earlier this year. While Kim Kardashian went out to grab ice cream with her besties Jonathan Chaban, presumably because she likes ice cream and hanging with her BFF, Kanye decided to attend fashion designers Rick Owens' furniture show in Los Angeles last night. A low-key appearance brought on likely because, well, West loves nothing more than Avant Garde design and fashion designers expanding their talents beyond jut clothes.
West is a longtime fan of Owens, and has rocked the designer's clothes for years. Some have even seen Owens' goth style as an inspiration on West's own Yeezy line. West, indeed, even publicly commented on Owens' furniture design before.
So this is Kanye West just low-key pursuing his passions and hobbies out in public, probably a good sign for anyone concerned.
As for the hair? Well, who knows. West would be far from the first person to make a big change to their coif after going through a tough time. How many daring hair choices have you made even after something like a breakup? You know you've done it. The "new hair, new me" school of dealing with things is nothing new, and West's hair change is far from as dramatic as say, Britney Spear's own lock-shearing moment back in 2007.
So Kanye seems fine all things considered. Kim seems fine. And now the segment of the public with an unquenchable thirst for Kimye talking points finally has something to discuss besides unfounded rumors. Kanye is blond!