The Kardashians Attempt to Colonize TikTok
With E! on the way out, the Kardashian-Jenners are eyeing TikTok in earnest.
---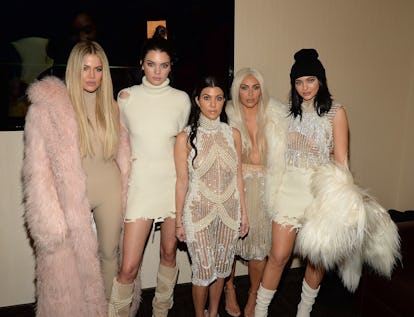 Kevin Mazur/Getty Images for Yeezy Season 3
With Keeping Up With The Kardashians' wrapping up on E! sometime next year, the Kardashian-Jenner industrial complex is about to be without a traditional media home to call their own for the first time in 13 years. Despite some initial speculation they may find a place on one streaming service or another, there's been little concrete news since. Of course, the family always has their army of social media followers to keep them relevant in the meantime. So, perhaps it's not coincidental that as of late the entire clan seems to be angling toward TikTok as the next space to colonize.
Officially, only two members of the mainline Kardashian-Jenner family are on the service so far: Kylie Jenner and her 23.4 million followers (just a fraction of her count on Instagram) and Kourtney Kardashian and her three million followers. While both have been on TikTok for more than a year, neither have been power users, exactly. Mostly, they've used their accounts as extensions to promote their individual brands, Kylie Cosmetics and Poosh. Kourtney, notably, has also done some socializing in TikTok circles, striking up an odd friendship with 20-year-old Addison Rae, who has 32 million followers (notably more than even Kylie).
Though, over the past few days it seems that the family may be preparing to ramp up their presence on the app. The action is on Kylie's account, but it very well may serve as a launchpad for introducing more family members to TikTok's algorithm.
Guest stars on Jenner's account before last week were usually relegated to her personal circle of friends, daughter Stormi, and some cross-over videos with other influencers like makeup maven James Charles.
Then last week, Kendall Jenner popped up in one of Kylie's videos. The sisters participated in a popular TikTok meme set to Run-DMC's "Tricky" in which they sort themselves into differing categories (there was an impressive amount of self-awareness on display, what with Kylie calling herself an "Instagram model").
Now, Kylie has posted two videos featuring the entire six central Kardashian-Jenners. The simple concept: they FaceTime their famous friends, including Justin Bieber, Charles, and even Dave Chappelle, at the same time and catch their reaction. Notably, it's the first time the family has all appeared in a TikTok together, and certainly it wasn't a casual effort. This took planning.
It's cute, it's fun, but is it the promise of something more? Maybe. Just about any brand, family or otherwise, has to be thinking seriously about expanding into TikTok at the moment. It's where the kids are these days, and while it has its own political issues involving its origins, it has also evaded the fake news-spreading drama that Facebook, Twitter, and to some degree Instagram, often find themselves in.
The video also hits home with another Kardashian tactic that often escapes adults. While we may be more on top of chronicling the family's socializing and networking with traditional elites (like fashion designers, movie stars, and magazine editors,) they've also cultivated connections with social media stars just as freely. Beyond Rae and Charles, the family has also found themselves collaborating with online royalty like JoJo Siwa, David Dobrik, and NikkieTutorials. There's no avenue of fame or relevance they've left uncultivated.
They used to say the sun never set on the British Empire. Clearly, the Kardashians never want the endless scroll to stop on theirs. A colonization of TikTok only make sense.