Disney Guarantees Years of More Kardashian Content
Kris, Kim, Khloé, Kourtney, Kendall, and Kylie are arguably now Disney princesses.
---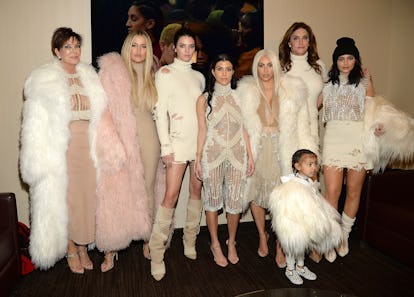 Photo via Getty Image
Three months ago, the Kardashian family announced that it would no longer film and share the most intimate (and carefully crafted) moments of their personal lives—at least, in the form of their eponymous E! series. "It is with heavy hearts that we've made the difficult decision as a family to say goodbye to Keeping Up with the Kardashians," Kim Kardashian wrote on Instagram. The move marked the end of an era, encompassing "14 years, 20 seasons, hundreds of episodes and numerous spin-off shows." (Remember Life of Kylie?)
KUWTK's last season airs early next year. But the wait to learn of their next "journey" is officially up. (It's not like Kim and co. were ever going to disappear.) On Thursday, Disney announced that the Kardashian-Jenners have signed a multiyear, global contract with the studio, in one of just several major announcements made over the course of its four-hour investor day presentation.
Though, details on the deal remain short. The video announcement was made solely via a picture of the family, and Disney's press release was a scant 46 words with a parting clarification of "additional details will be shared when available."
The mysterious content will air on Hulu and Disney's Star network (an international service), meaning that after 14 years, the Kardashians are abandoning E!. (Along with the network's host and producer, Ryan Seacrest, who got a special shout-out in the KUWTK announcement). Disney is the majority stakeholder of Hulu, though, interestingly Comcast, the parent company of E!, holds a minority stake in the company.
It remains to be seen if the family will continue in the docu-soap tradition of their E! program, though earlier rumors suggested that the family may opt for less personally invasive formats of reality television.
It's hard to believe that the Kardashians' next foray could make them even more famous, but it has at least earned Kris, Kim, Khloé, Kourtney, Kendall, and Kylie a new title: Disney princess. Not that they needed it. At this point, they're not only considered American royals, but arguably hold even more power than the Windsors.