Models Team Up with New York State Legislators to Protect Themselves from Harvey Weinstein-Like Predators
A new bill aims to protect those working in an industry Christy Turlington recently described as "surrounded by predators."
---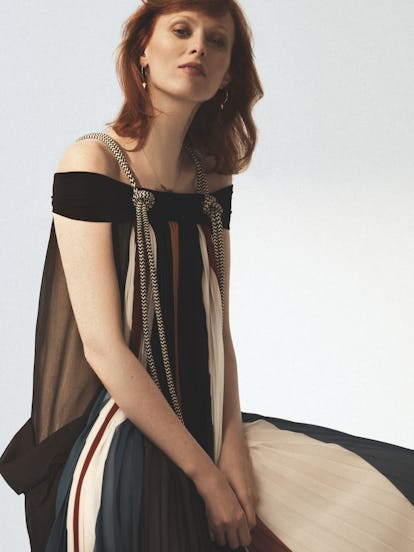 Photo by Hans Neumann, styled by Caroline Grosso. Produced by Biel Parklee. Hair by Sabrina Szinay for Kevin Murphy at The Wall Group, Makeup by Marco Castro at De facto. Photography Assistant: Basil Faucher.
As more than 50 women in Hollywood have come forward this month to accuse the former Hollywood mogul Harvey Weinstein of sexual harassment and assault, the voices of actresses like Angelina Jolie and Gwyneth Paltrow have been slowly joined by those in the fashion industry—and not just because the most chilling evidence provided by one of Weinstein's victims came from the model Ambra Gutierrez, or because Weinstein was married to the Marchesa designer Georgina Chapman, or even because he used the fashion industry as a "pipeline" to women he could abuse.
There's also the simple fact that the stories suddenly emerging from Hollywood bear an eerie resemblance to the experiences all too many have long endured in the modeling industry. Over the last week and a half, the Victoria's Secret Angel Sara Sampaio called out the French magazine Lui for being just the most recent client of hers to "coerce" her into posing nude—and publishing the photos without her consent. The model Cameron Russell devoted her Instagram to dozens of DMs from models coming forward to her with stories of their assaults, tagging each with the hashtag #MyJobShouldNotIncludeAbuse, and tapping the supermodel Anja Rubik to help her out in doing the same.
And just after Christy Turlington described the industry as "surrounded by predators who thrive on the constant rejection and loneliness so many of us have experienced at some point in our careers," Karen Elson, who's been a model and musician for the past 25 years, underlined Turlington's statement by describing how that tenure has given her "a lot of experience" in feeling uncomfortable, including unwillingly doing her first-ever nude shoot at 16.
In a new interview with the New York Times, Elson has further detailed her experiences with harassment starting from a young age—like the time she'd just turned 16 and a model scout tried to have sex with her, which she reported only to be threatened with getting kicked out of Paris, and the time she was doing a shoot for a "major U.S. retailer" and the photographer, who was standing over her, "got out his penis and asked if 'I wanted it.'"
And she isn't sharing just these more graphic experiences because she's now become more emboldened; they also illustrate why the legal system is now getting involved, as New York's Democratic assemblywoman Nily Rozic proposed an amendment to the state's anti-discrimination laws on Monday that would extend some of its protections to models, thereby holding photographers and other industry figures, like designers, accountable for abuse experienced on their watch.
Of course, union rights and star power didn't succeed in protecting Weinstein's victims. But any protection seems to be better than none for models, who are particularly susceptible to harassment, given that the complex technicalities of their contracts often make them ineligible to the protections offered in many other professions. Because models aren't booked directly themselves, but through their agencies, that technically makes them independent contractors, and, according to the Times, puts them on the same often unregulated level as nannies and housekeepers.
In fact, until now, it's remained unclear in New York if perpetrators were even legally liable for job-related sexual harassment, which is why the state is now working to clear things up with the Model Alliance, which Sarah Ziff, who started modeling when she was 14, founded in 2012 to devote research and policy-changing efforts toward the harassment in the industry. Elson is on the group's advisory board, and is now speaking for those who haven't found the success and caring agents that she has enjoyed through her career that allows her to "insist that the set be cleared and at least one woman stays on set" whenever she takes a job.
Rozic, the assemblywoman, is hoping that the bill will be passed by June so that it can go into effect by next year. And it may finally be indicating a broader change in the industry, which has been grappling with theses issues for decades, given that last month, the fashion industry's leading powerhouses, the luxury conglomerates LVMH and Kering, teamed up on an incredibly ambitious charter to protect the well-being of models.
Still, the moves are undeniably a step forward—for models and women in general, too. As Elson, who at 38 is now "much more capable to stand up and draw a line of what is acceptable and what isn't," pointed out, "the revelation for a lot of women is that harassment isn't exclusive to one career or another," she said in the wake of the Weinstein scandal. "It's rampant."
Related: Model Sara Sampaio Says She Has Been Coerced Into Posing Nude "Many Times"
"Women's Rights Are Human Rights": 62 Fashion Insiders Speak Out in a Powerful Video for International Women's Day: