Karin Gustafsson, COS Designer, Loves Tilda Swinton, Brogues
The head of women's wear design shares a page from her style notes.
---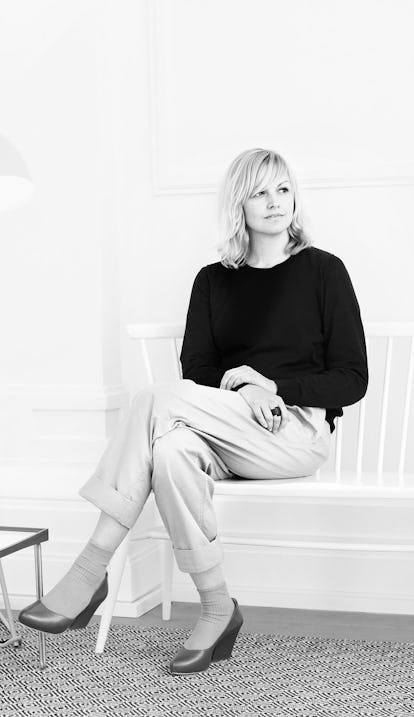 COS has long been a style secret of chic Euros. Now, with e-commerce in the US, a new store open in Los Angeles, and another location coming to New York this week, the Swedish brand's simple staples will be available stateside. Here, Karin Gustafsson, the head of women's wear design at COS, shares her favorite New York destinations, recent purchases, and more.
Define your style in three words: Understated. Timeless. Easy-going.
Daily uniform: Jeans (boyfriend or straight), a shirt (silk or cotton poplin), and brogues.
Greatest hits: Cigarette pants and a cashmere polo neck in every color.
Preferred footwear: Mannish lace-up brogues.
Finishing touches: An oversized black leather clutch.
Nighttime look: When I go out in the evening, heels are a must! I recently went to an event wearing wide-legged silk trousers and a matching silk top. I love the pajama-style trend, comfortable yet chic.
Best recent discovery: On a recent trip to New York I discovered Café Gitane. The avocado on seven-grain toast with lemon and chili flakes is so delicious.
Favorite stores: One of my favorite stores is the Republic of Fritz Hansen in London. He designs such beautiful furniture and also has amazing Christmas decorations.
Style icon: Tilda Swinton. She always looks strong and confident in whatever she wears.
Last purchase: My favorite Chanel lipstick in a raspberry shade. I couldn't live without it!
Lusting after: Christmas with my family back in Sweden. I'm really hoping there is going to be snow!
Favorite haunts: Aqua at the Shard. The Shard is one of tallest buildings in London and the view from up there is breathtaking.
Winter survival tips: I think the trick is to wear lots of layers. To keep out the cold I wear an oversized wool coat with a polar neck and my COS cashmere hat, scarf, gloves and of course one of my trusty cashmere polo necks.
What's always in your bag: I always have an SPF lip balm in my bag.
Favorite part of New York style: I'm always taken by the great tailoring and sophisticated classic style.
Photos: Karin Gustafsson, COS Designer, Loves Tilda Swinton, Brogues
Karin Gustafsson. Courtesy of COS.
From the COS AW14 Lookbook. Courtesy of the brand.
COS's Karin Gustafsson and Martin Andersson.