Karl Lagerfeld Debuts His First Limited Edition Makeup Line
The legendary fashion designer debuts his first makeup collection.
---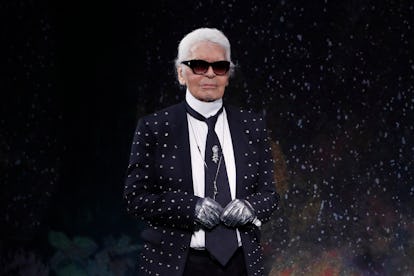 Getty.
When a name as iconic as Karl Lagerfeld crosses over into the makeup world, beauty fans take note. The legendary fashion designer and longtime creative director of Chanel is officially joining the beauty space by transforming his famous sketches into a limited edition makeup collection in collaboration with the Australian beauty brand ModelCo.
The theme of the 50-plus-piece collection is "illuminated beauty." Lip glosses the shape of the designer's iconic silhouette—ponytail, sunglasses, and tie—come with built-in LED lights. "This collection is done for people of any age who might like it—also young people who know more about makeup than all of us," Lagerfeld told WWD. Pier Paolo Righi, the chief executive officer of Karl Lagerfeld, continued on to express the evolution of the brand. "This collaboration presents a new, very relevant way to connect with our audience, for whom we are much more than a fashion brand—we are a fashionable companion in their daily lives," Righi said. "Looking beautiful when going out is, of course, important to our consumers, and we are very happy that we can help them [do] so and can do it with a smile."
And while Righi admitted, "I had never done such a complete (makeup) collection before," he hinted that Lagerfeld's first makeup collection may not be his last. "Making women feel beautiful, confident, and happy is part of what we do every day," he said. "Therefore, a beauty line is something we definitely can see becoming part of our permanent offer." Lagerfeld's collection will carry everything from mascaras to brow gels and makeup brushes, and will officially launch May 14.
Related: Karl Lagerfeld Reveals His Favorite Models and the Pet Names He Has Given Them
Chanel Created an Actual Forest In the Middle of Paris Fashion Week
On the runway at the Chanel Fall 2018 show during Paris Fashion Week at the Grand Palais in Paris, France on March 6th. Photo by Molly SJ Lowe for W Magazine.

www.mollysjlowe.com
On the runway at the Chanel Fall 2018 show during Paris Fashion Week at the Grand Palais in Paris, France on March 6th. Photo by Molly SJ Lowe for W Magazine.

www.mollysjlowe.com
On the runway at the Chanel Fall 2018 show during Paris Fashion Week at the Grand Palais in Paris, France on March 6th. Photo by Molly SJ Lowe for W Magazine.

www.mollysjlowe.com
On the runway at the Chanel Fall 2018 show during Paris Fashion Week at the Grand Palais in Paris, France on March 6th. Photo by Molly SJ Lowe for W Magazine.

www.mollysjlowe.com
On the runway at the Chanel Fall 2018 show during Paris Fashion Week at the Grand Palais in Paris, France on March 6th. Photo by Molly SJ Lowe for W Magazine.

Philippe Respaut
On the runway at the Chanel Fall 2018 show during Paris Fashion Week at the Grand Palais in Paris, France on March 6th. Photo by Molly SJ Lowe for W Magazine.

www.mollysjlowe.com
On the runway at the Chanel Fall 2018 show during Paris Fashion Week at the Grand Palais in Paris, France on March 6th. Photo by Molly SJ Lowe for W Magazine.

www.mollysjlowe.com
On the runway at the Chanel Fall 2018 show during Paris Fashion Week at the Grand Palais in Paris, France on March 6th. Photo by Molly SJ Lowe for W Magazine.

www.mollysjlowe.com
On the runway at the Chanel Fall 2018 show during Paris Fashion Week at the Grand Palais in Paris, France on March 6th. Photo by Molly SJ Lowe for W Magazine.

www.mollysjlowe.com
On the runway at the Chanel Fall 2018 show during Paris Fashion Week at the Grand Palais in Paris, France on March 6th. Photo by Molly SJ Lowe for W Magazine.

www.mollysjlowe.com
On the runway at the Chanel Fall 2018 show during Paris Fashion Week at the Grand Palais in Paris, France on March 6th. Photo by Molly SJ Lowe for W Magazine.

www.mollysjlowe.com
On the runway at the Chanel Fall 2018 show during Paris Fashion Week at the Grand Palais in Paris, France on March 6th. Photo by Molly SJ Lowe for W Magazine.

www.mollysjlowe.com
On the runway at the Chanel Fall 2018 show during Paris Fashion Week at the Grand Palais in Paris, France on March 6th. Photo by Molly SJ Lowe for W Magazine.

www.mollysjlowe.com
On the runway at the Chanel Fall 2018 show during Paris Fashion Week at the Grand Palais in Paris, France on March 6th. Photo by Molly SJ Lowe for W Magazine.

www.mollysjlowe.com
On the runway at the Chanel Fall 2018 show during Paris Fashion Week at the Grand Palais in Paris, France on March 6th. Photo by Molly SJ Lowe for W Magazine.

www.mollysjlowe.com
On the runway at the Chanel Fall 2018 show during Paris Fashion Week at the Grand Palais in Paris, France on March 6th. Photo by Molly SJ Lowe for W Magazine.

www.mollysjlowe.com
On the runway at the Chanel Fall 2018 show during Paris Fashion Week at the Grand Palais in Paris, France on March 6th. Photo by Molly SJ Lowe for W Magazine.

www.mollysjlowe.com
On the runway at the Chanel Fall 2018 show during Paris Fashion Week at the Grand Palais in Paris, France on March 6th. Photo by Molly SJ Lowe for W Magazine.

www.mollysjlowe.com
On the runway at the Chanel Fall 2018 show during Paris Fashion Week at the Grand Palais in Paris, France on March 6th. Photo by Molly SJ Lowe for W Magazine.

www.mollysjlowe.com
On the runway at the Chanel Fall 2018 show during Paris Fashion Week at the Grand Palais in Paris, France on March 6th. Photo by Molly SJ Lowe for W Magazine.

www.mollysjlowe.com
On the runway at the Chanel Fall 2018 show during Paris Fashion Week at the Grand Palais in Paris, France on March 6th. Photo by Molly SJ Lowe for W Magazine.

www.mollysjlowe.com
On the runway at the Chanel Fall 2018 show during Paris Fashion Week at the Grand Palais in Paris, France on March 6th. Photo by Molly SJ Lowe for W Magazine.

www.mollysjlowe.com
On the runway at the Chanel Fall 2018 show during Paris Fashion Week at the Grand Palais in Paris, France on March 6th. Photo by Molly SJ Lowe for W Magazine.

www.mollysjlowe.com
On the runway at the Chanel Fall 2018 show during Paris Fashion Week at the Grand Palais in Paris, France on March 6th. Photo by Molly SJ Lowe for W Magazine.

www.mollysjlowe.com
On the runway at the Chanel Fall 2018 show during Paris Fashion Week at the Grand Palais in Paris, France on March 6th. Photo by Molly SJ Lowe for W Magazine.

www.mollysjlowe.com
On the runway at the Chanel Fall 2018 show during Paris Fashion Week at the Grand Palais in Paris, France on March 6th. Photo by Molly SJ Lowe for W Magazine.

www.mollysjlowe.com
On the runway at the Chanel Fall 2018 show during Paris Fashion Week at the Grand Palais in Paris, France on March 6th. Photo by Molly SJ Lowe for W Magazine.

www.mollysjlowe.com
On the runway at the Chanel Fall 2018 show during Paris Fashion Week at the Grand Palais in Paris, France on March 6th. Photo by Molly SJ Lowe for W Magazine.

www.mollysjlowe.com
On the runway at the Chanel Fall 2018 show during Paris Fashion Week at the Grand Palais in Paris, France on March 6th. Photo by Molly SJ Lowe for W Magazine.

www.mollysjlowe.com
On the runway at the Chanel Fall 2018 show during Paris Fashion Week at the Grand Palais in Paris, France on March 6th. Photo by Molly SJ Lowe for W Magazine.

www.mollysjlowe.com