Karlie Kloss Returns To the Victoria's Secret Fashion Show After Three Year Hiatus: "It Feels Like Déjà Vu"
The 25-year-old model hasn't walked in the show since 2014.
---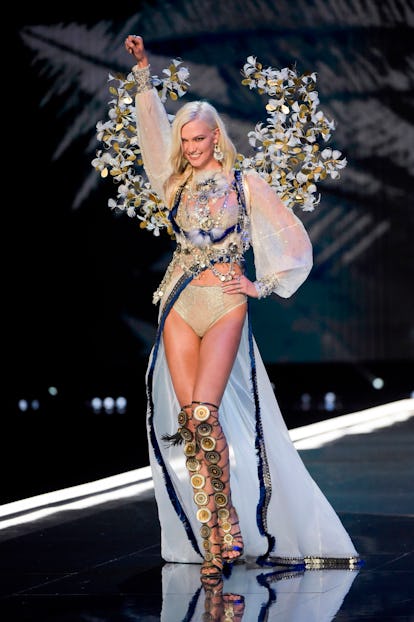 FRED DUFOUR
When it comes to acting, singing, or modeling, does anyone ever really, truly "retire?" Take, for example, Karlie Kloss, who three years ago ended her contract with Victoria's Secret, seemingly retiring her Angel wings forever. But not so fast.
Today, the 25-year-old made her comeback to the lingerie-filled stage, walking in the brand's Shanghai show. Of course, Kloss has kept plenty busy in the meantime, still walking countless fashion week runways, as well as attending New York University, founding Kode with Klossy, a camp to empower girls to learn to code, and running her first New York City marathon.
Even with all these accomplishments, the model said that this particular fashion show will always have a special place in her heart. "This is such a special runway to be a part of and such a big legacy," Kloss said. "Victoria's Secret Fashion Shows are some of the greatest shows on earth and some of the greatest moments I've had on a runway."
The model was once again donning one the brand's famous pink robes as she sat in hair and makeup ahead of the runway. "It's really exciting to be backstage," she noted. "It feels like déjà vu."
Kloss also spoke about the special bond among angels: "I grew up watching the show and really respect so many of the women who are on that runway today and in years past and really honored to be a part of it. It's really a special feeling putting on those wings and being backstage with all the girls. There's this adrenaline. You know you're a part of something very special. "
For her return, Kloss donned two separate ensembles. First up, there was a white and silver bra and panty set, paired with a sheer white robe with billowy sleeves, gladiator boots, and deconstructed angel wings composed of gold leaves and white feathers. The second outfit was a red tartan bra and studded panty set and matching oversized robe draped over her shoulders. Thigh-high, black leather lace up boots and a chainmail choker finished the look.
The only thing missing from her big comeback? Best friend Taylor Swift, whom she's previously walked the catwalk alongside twice.
Related: Bella Hadid Was "So Excited" to Walk the Victoria's Secret Fashion Show, Even Without Gigi
Haim's 4 Rules for Getting Ready for a Party