Sorry Internet, But Kate Bush Playing Coachella Never Made Sense in the First Place
Kate Bush was never looking to make a deal with Coachella, despite what the outraged armchair Twitter pundits will have you believe.
---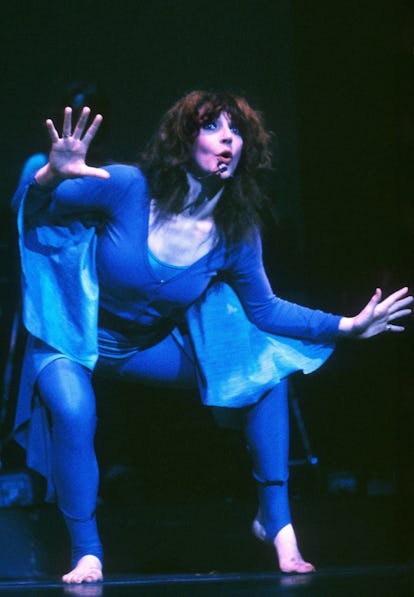 Rob Verhorst
What was stranger? That Coachella didn't want to book Kate Bush, or that Kate Bush would even want to play Coachella in the first place?
Word broke yesterday that Coachella founder and concert promoter Golden Voice Paul Tollett wouldn't even dream of booking Bush, the ethereal English singer whose art pop really has meant many things to her devoted fans.
Bush, of course, has never played a concert in America. The closest she came was a 1978 appearance on Saturday Night Live. It's not that she doesn't like America, per se, it's just that she doesn't like performing that much at all. She took a 35-year break from the stage before returning for a string of sold out shows in London in 2014. She's also never been nearly as popular in America as she has in her native land. She's had just a single Top 40 here with her classic "Running Up That Hill" back in 1985.
Still, booking Bush would be a cultural coup for anyone in any context in any part of the globe. One would imagine Tollett and Coachella would book her for the prestige alone.
The news came from a profile of Tollett, and was offered up as an anecdote from Marc Geiger, a powerhouse music agent with the William Morris Endeavor agency. profile of Tollett, and was offered up as an anecdote from Marc Geiger, a powerhouse music agent with the William Morris Endeavor agency.
"I'll say, 'Kate Bush!' And he'll go, 'No!,' and we'll talk through it," Geiger recounts. "I'll say, 'She's never played here, and she just did thirty shows in the U.K. for the first time since the late '70s. You gotta do it! Have to!' 'No! No one is going to understand it.'"
Of course, the internet went crazy with the news that Coachella turned down Bush.
As it turns out though, Geiger may have been offering up the example as a hypothetical. Bush's representatives quickly denied she'd ever play the festival in the first place.
"No discussions were ever had with Kate about playing any festival, including Coachella," a spokesman told The Guardian.
Which, well, makes total sense. She didn't want you to hear about the deal she's making, because there never was one in the first place.
Bush hardly likes to play live in the first place, as evidenced by that 35 year gap. There's also always been rumors that she's afraid of flying. So why would she fly practically halfway around the world to commit to playing two weekends of shows in the middle of a raucous desert festival full of kids in jorts and culturally questionable accesoriess?
Truth be told, maybe your average Coachella-goer wouldn't understand it.
Besides, the two times Bush has presented live shows—her 1979 Tour of Life and the 2014 London shows—they've been fully realized theatrical experiences. They're multimedia presentations that involve mimes and magic and precise lighting and video art and puppets. They're shows that deserve their own context and their own space. Could you even imagine Bush staging a show that was meant for millennials to briefly check out while swigging beer in between Martin Garrix and Gucci Mane?
None of it ever made any sense, and frankly if Bush ever did deign to play America it would deserve more than a Coachella slot.
So how did this controversy even start?
It's very possible that Geiger wanted to illustrate Tollett's attitude towards booking without revealing actual snubs of musicians who were interested in playing, so he picked Bush, maybe because he thought no one would imagine her playing the festival in the first place and the fictitious nature of the tale would be self-evident. Though, it maybe didn't help matters that he picked a female musician, given Coachella's history of neglecting female talent (this year Lady Gaga, after filling in for Beyoncé, will only be the second female headliner in the fest's long history).
Certainly though Bush is not looking to make a deal with God nor Paul Tollett to get him to swap her place with Lady Gaga. Maybe she'll play America yet, but don't hold your breath for Coachella.
Related: Coachella's Best Denim Is Patched Up and Painted
"Hideaway" Is Mykki Blanco's Artful Exploration of HIV Stigma: