Just the Two of Us
Galerie Perrotin presents Kate Ericson and Mel Ziegler's first New York show in 14 years.
---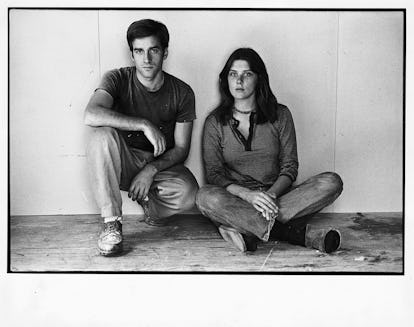 When the artists Mel Ziegler and Kate Ericson, partners in life and work, attended CalArts in the early 1980s, the student body was deep into conceptualism, at the expense of traditional media. "Kate and I were the only ones with sculpture degrees from CalArts," says Ziegler. "Everyone else was like, 'We only do post-studio.'"
Ironically, he and Ericson, who passed away in 1995 after battling brain cancer, emerged as the unlikely duo that pushed the very bounds of conceptual theory so fetishized by their schoolmates. Until Ericson's premature death, the pair collaborated on progressive projects that synthesized performance, installation, conceptualism and land art into what is now called social practice art, the milieu currently associated with the likes of Theaster Gates, though it can be traced all the way back to Joseph Beuys. At the time, however, what Ziegler and Ericson were up to was hardly in fashion. After the 1988 debut of their project Signature Piece at MoMA—in which they collected the signatures of 42 people who helped manufacture the museum's building materials, and then installed them inside as wall labels—Ziegler recalls, "There were artists who told us, 'You just ruined your career. No one is going to be interested in your work anymore.' It was one of the worst openings I'd ever been to."
In hindsight, their significance seems obvious. Tonight, the French gallerist Emmanuel Perrotin, who last showed their work in 1992 at his Paris gallery (then known as Ma Galerie), is opening the first New York exhibition of the duo in 14 years. A retrospective of works and artifacts collected from their community-driven art happenings, the show includes never-seen pieces like a paint-and-pastel rendering of a flatbed truck, filled with fir trees, that the artists parked outside Manhattan's Artists Space gallery in 1984 in order to see if it would get towed. (It didn't.) There is also a map of 1991's Camouflaged History, their revered project in Charleston, South Carolina, for which they contracted the military to pick out paint patterns for the façade of a house on the historic zoning border. "Antony Gormley got really mad and told us we were valorizing the army," recalls Ziegler. "I replied that if you pay taxes, you are paying for the military, so you're participating whether you want to or not. By having them design a pattern for us, it was almost pacifying the military. They were making art."
"People kind of hated us then," Ziegler adds, ruminating on their controversial history. "It's nice to revisit all this after the anger is gone."
"Kate Ericson & Mel Ziegler" runs from July 8 – August 22 at New York's Galerie Perrotin, 909 Madison Ave.
Photos: Just the Two of Us
Mel Ziegler and Kate Ericson, 1978. Courtesy of Kate Ericson & Mel Ziegler/Galerie Perrotin
Give and Take, 1986. Courtesy of Kate Ericson & Mel Ziegler/Galerie Perrotin
Camouflaged History, 1991. Courtesy of Kate Ericson & Mel Ziegler/Galerie Perrotin
Untitled (Instant Landscape), circa 1984. Courtesy of Kate Ericson & Mel Ziegler/Galerie Perrotin
Peas, Carrots, Potatoes, 1994. Courtesy of Kate Ericson & Mel Ziegler/Galerie Perrotin