Kate Foley Loves Miuccia Prada, Hates Slogans
The new Vestiare Collective contributing fashion director shares a page from her style notes.
---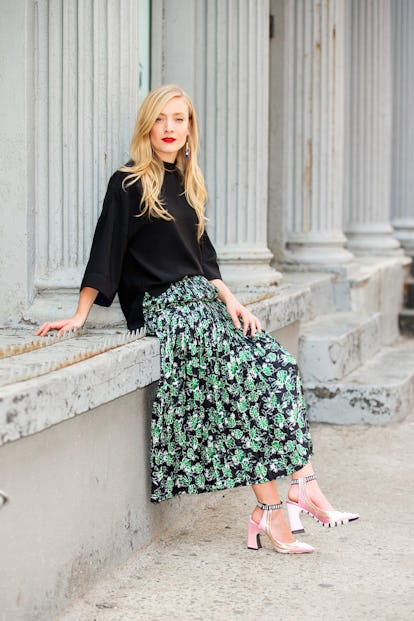 Stylist and It girl Kate Foley is always dressed to impress—on the red carpet and on her days off. Here, the newly named Contributing Fashion Director of Vestiare Collective, a premium re-sale e-commerce destination, shares her style secrets.
Define your style in three words: Eclectic, lighthearted and comfortable!
Daily uniform: I nearly always wear a mid length skirt. It's like my version of jeans—something I can throw on and feel totally comfortable whether I'm dressed up or down. I pair it with a t-shirt or shirt, and either sandals or brogues.
Greatest hits: A pair of YSL vintage navy high-waisted pants. I always go back to them when I don't know what to wear. A Suno floral tea dress is the perfect piece to wear in New York in the summer. And I wear my Prada crystal heels so much that I bought them in two colors!
P__referred footwear:__ Heels for evening, brogues for day
Finishing touches: I love crazy earrings from Marni and always find myself buying them season after season. I call them art teacher earrings, the weirder and more artsy the better!
Nighttime look: Usually I'll wear a printed dress by Marni, Suno or Prada with a pair of heels and big earrings!
Style pet peeve: Anything with a slogan. So unnecessary!
Style icon: Miuccia Prada.
Last purchase: Silver Prada shoes from Vestiaire. I bought them even though I already own a vast collection of silver Prada shoes !
Lusting after: A huge Josef Frank Hawaiian print sofa for my office.
Favorite haunts: In New York, I always go to 1or8 in Williamsburg and Il Buco. Both have amazing food but are relaxed and comfortable, too. I get drinks after work at The Ship on Lafayette. I always stay at the Edition Hotel in Miami and London and now one just opened in New York, so I'm happy about that. I'm actually staying there this week even though I live here!
What's always in your bag: My Prada card holder, my phone (although sadly that can also be glued to my hand!) Nars Bronzer and Nars Lip pencil.
Summer destination: Shelter Island or Lamu, Kenya.
Best item to bring to the beach: I am very low key on the beach. I'll wear a vintage Kanga from Kenya, a book and a hat and that's all I need (and sunscreen, of course!)
Photos: Kate Foley Loves Miuccia Prada, Hates Slogans
Kate Foley. Photo by Mark Iantosca.
Courtesy of @real_kate_foley.
Shelter Island. Courtesy of @real_kate_foley.
Kate Foley. Photo by Mark Iantosca.
Prada crystal heels. Courtesy of @real_kate_foley.
Lamu, Kenya. Courtesy of @real_kate_foley.