Why Kate Middleton Wore Green, Not Black, to the BAFTAs
The Duchess broke the dress code to uphold royal protocol, but her outfit was full of subtle nods to the movement.
---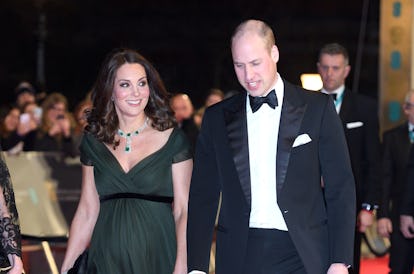 Photo by Karwai Tang/WireImage
On Sunday night, actresses including Jennifer Lawrence, Angelina Jolie, and Margot Robbie attended the British Academy Film Awards, more commonly known as the BAFTAs. Like at the Golden Globes, the stars wore black in support of the Time's Up movement. One guest not in black? Kate Middleton, who wore a deep green gown accessorized with emerald jewelry.
As The Cut points out, "making political statements is actually a violation of royal protocol. And, for better or for worse, Time's Up and #MeToo are both political movements," which may have prevented the Duchess of Cambridge from wearing black if she did indeed want to. (As anyone who has watched The Crown knows, breaking royal protocol is much more complicated than just asking permission to do something.)
Look closer, though, and you'll see that Middleton's outfit had a number of subtle nods to the movement. First of all, the dress itself is so subdued in color that if you only glanced at it, you might think she was wearing black. Second, the dress featured a black ribbon, and she carried a black purse and wore black shoes. But most tellingly, the emerald color and emerald jewelry both speak to supporting women's rights. At the Golden Globes, many actresses wore emerald jewelry because green was one of the colors of the British suffragette movement. Essentially, green is the black of colors.
Frances McDormand, who took home a trophy for her work in Three Billboards Outside Ebbing, Missouri, also eschewed the unofficial black dress code, opting for a patterned frock that, in fairness, was red, pink, and black. Unlike Middleton, she spoke about her decision explicitly, saying, "I stand in full solidarity with my sisters tonight in black. I also want to say that I appreciate a well-organized act of civil disobedience," in her acceptance speech, per the BBC News.
As Middleton and McDormand demonstrated, the most effective feminist movements are the ones that allow women to express themselves when, how and if they so choose. That freedom is the very foundation of gender equality.
Related: Emma Watson Donated a Million Pounds to Fight Sexual Harassment and Abuse Around the World
BAFTA Red Carpet 2018: See Jennifer Lawrence, Angelina Jolie and More Actresses in Black Dresses
Jennifer Lawrence attends the EE British Academy Film Awards (BAFTAs) held at the Royal Albert Hall on February 18, 2018 in London, England. (Photo by Karwai Tang/WireImage)

Karwai Tang
Angelina Jolie attends the EE British Academy Film Awards (BAFTA) held at Royal Albert Hall on February 18, 2018 in London, England. (Photo by Jeff Spicer/Jeff Spicer/Getty Images)

Jeff Spicer
Lupita Nyong'o attends the EE British Academy Film Awards (BAFTA) held at Royal Albert Hall on February 18, 2018 in London, England. (Photo by Jeff Spicer/Jeff Spicer/Getty Images)

Jeff Spicer
Saoirse Ronan attends the EE British Academy Film Awards (BAFTAs) held at the Royal Albert Hall on February 18, 2018 in London, England. (Photo by Karwai Tang/WireImage)

Karwai Tang
Salma Hayek attends the EE British Academy Film Awards (BAFTA) held at Royal Albert Hall on February 18, 2018 in London, England. (Photo by Jeff Spicer/Jeff Spicer/Getty Images)

Jeff Spicer
Margot Robbie attends the EE British Academy Film Awards (BAFTAs) held at Royal Albert Hall on February 18, 2018 in London, England. (Photo by Samir Hussein/WireImage)

Samir Hussein
Octavia Spencer attends the EE British Academy Film Awards (BAFTA) held at Royal Albert Hall on February 18, 2018 in London, England. (Photo by Jeff Spicer/Jeff Spicer/Getty Images)

Jeff Spicer
Greta Gerwig attends the EE British Academy Film Awards (BAFTAs) held at the Royal Albert Hall on February 18, 2018 in London, England. (Photo by Karwai Tang/WireImage)

Karwai Tang
Allison Janney attends the EE British Academy Film Awards (BAFTA) held at Royal Albert Hall on February 18, 2018 in London, England. (Photo by Jeff Spicer/Jeff Spicer/Getty Images)

Jeff Spicer
Lily James attends the EE British Academy Film Awards (BAFTAs) held at Royal Albert Hall on February 18, 2018 in London, England. (Photo by Dave J Hogan/Dave J Hogan/Getty Images)

Dave J Hogan
Anya Taylor-Joy attends the EE British Academy Film Awards (BAFTA) held at Royal Albert Hall on February 18, 2018 in London, England. (Photo by Jeff Spicer/Jeff Spicer/Getty Images)

Jeff Spicer