Kate Middleton Defended By Olivia Munn for Time's Up Dress Code at 2018 BAFTAs
"The Times Up dress code suggestions should not be used to ostracize or control."
---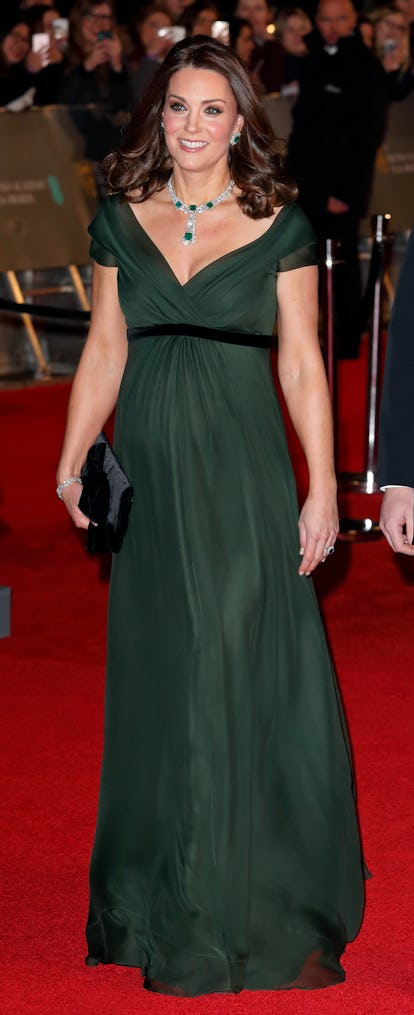 Max Mumby/Indigo/Getty Images
This past weekend Kate Middleton raised eyebrows when she showed up to the British Academy Film Awards — aka the BAFTAs — wearing the color green instead of black in support of the Time's Up movement. The criticism she received in the wake of that decision, though, is simply a distraction from the nonprofit's mission, as vocal Time's Up supporter Olivia Munn has pointed out. After Middleton became entangled in a debate about what feminism looks like — in short: there isn't one way to be a feminist — the actress came to the princess' defense.
"The Times Up dress code suggestions should not be used to ostracize or control," Munn wrote on Twitter. "What we stand for & what we fight for matters more than the color of our dress. I have a hard time believing that the Duchess of Cambridge doesn't stand beside us just because she was wearing green."
For those who don't obsessively follow The Crown, the princess' decision to wear green could easily be explained by the monarchy's necessity to remain politically neutral. Still, without making an overt political statement, Middleton still honored Time's Up's suggested dress code in subtle ways. She not only chose a dress that could easily be mistaken for black, in dim lighting, she also picked a dress that had black trim at the waistline and wore matching black shoes and a black purse.
What matters more than any color any person chooses to wear is ultimately their actions, and Middleton's have shown throughout the years that she supports gender equality. She's visited a women's prison before, where she talked about substance abuse and mental health issues, the latter of which is far more affects women, according to the American Psychological Association. She's also talked about encouraging both her son George and her daughter Charlotte to speak up for themselves equally, especially around emotions. "We hope to encourage George and Charlotte to speak about their feelings, and to give them the tools and sensitivity to be supportive peers to their friends as they get older," she told Huffington Post UK last year. "We know there is no shame in a young child struggling with their emotions or suffering from a mental illness."
While Middleton hasn't expressively referred to herself as a feminist, feminism clearly runs in the royal family, as her future sister-in-law-to-be Meghan Markle recently confirmed.
Related: Queen Elizabeth Sits Front Row at London Fashion Week
BAFTA Red Carpet 2018: See Jennifer Lawrence, Angelina Jolie and More Actresses in Black Dresses
Jennifer Lawrence attends the EE British Academy Film Awards (BAFTAs) held at the Royal Albert Hall on February 18, 2018 in London, England. (Photo by Karwai Tang/WireImage)

Karwai Tang
Angelina Jolie attends the EE British Academy Film Awards (BAFTA) held at Royal Albert Hall on February 18, 2018 in London, England. (Photo by Jeff Spicer/Jeff Spicer/Getty Images)

Jeff Spicer
Lupita Nyong'o attends the EE British Academy Film Awards (BAFTA) held at Royal Albert Hall on February 18, 2018 in London, England. (Photo by Jeff Spicer/Jeff Spicer/Getty Images)

Jeff Spicer
Saoirse Ronan attends the EE British Academy Film Awards (BAFTAs) held at the Royal Albert Hall on February 18, 2018 in London, England. (Photo by Karwai Tang/WireImage)

Karwai Tang
Salma Hayek attends the EE British Academy Film Awards (BAFTA) held at Royal Albert Hall on February 18, 2018 in London, England. (Photo by Jeff Spicer/Jeff Spicer/Getty Images)

Jeff Spicer
Margot Robbie attends the EE British Academy Film Awards (BAFTAs) held at Royal Albert Hall on February 18, 2018 in London, England. (Photo by Samir Hussein/WireImage)

Samir Hussein
Octavia Spencer attends the EE British Academy Film Awards (BAFTA) held at Royal Albert Hall on February 18, 2018 in London, England. (Photo by Jeff Spicer/Jeff Spicer/Getty Images)

Jeff Spicer
Greta Gerwig attends the EE British Academy Film Awards (BAFTAs) held at the Royal Albert Hall on February 18, 2018 in London, England. (Photo by Karwai Tang/WireImage)

Karwai Tang
Allison Janney attends the EE British Academy Film Awards (BAFTA) held at Royal Albert Hall on February 18, 2018 in London, England. (Photo by Jeff Spicer/Jeff Spicer/Getty Images)

Jeff Spicer
Lily James attends the EE British Academy Film Awards (BAFTAs) held at Royal Albert Hall on February 18, 2018 in London, England. (Photo by Dave J Hogan/Dave J Hogan/Getty Images)

Dave J Hogan
Anya Taylor-Joy attends the EE British Academy Film Awards (BAFTA) held at Royal Albert Hall on February 18, 2018 in London, England. (Photo by Jeff Spicer/Jeff Spicer/Getty Images)

Jeff Spicer