Queen Elizabeth Sits Front Row at London Fashion Week
The Queen made her front row debut at a Richard Quinn show.
---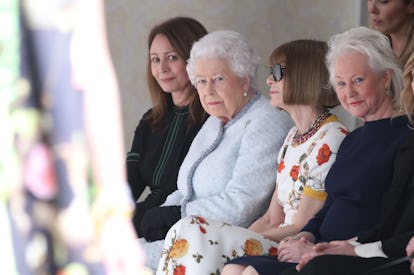 Mike Marsland
Queen Elizabeth II is a VIP wherever she goes, but there's at least one rarified place the royal, to the best of our knowledge, has never occupied until now: front row at fashion. Even at 91. and with a lifetime of world travel behind her, apparently there's still new things left for the Crown to do.
The visit was a surprise appearance at the Richard Quinn show today. At first it may seem like something of a vexing choice, since Elizabeth may be just about the last person you'd imagine wearing the young designer's offerings (indeed, she showed up in a much more traditional Angela Kelly suit). Quinn has a thing for expertly mixing and matching loud prints, and last season sent his models out on the runway in Leigh Bowery-esque masks that covered their entire faces. This season, he repeated the trend, but also put some motorcycle helmets and brillo pad-like wigs in a shocking blue into the mix. In fact, one of Quinn's bodysuits was just featured in W on the model Vittoria Ceretti.
Though, the queen wasn't necessarily out shopping for herself. Instead, she was there to present the Queen Elizabeth II Award for British Design for emerging talent to Quinn. The award is meant for "an up-and-coming British fashion designer who shows exceptional talent and originality while also displaying value to the community and strong sustainable policies." A deserving choice considering he only launched his label in 2016.
Elizabeth took in the show while seated between Chief Executive of the British Fashion Council Caroline Rush and American Vogue editor Anna Wintour, and greeted attendees before taking her seat.
We've noted before that Elizabeth is having something of a surprising moment of fashion relevance right now. Some have scoffed at the Queen's preference for skirt suits in monochrome patterns, but suddenly they seem pretty relevant.
Gucci creative director Alessandro Michele, perhaps the most influential designer in fashion at the moment, held the label's 2017 Resort show in Westminster Abbey and staged it with some hat tips to the Queen's style.
"The Queen is one of the most quirky people in the world," he told The New Yorker at the time. "She is very inspiring. It is clear that she loves color."
In 2016, she also received a "special citation" in Vanity Fair's International Best Dressed List for the first time ever. Of course, who could forget the time Rihanna photoshopped the Queen into some of her own biggest fashion moments?
Related: "Quirky" Queen Elizabeth is Finally Having a Fashion Moment
Celebrate Queen Elizabeth II's 90th Birthday With Her, and the Rest of the Royal Court
Her Majesty Queen Elizabeth II.
© Hugo Rittson-Thomas.
Prince William, Duke of Cambridge.
© Hugo Rittson-Thomas.
Earl Marshal.
© Hugo Rittson-Thomas.
Garter Principal King of Arms.
© Hugo Rittson-Thomas.
Royal Mews Lady Coachman.
© Hugo Rittson-Thomas.
The Sovereign's Piper.
© Hugo Rittson-Thomas.
Yeoman of The Guard.
© Hugo Rittson-Thomas.
York Herald of Arms in Ordinary.
© Hugo Rittson-Thomas.
"The Queen's People," published by Assouline.