"Quirky" Queen Elizabeth is Finally Having a Fashion Moment
Yas Queen Elizabeth: When Gucci's Alessandro Michele calls your look "very inspiring," you know you're chic.
---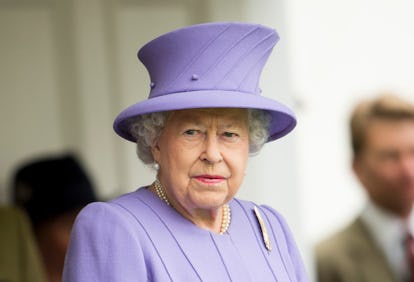 UK Press via Getty Images
It seems almost impossible to comment on the style of Queen Elizabeth without using words like "frumpy" and "dowdy." Even when The Washington Post's Robin Givhan complimented Her Royal Highness's fashion sense in 2002 she couldn't avoid the terms. She wrote that the queen, "seems to revel in her frumpiness, which, of course, only makes it more splendid." That might have been one of the nicest things a fashion journalist had ever written about the Queen's wardrobe.
Elizabeth, an actual queen who never seems to inspire a "Yasss."
Her go-to getup of a brightly colored overcoat with a hat to match would hardly be considered glamorous in this decade, or perhaps most others. And, yet, in some circles, the Queen's stayed look seems to have struck some reassessed consideration.
"The Queen is one of the most quirky people in the world," said fashion's reigning king, Gucci creative director Alessandro Michele in a new profile in The New Yorker. "She is very inspiring. It is clear that she loves color."
In fact, Michele seems to regard the Queen's look as something that perfectly defines the difference between English style and that of mainland Europe.
"If you go to London you see that kind of old woman dressed all in red. She doesn't care. If she loves jade green, she is completely jade green," said the Italian Michele. "It is something that doesn't happen on the other side of Europe. We are more obsessed with, 'If you have red shoes, you have to have something camel on top.' "
Rebecca Mead was profiling Michele during the leadup to the showing of Gucci's Resort 2017 show held at Westminster Abbey. It was the first fashion show ever held in the place where the queen was crowned. Perhaps Michele was just being polite to his symbolic host.
Though, the collection did seem to have a few nods to Elizabeth's style. A model decked out in a headscarf and glasses and clutching her bag closely to her body did seem like a shout-out to Elizabeth's favorite windy day look. There was a chartreuse overcoat that one could almost imagine the queen almost considering (sans bow) as a wardrobe addition on a particularly wild day.
Michele isn't alone however in his adoration of the Queen's Style. Vanity Fair's latest edition of the International Best Dressed List created a brand new category, a "special citation," to compliment the monarch. "'She has consistently represented who she is and what she stands for, without wavering from a standard she set a long time ago," wrote Amy Fine Collins. Imagine that, a write-up of the queen's style that managed to avoid the word frumpy.
That doesn't mean we're likely to start seeing congeries of colorful coats come down the runway anytime soon. She might be on a few mood boards, but she's not dominating them.
There is perhaps only one notable person in the world who seems to take direct and regular fashion inspiration from the Queen. That would be Hillary Clinton.
Correlations between the two's wardrobes have been drawn for years. Indeed, if you Google Image search "Queen Elizabeth Fashion" you'll be met with a JPEGs of the Queen's monochrome looks arranged according to the ROYGBIV of the rainbow. If you did the same for "Hillary Clinton Fashion," you'll be met with a similar result. Except with pantsuits.
Maybe it's no surprise then​ that particular strain of monochromatic power dressing is being reassessed. Fashion is meant to dress women for whichever roles they want to pursuit. So when the world's most "symbolically" powerful woman and a woman who will likely become the actual most powerful are dressing that way, it's maybe time to recast it as something other than frumpy.
Watch all the episodes of "The Myth of Orpheus and Eurydice," a four-part film series by Gia Coppola, here. Produced for Gucci by W magazine.