Royal Family Attempts to Squash Rumors of a Kate Middleton and Meghan Markle Rift
And when was the last time the palace called out a publication for telling "inaccuracies" about royals?
---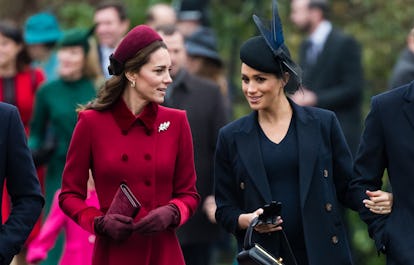 Samir Hussein/Getty Images
There's been longstanding rumors that Kate Middleton and Meghan Markle don't actually get along. Now, however, the Royal Family is taking the rare step of officially getting involved in attempt to shoot them down.
The latest row all started with a juicy profile on Middleton in the obsessed British glossy Tatler. According to the piece Middleton and Markle had a falling out over the question of whether or not the bridesmaids in Markle's 2018 wedding (including Princess Charlotte) should follow protocol and wear tights. But it was a hot summer day, and Markle apparently didn't want them to sweat. None of the girls wore tights, if you look at the photos from that day, so it would appear, according to Tatler, that she "won" the argument instead of Middleton. It was her wedding, after all.
The piece also spills some supposed tea on the Duchess of Cambridge and her tight-knit group of friends, her fatigue with royal life ("she feels exhausted and trapped"), Prince William's thoughts on Megxit (apparently he "is absolutely incandescent" that his brother and sister-in-law dropped their royal duties and skipped to L.A.), and the assertion that he and Middleton both consulted a psychic medium at Kensington Palace.
It all sounded like standard semi-gossipy magazine fare that wouldn't cause too much of a stir, until Kensington Palace reportedly issued a statement on the contrary.
Numerous sources report that a spokesperson for the palace said, "This story contains a swathe of inaccuracies and false misrepresentations which were not put to Kensington Palace prior to publication." (The statement was reported in Royal Central, the Daily Mail, and a few other publications, although Kensington Palace has yet to share the word on their website or social channels.)
It's rare that a royal (or the palace) would make an official statement clarifying something that was written about them in the press—and even rarer that they might sue, though it has been done on a few occasions before, as recently as last fall, when the Sussexes sued a tabloid for repeatedly disparaging Markle.
As rare as it is for the royals to swat back at tabloids, it's also just as rare for the royals to address drama going on between themselves. Even when Megxit went down, which was arguably one of the bigger "scandals" to hit the family over the past decade, the Queen insisted that the royals were all just one big happy family, and didn't refute her grandson's decision to leave royal life behind.
That being said, it wouldn't be surprising if the royal family wasn't exactly happy with how the magazine somewhat put them on blast, but it would be surprising if they didn't actually consult with the publication before the story went to press. A spokesperson for Tatler said that the magazine's "Editor-in-Chief Richard Dennen stands behind the reporting" and that the palace "knew we were running the 'Catherine the Great' cover months ago and we asked them to work together on it."