Kate Young's Twisted Take on Classic Style
There's a reason why celebrities like Dakota Johnson, Selena Gomez and Sienna Miller rely on the stylist.
---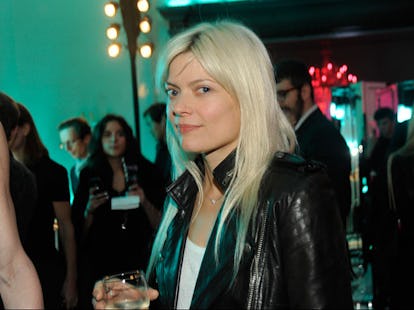 Photographs: Shawn Brackbill
Kate Young, the stylist responsible for dressing Selena Gomez, Natalie Portman, Michelle Williams, Dakota Johnson, and Sienna Miller, is one of the most powerful in Hollywood. And not just because of her A-list roster of clients. Young also dabbles in design–her most recent project is a capsule collection of 8 pairs of retro-inspired sunglasses with Tura that would fit seamlessly into any starlet's wardrobe. Or stylist's, for that matter.
Define your style in three words: Classic, easy, twisted.
Daily uniform: Navy sweater, black jeans, boots and Dior costume earrings.
Greatest hits: Proenza Schouler dark grey leather biker jacket, a 15-year-old black chiffon Chanel cocktail dress, Tom Ford for YSL tuxedo and Nicholas Ghesquiere for Balenciaga high-waisted black jeans.
Preferred footwear: Gucci fur slip ons for everyday, Maryam Nassir Zadeh pumps for work, and Prada suede platform heels for evening.
Finishing touches: Dior costume earrings, Cartier amulette necklace, a heart-shaped gold ring from Repossi, and my own KY for Tura sunglasses.
Nighttime look: Designer Rosetta Getty, and usually black or white.
Best recent discovery: Elena Ferrante, author of Neapolitan Books.
Favorite stores: Maryam Nassir Zadeh for clothing, CAP Beauty in NYC, The Line LA, and Papier Plus in Paris.
Style pet peeve: When the length of the pant and style of the shoe do not agree.
Style icons: Lauren Bacall, Paloma Picasso, Joan Didion, Nan Kempner, Debbie Harry… I can go on forever!
Last purchase: May Lindstrom "the honey mud" face cleanser.
Lusting after: A 1991 white jaguar XJS, like the one in the movie Only Lovers Left Alive. Unfortunately, I need to find a place to keep it…
Favorite haunts: Saint Ambroes SOHO and Romans in Brooklyn.
What's always in your bag: Keys, money, phone, 8 hour cream, sunglasses.
Photos: Kate Young's Twisted Take on Classic Style