Island Spray
Artist Katherine Bernhardt gives Venus Over Los Angeles gallery a tropical punch.
---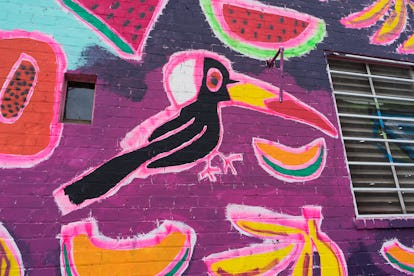 Inspired by her frequent residencies in San Juan, Puerto Rico, and the city's colorful La Perla slums, the artist Katherine Bernhardt recently shifted the focus of her object-based paintings. Where she had once jauntily spray-painted outlines of laptops and bagels—everyday emblems in New York, where she lives—on ominously dark backgrounds, Bernhardt now paints neon toucans, papayas, and watermelons over vivid fields of color.
The tropical feel of this new work fits well with the sunny, graffiti-marked Arts District in downtown Los Angeles—as do the artist's references to La Perla's "environmental hazards" (chiefly, cigarette butts and sharks adrift in oceans of garbage)—where the new Venus Over Los Angeles gallery unveiled Bernhardt's freshly completed "Fruit Salad" mural as its new façade on July 24th. In addition to the 100-foot wide painting, Bernhardt's largest to date, there will also be four smaller-scale works inside, as a teaser for the artist's solo show at Venus's sister gallery in New York this fall.
Katherine Bernhardt at Venus Over Los Angeles from Venus Over Manhattan on Vimeo.
Katherine Bernhardt, "Fruit Salad," 2015. Photo courtesy of Venus Over Los Angeles gallery.