Katherine Langford Relates to the Insecurity of Love, Simon's Leah and Considers the Potential for Her Own Spinoff Sequel
In Becky Albertalli's book sequel, 'Leah on the Offbeat,' Langford's character comes out as bisexual.
---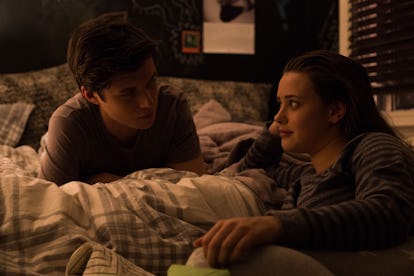 Photo by Ben Rothstein.
When 13 Reasons Why's Katherine Langford was hanging with the cast of her new movie Love, Simon while shooting in Georgia, she experienced a rite of passage for any budding star: She was recognized for the very first time. "It was two people in one restaurant," she says. "I remember it was the waitress who said, 'You really look like that girl from that show.' And I was like, 'Oh, I am.' And she's like, 'No, you're not.'" At the same place, another girl followed her into the bathroom trying to take a photo.
This is what Netflix fame looks like. Known for playing Hannah Baker in the teen drama, Langford now takes on high school drama once again in Love, Simon, out Friday. It's lighter fare than 13 Reasons Why, which focused on topics like suicide and rape, but it's no less important. The rom-com, directed by TV superproducer Greg Berlanti, is notable because it is a rare thing—a YA film from a major studio about a young man's coming-out story. Langford plays Leah, the wry best friend of the protagonist, Simon (Nick Robinson). They've been close forever; in one scene, they are quite literally each other's John and Yoko. But mutual secrets are driving a wedge between them: He's gay, but she's got an unspoken crush.
To Langford, she's extremely relatable. "There is a small part of Leah that exists in all of us," she explains. "It's that insecurity about who you are and the value of who you are, and her feeling insecure about her presence and her body and all of those feelings that so many of us feel not just in high school but throughout life."
This is a movie where the word "groundbreaking" gets thrown around a lot. Does that add an extra level of pressure? I think when I first read the script it was actually a very weird time. I hadn't even finished wrapping season one of 13 Reasons Why, which was my first job—obviously, a very intense role. It was a few weeks before we wrapped that the script came along. I remember reading it and literally just loving the script and the story. I saw the potential. But it wasn't necessarily something I thought about in its fullest capacity. Or even realized really until now.
How did you approach Leah? In some ways she occupies the role we might traditionally see a man play in a rom-com. I see her almost as the Duckie from Pretty in Pink of this story. Well, I'm loving the kind of '80s, John Hughes–y references. When I read the script, again, I [had come] off of playing such an intense role that for me what really struck me about Leah was her sensitivity and how that's hidden in such a hard external [shell]. The words I use to describe her [are] "fiercely vulnerable." I think that's such a beautiful thing that you see in the film, is this duality between her fierce, hard external when she's in situations that are unfamiliar due to insecurities that she has. And then being able to see the vulnerability and the way that she acts when she's around Simon in familiar settings. One thing that really drew me toward her is this kind of overwhelming feeling that everything is changing. Her friends are growing and evolving and her friend group is changing and it feels that everyone is moving and going toward something and she isn't. She isn't sure of her future. I feel like that's that something a lot of us, if not all of us, felt in high school.
Is that also something that you could relate to given the fact that you were coming off your first job, which then became this big sensation? I think I felt that kind of feeling of almost, everything's moving so fast and nothing can keep up with it, perhaps more in high school. I say that because for me so much of the reason why I started doing this is just purely because of the love of the craft. I've always been really creative and it's a very natural part of who I am. Also, I went almost essentially straight from shooting season one of 13 Reasons Why into maybe like two weeks of press, and then I went straight into this film. It was another opportunity to have fun and tell a story.
There must have been not much time to decompress in between 13 Reasons Why and Love, Simon. Was it a challenge to get into a different mindset for Love, Simon, which deals with a lot of issues kids are going through today but certainly on a less emotionally wrenching scale than 13 Reasons Why? I think to a degree. I'm saying this being very young and being very new in my career and having literally only done a handful of projects, but I feel like when you leave a character, and I definitely felt it with Hannah, it takes a little bit of time to shake them off. But I think going into Love, Simon, what I think was so helpful and I think monumental in this film was the director, Greg Berlanti. Not only did he have such an incredible, solidified, and truthful vision, but he also allowed us as actors to have a two-week rehearsal period, which really helped. On top of that, the work was very collaborative. It really felt like a very supportive environment to try things in. Definitely there was time that was allotted so that we could find our characters and find that dynamic between Simon, Nick, and Leah and then Simon, Nick, and Leah and Abby and all those other relationships you see.
You're supposed to be so close to Nick Robinson's Simon in the movie. Did you guys bond or do any fun stuff to get that friendship vibe down? Definitely as a cast we bonded, not only in that two weeks that we had before shooting to rehearse, but also throughout. Especially for Simon and Leah to have that relationship that felt founded and deep, we went to dinner and talked. As a cast we all went to Savannah, which is just out of Atlanta, for the Easter weekend and all got to spend an extended weekend together.
There's a sequel to the book coming out specifically focused on Leah that author Becky Albertalli wrote. In that, Leah comes out as bisexual. Did that influence you at all? I'm definitely aware of the sequel, Leah on the Offbeat, and I think Becky was actually editing that while we were filming. She gifted me a copy at the end of filming, which I haven't had the opportunity to read, but I know that when we were filming, Becky was so supportive and excited about the project and was definitely there on a few days on set. And kind of helped give a little more insight into the characters, one of which was that she was writing this book. But I think first and foremost, I took a lot of my information from the first book, which is Simon vs. The Homo Sapiens Agenda, and sort of developed that with Greg and also what was in the script.
Would you be down for doing a Leah on the Offbeat sequel if all goes well? I mean, it's always a discussion of who would make it, but if the script was good and the filmmaker had a great vision, then I would be totally down. I'm always down to tell a good story.
You've said that you're interested in pursuing music. What are your influences there? What do you hope to do in that realm? I did mention I'd like to dabble in a little bit of music in the next few months while taking a minute to hone my skills as an actor. I think it may have been a little altered, that quote, though, because I've been asked about it ever since. For me, I do it because I love it. I do come from a music background; that's sort of initially where I came from. So it's something that I just want to be able to focus on in the next few months in addition to a few other things. I studied classical music in high school. My parents were very diligent and great at sharing with me the tunes from, like, the '70s and the '80s and music that they grew up with that shaped their generations and who they are. Ever since then, I don't know, I love listening to a plethora. I don't have one thing that I listen to. I really love listening to an array of sounds.
With 13 Reasons Why you worked with Selena Gomez, who is doing pop and acting and producing. Are you not looking to her for advice for how to do the pop and acting career at the same time? Is it a little bit more low-key than that? I mean, I feel like every artist pursues things in their own way. I admire Selena so much for being able to do all the things she has and pursue all the facets of the creative industry while being in the spotlight. I think that's incredibly difficult. I think for me, again, just being a different artist and a different person, I think the way I want to approach maybe music or directing or acting is inevitably just going to be different.
You mentioned directing. Is that something you definitely want to do? Yeah, I think it's something I inevitably will do eventually. Because I've been told by pretty much every director that I've worked with that I need to direct. I think that's something that I'm very interested in. But again I would not pursue or do anything until I feel ready. I feel very adamant about, if I'm going to do something I'm going to do it well, and that goes for acting and music and directing. Anything that I choose to do in the future I would want to approach it with full focus and hoping that it will be the best that it can be.
Why have directors told you that you need to direct? I guess they all say it for different reasons, I don't know. In addition to acting, I really love understanding the story and I think I'm very visual on set. For me as an actor, I benefit sometimes from seeing the footage. Maybe it's the way I am. I can see what we're filming in my head in addition to feeling it as an actor. I guess it's just that kind of inquisitiveness and passion. I'm very excited about making films and series.
Did you have to immediately transition back into 13 Reasons Why season two after doing Love, Simon? Well, I went back into season two quite shortly after finishing Love, Simon, but in terms of transitioning back into Hannah I didn't necessarily have to do that again because I think Hannah was very different this season, which is something that a lot of people have talked about and mentioned. The Hannah that we saw in season one, we were able to tell her story fully and she didn't really come back in the same capacity or sort of as the same Hannah. It's a different Hannah that you see in season two. I think that was challenging, season two, for reasons that are different than season one. But ultimately I'm super grateful to have been asked back, and I think we get to focus on some really important storylines this season of other characters.
Was that a less emotionally intense experience for you personally? Again, I think season two was just challenging for different reasons than season one. Part of that was playing Hannah but not really playing Hannah. I think it was something that was figured out and changed along the way. I think ultimately it was challenging because it was something that changed and evolved over the course of shooting. It meant that I had to put a lot of trust, and sometimes complete trust, in the writers and the showrunner, Brian Yorkey, and also the directors. So I think that was challenging.