Katherine Langford Plans to Pivot to Music After Starring In Her First Feature Film Love, Simon
The 13 Reasons Why star talks about what's next at the premiere of her first movie.
---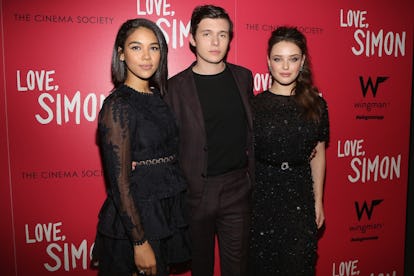 Alexandra Shipp, Nick Robinson, and Katherine Langford at the 20th Century Fox & Wingman screening of Love, Simon. Sylvain Gaboury/PMC
Katherine Langford had a breakout 2017 when she appeared on the Netflix screens of teens across the nation as Hannah Baker in 13 Reasons Why, a controversial TV adaptation of the novel of the same name, produced by Selena Gomez.
Langford's gripping portrayal of the bullied high school student earned her a Golden Globe nomination for what was her first TV job, and now she's making her big screen debut in the coming of age tale Love, Simon as Leah, the best friend of a 17-year-old high school student named Simon (played by Nick Robinson) who is gay and struggles to keep his identity a secret from his friends and family.
"To go from my first job which was a TV show and into my first film which was Love, Simon, it just feels like a very natural progression but also something I feel very fortunate to be a part of," Langford said at the film's premiere on Thursday in New York. "I didn't choose 13 Reasons Why or Love, Simon with any social agenda but they are pieces that I feel very grateful to be a part of."
Echoing Langford's sentiments on the carpet was co-star Alexandra Shipp, who recently became the first black woman to be Max Mara's "Face of the Future"; in the film, she plays another member of Simon and Leah's crew, with a feisty disposition and an open attitude towards her friends. "Looking at this next generation… I'd like to think that we're becoming more and more evolved, and more supportive of each other, rather than keeping it all white, heterosexual male protagonists," Shipp said. "I think there's a real tide that's changing."
Even though Love, Simon and 13 Reasons Why may share some themes that overlap in the realm of teen drama, Langford acknowledged that she was "very conscientious" in choosing a role that would reflect a sensitive take on the genre. "I think there are some very obvious differences between the show and the film," she said. "But the one thing I feel does kind of connect them is that authentic approach, and that want to respect the intellect of the audience and to tell a story truthfully."
Wary of the potential pressure of following up her lauded performance in 13 Reasons Why, Langford is determined to be patient and fastidious when it comes to choosing her next screen projects. The Love, Simon star also plans to enter music mode until her upcoming science fiction film Spontaneous is released near the end of the year. "In the next few months for me I'm taking just a second to hone my skills and to write some music because fundamentally that's where I come from," she said. "I want to take risks and challenges, and wait for a piece that inspires me like these two have."
Related: 13 Reasons Why's Katherine Langford Celebrates Her First Golden Globes Nomination: "I'm Making Some Really Great Friends"