Kathleen Turner Bravely Sounds Off on Nicolas Cage, the Friends Cast, and Burt Reynolds
Sorry Quincy Jones, we have a new Queen of the candid interview.
---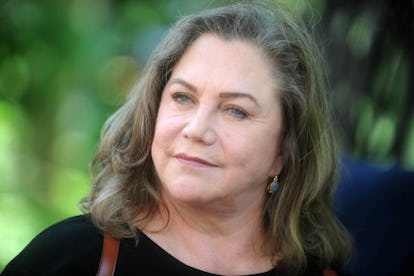 DVT/Star Max/GC Images
These days, in a post-social media world that's defined by staged candor, it's becoming increasingly rare for public figures to say anything truly revealing. Kathleen Turner, however, is a rare exception. The breakout '80s star, whose voice precedes her, isn't afraid to offer her unfiltered opinion, especially when it comes to her former costars.
Turner just gave her honest assessment of everyone from Nicolas Cage to the Friends cast in a new, wide-sweeping interview with Vulture. When asked about Cage's divisive accent in Francis Ford Coppola's 1986 film Peggy Sue Got Married, Turner replied, "It was tough to not say, 'Cut it out.' But it wasn't my job to say to another actor what he should or shouldn't do. So I went to [director] Francis [Ford Coppola]. I asked him, 'You approved this choice?' It was very touchy."
Referring to Cage as an 'a–hole,' Turner shared that "he was very difficult on set. But the director allowed what Nicolas wanted to do with his role, so I wasn't in a position to do much except play with what I'd been given. If anything, it [Cage's portrayal] only further illustrated my character's disillusionment with the past."
As for Burt Reynolds, who Turner partnered with on the 1988 movie Switching Channels, she called working with him "terrible." "The first day Burt came in he made me cry," she said, before sharing an anecdote that would definitely not fly in the Time's Up era. "He said something about not taking second place to a woman. His behavior was shocking. It never occurred to me that I wasn't someone's equal. I left the room sobbing. I called my husband and said, 'I don't know what to do.' He said, 'You just do the job.' It got to be very hostile because the crew began taking sides. But as for the performance, I was able to put the negativity aside. I'm not convinced Burt was."
As it turned out, Turner had bad experiences in TV too, specifically while playing Chandler's transgender father on Friends. "I'll be quite honest, which is my wont," she said. "I didn't feel very welcomed by the cast. I remember I was wearing this difficult sequined gown — and my high heels were absolutely killing me. I found it odd that none of the actors thought to offer me a seat. Finally it was one of the older crew members that said, "Get Miss Turner a chair." The Friends actors were such a clique — but I don't think my experience with them was unique. I think it was simply that they were such a tight little group that nobody from the outside mattered." Diplomatically, though, Turner spun that into a positive adding, "I do respect the camaraderie they had. You can see camaraderie on the screen."
Meanwhile, when asked about the Friends cast's acting abilities, Turner merely said, "I won't comment on that." Perhaps relatedly, Turner took issue with one actress who has "played the same role for 20 years." "She even looks pretty much the same," sparking many to speculate that the actress in question was Friends star Jennifer Aniston. "She's probably one of the richest women out there, but I would shoot myself if I were like that, only giving people what they expect." As Turner's recent remarks show, though, she's in no danger of doing that any time soon — thankfully for the rest of us, too.
Related: Sarah Paulson Has Been Doing Perfect Celebrity Impressions on Late Night All Week