Sarah Paulson Has Been Doing Perfect Celebrity Impressions on Late Night All Week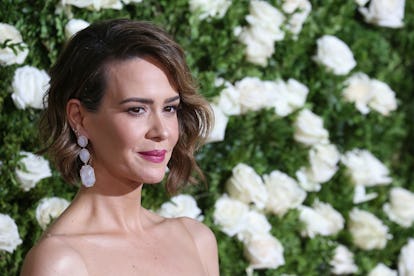 Walter McBride
Here's a quick question: why hasn't Sarah Paulson hosted Saturday Night Live yet? Not only is she a versatile actress, an Emmy winner, and Broadway vet, but, as it turns out, she's quite adapt at impressions of fellow celebrities. In fact, while promoting the latest season of American Horror Story, on the late night talk show circuit this week, has been on a tear of breaking out her pitch perfect impressions of what we can only hope is an SNL hosting audition.
Paulson first sat down with Jimmy Fallon on The Tonight Show to play a round of the show's wheel of impressions, a segment usually reserved for musical guests, but here repurposed for Paulson's particular talents. She quickly cycles through Kathleen Turner talking about Slip n' Slides, Holly Hunter commenting on the quality of gas stations, and Drew Barrymore discussing substitute teachers. Incidentally, she worked with Turner on the 1995 TV movie Friends at Last, her first screen credit besides a small part on Law & Order.
Last night, Paulson then popped up on Watch What Happens Live with Andy Cohen where the host had her imitate Real Housewife Dorinda Medley while none other than Elisabeth Moss played Bethany Frankel.
This isn't the first time Paulson has broken out her imitation game before. She did an impromptu impression of Evan Peters at San Diego Comic-Con in 2015.
She's also teased a small preview of an impression of her American Horror Story co-star Jessica Lange before.
So why hasn't Paulson hosted SNL yet? It's not like the show could ask her to do anything crazier than what AHS producer Ryan Murphy asks of her on the regular.
Paulson did play a sketch comedy superstar on the short lived SNL-inspired drama Studio 60 on the Sunset Strip. Surely there's not hard feelings leftover from that.
Though, it's not exactly like Paulson is hurting for work. She has four movies in the pipelines (including a part in the highly anticipated all-female crime caper Ocean's Eight), is set to star in the Hurricane Katrina-themed season of American Horror Story (as a doctor who euthanized people), and will re-team with Murphy for a just announced Netflix series about a younger Nurse Ratched from One Flew Over the Cuckoo's Nest.
Related: Sarah Paulson Won't Be Typecast, On Screen or Off
See What's Trending in W Video: