Katie Holmes Will Star In and Produce Fox FBI Drama From Empire Showrunner
The actress is set to make her big return to TV since Dawson's Creek ended.
---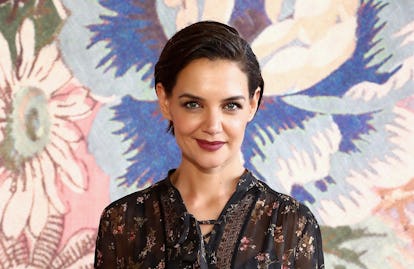 Astrid Stawiarz/Getty Images for New York Fashion Week: The Shows
Katie Holmes's renaissance is nigh. The actress best known for Dawson's Creek is set to make her return to TV in her first starring role since the teen soap ended in 2003. This time, however, Holmes will be much less of a hyper-articulate girl next door. Instead, she'll be playing an FBI agent whose career is sidelined once a secret affair she had with a prominent general is brought to life, as Deadline reports. Holmes' character, Hazel Otis, is a wife and mother tasked with picking up the pieces of her personal life, reputation, and investigation into domestic terrorism following the exposure of her infidelity. Holmes will not only be starring in it, she'll also be executive producing.
The currently untitled drama pilot, which has been picked up by 20th Century Fox TV and 3 Arts, has a strong pedigree. Outside of Holmes, it's bolstered by Empire executive producer Ilene Chaiken and former CSI: Miami writer Melissa Scrivner Love.
The role is significant for Holmes, who has been slowly readying a comeback that includes the highly anticipated all-female Ocean's 8 as well as two other upcoming films this year: Doorman and Dear Dictator. She dipped her toes back into TV last year, too, with a recurring role that lasted a season on Ray Donovan and a starring role in the TV miniseries The Kennedys: Decline and Fall.
Eventually, though, Holmes may disappear from being in front of the camera. "For now I like acting and directing. Eventually I'll just direct," she told Town & Country last year. "It's been something that has come to me over time. I've been acting for about 20 years now, and in the last few years I've become more confident and gotten more interested in storytelling as a whole. Also, I've been feeling inspired to put my point of view out there. It's scary, but the process of it is something I really love."
Part of that is due to raising her daughter, 11-year-old Suri Cruise. "The thing about directing is I can say I have this window and that's when we're getting it done," she said. "My child is the most important person to me, and her upbringing is paramount to my work right now. It's very important that I'm present and she has a stable, innocent childhood. I feel so blessed to do what I do, but there's nothing in the world better than watching your child succeed."