Katy Perry Is the Highest-Paid Female Musician of 2018 With Taylor Swift, Beyoncé and Pink Trailing Her
She made more than twice as Rihanna.
---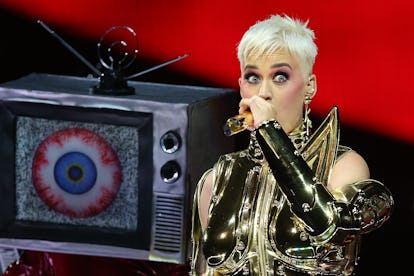 Paul Kane/Getty Images
Whenever a top-paid list rolls out, there is often a disconnect between the currency of the spot holders and their cultural currency. This year, for example, Katy Perry managed to out-earn all of her female contemporaries landing at number one on the list of highest-paid female musicians, according to Forbes, with $83 million. To get to that place, Perry not only earned twice as much as Rihanna — who may have had a better 2018 than anyone else — she also raked in more money than touring powerhouses Taylor Swift and Beyoncé.
Despite the fact that her most recent album Witness wasn't a commercial smash like the ones that preceded, the subsequent tour behind it apparently brought in over $1 million a night, according to Forbes. Perry was also able to rocket to the top spot thanks to her American Idol judge money, which came out to $20 million.
Meanwhile Swift and Beyoncé might be musical oddities in that the artists (who held, respective, number two and number three spots on the list) earned most of their money purely through their music. Swift earned $80 million with her Reputation tour (and would have landed the top spot if the tour dates fell more in line with Forbes' window for the list). Beyoncé, on the other hand, pulled in $60 million between her now-legendary Coachella headlining sets and the On the Run II tour with her husband Jay Z. (Whether or not her earnings alone or her total earnings with Jay Z factored into her $60 million is unknown.)
Pink held down the fourth spot with $52 million from touring, while Lady Gaga trailed behind her with $50 million, much of which apparently came from her work in A Star Is Born. After Gaga comes Jennifer Lopez at $47 million in the sixth spot and Rihanna in the seventh spot with $37.5 million. Like Gaga, Rihanna made the bulk of her income this year through film with her starring role in Ocean's 8, as well as her Fenty Beauty endeavor and her Savage Lingerie line.
Take a look at the full list below.
Katy Perry ($83 million)
Taylor Swift ($80 million)
Beyoncé ($60 million)
Pink ($52 million)
Lady Gaga ($50 million)
Jennifer Lopez ($47 million)
Rihanna ($37.5 million)
Helene Fischer ($32 million)
Celine Dion ($31 million)
Britney Spears ($30 million)