Rihanna's Fenty Beauty Reportedly Could Outsell Kylie Cosmetics and KKW Beauty Very Soon
There's a new queen of celeb beauty lines.
---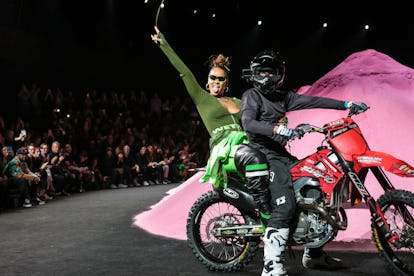 SERICHAI TRAIPOOM
Just a few months into her first foray into the world of cosmetics, Rihanna already has the whole "beauty mogul" thing down pat. Not only has her Fenty Beauty line sold out in Sephora stores across the country and amazed buyers (including Viola Davis) with its impressively wide range of foundation shades, but now, according to WWD, it's well on its way to surpassing Kim Kardashian West's KKW Beauty and Kylie Jenner's Kylie Cosmetics as a top-selling celebrity-founded makeup brand.
As of August, the nearly 2-year-old Kylie Cosmetics had sold a total of $420 million in products, while KKW Beauty was projected to top $14 million in sales almost immediately upon its June 2017 launch. Although Rihanna and Fenty Beauty have yet to publicly release revenue numbers, online research firm Slice Intelligence found that while Kylie Cosmetics had the highest yearly sales numbers for 2017 of the three brands, Fenty Beauty saw sales in September, its first month on the market, that were "five times [that of] Kylie Cosmetics and 34 percent higher the following month," per WWD. If this trend continues, Slice projects that Fenty Beauty could outstrip both sisters's beauty brands in a matter of months.
Additionally, the research firm revealed that Fenty Beauty shoppers, on average, spend more on makeup than the other lines' buyers. Those who purchased RiRi's products reportedly spend an average of $471 per year on cosmetics, while KKW Beauty users spend $278, and Jenner's Lip Kit lovers spend around $181 per year in the makeup category. As a whole, the three brands plus Kat Von D's own self-titled cosmetics line are responsible for almost 30 percent of all online beauty sales, "even though their collective customer base represents only 12 percent of shoppers," WWD reported.
Fenty Beauty's success is undeniably tied to the fact that, with 40 shades of high-quality foundation, it appeals to women of all skin tones, who can also see themselves in the line's widely inclusive ad campaigns](https://www.wmagazine.com/story/rihanna-fenty-beauty-first-look) and are often excluded from other cosmetics collections. Per WWD, while Kylie Cosmetics, KKW Beauty, and Kat Von D all do relatively well with shoppers from diverse backgrounds, Fenty Beauty has the most diverse consumer base of all. Rihanna's line counts the most African-American and Hispanic shoppers of the four brands, as well as a significant percentage of Asian customers; white customers are reportedly Fenty Beauty's smallest consumer group.
If you're still having trouble understanding in the skyrocketing success of Fenty Beauty, allow one (extremely) satisfied customer to explain: "I mean…I'm trying to be humble but I can't," the superfan recently wrote in a review on the collection's website. "I'm fly. I only need one application on my face and it looks like I've been blessed. Like….I drink my water, mind my bidness, and only get petty when it's well deserved. I walk around looking like a life-size Academy Award. If you don't stop and ask me what am I using for my skin, then you're just a hater 'cause I'm stopping traffic. I'm getting invited to all the cookouts, your boyfriend, his brother AND his best friend want to holler at me but I'm faithful to my man. My man is trying to find a way to love me a little less but he can't cause I'm even more elevated. And I'm just steady blessing his life. What can I say? #440 was good to me. I already have great skin…but now….it's like it ain't safe for me to walk down these streets anymore. I'm too fly to walk with common folk now……Bless up. And I mean that in the most humblest way possible."
All hail Rihanna, a true cosmetics queen.
Related: Rihanna's Fenty Beauty Earned Even More Attention on Social Media than Kylie Cosmetics
Everything You Missed at Rihanna's Delightful Fenty x Puma Fashion Show
Inside the Fenty X Puma show by Rihanna at the Park Avenue Armory on Sunday night during New York Fashion Week. Photo by Serichai Traipoom for W Magazine.

SERICHAI TRAIPOOM
Inside the Fenty X Puma show by Rihanna at the Park Avenue Armory on Sunday night during New York Fashion Week. Photo by Serichai Traipoom for W Magazine.

SERICHAI TRAIPOOM
Inside the Fenty X Puma show by Rihanna at the Park Avenue Armory on Sunday night during New York Fashion Week. Photo by Serichai Traipoom for W Magazine.

SERICHAI TRAIPOOM
Inside the Fenty X Puma show by Rihanna at the Park Avenue Armory on Sunday night during New York Fashion Week. Photo by Serichai Traipoom for W Magazine.

SERICHAI TRAIPOOM
Inside the Fenty X Puma show by Rihanna at the Park Avenue Armory on Sunday night during New York Fashion Week. Photo by Serichai Traipoom for W Magazine.

SERICHAI TRAIPOOM
Inside the Fenty X Puma show by Rihanna at the Park Avenue Armory on Sunday night during New York Fashion Week. Photo by Serichai Traipoom for W Magazine.

SERICHAI TRAIPOOM
Inside the Fenty X Puma show by Rihanna at the Park Avenue Armory on Sunday night during New York Fashion Week. Photo by Serichai Traipoom for W Magazine.

SERICHAI TRAIPOOM
Inside the Fenty X Puma show by Rihanna at the Park Avenue Armory on Sunday night during New York Fashion Week. Photo by Serichai Traipoom for W Magazine.

SERICHAI TRAIPOOM
Inside the Fenty X Puma show by Rihanna at the Park Avenue Armory on Sunday night during New York Fashion Week. Photo by Serichai Traipoom for W Magazine.

SERICHAI TRAIPOOM
Inside the Fenty X Puma show by Rihanna at the Park Avenue Armory on Sunday night during New York Fashion Week. Photo by Serichai Traipoom for W Magazine.

SERICHAI TRAIPOOM
Inside the Fenty X Puma show by Rihanna at the Park Avenue Armory on Sunday night during New York Fashion Week. Photo by Serichai Traipoom for W Magazine.

SERICHAI TRAIPOOM
Inside the Fenty X Puma show by Rihanna at the Park Avenue Armory on Sunday night during New York Fashion Week. Photo by Serichai Traipoom for W Magazine.

SERICHAI TRAIPOOM
Inside the Fenty X Puma show by Rihanna at the Park Avenue Armory on Sunday night during New York Fashion Week. Photo by Serichai Traipoom for W Magazine.

SERICHAI TRAIPOOM
Inside the Fenty X Puma show by Rihanna at the Park Avenue Armory on Sunday night during New York Fashion Week. Photo by Serichai Traipoom for W Magazine.

SERICHAI TRAIPOOM
Inside the Fenty X Puma show by Rihanna at the Park Avenue Armory on Sunday night during New York Fashion Week. Photo by Serichai Traipoom for W Magazine.

SERICHAI TRAIPOOM
Inside the Fenty X Puma show by Rihanna at the Park Avenue Armory on Sunday night during New York Fashion Week. Photo by Serichai Traipoom for W Magazine.

SERICHAI TRAIPOOM
Inside the Fenty X Puma show by Rihanna at the Park Avenue Armory on Sunday night during New York Fashion Week. Photo by Serichai Traipoom for W Magazine.

SERICHAI TRAIPOOM
Inside the Fenty X Puma show by Rihanna at the Park Avenue Armory on Sunday night during New York Fashion Week. Photo by Serichai Traipoom for W Magazine.

SERICHAI TRAIPOOM
Inside the Fenty X Puma show by Rihanna at the Park Avenue Armory on Sunday night during New York Fashion Week. Photo by Serichai Traipoom for W Magazine.

SERICHAI TRAIPOOM