Rihanna's Fenty Beauty Earned Even More Attention on Social Media than Kylie Cosmetics
Rihanna's message of inclusivity clearly spoke to fans, in an organic way.
---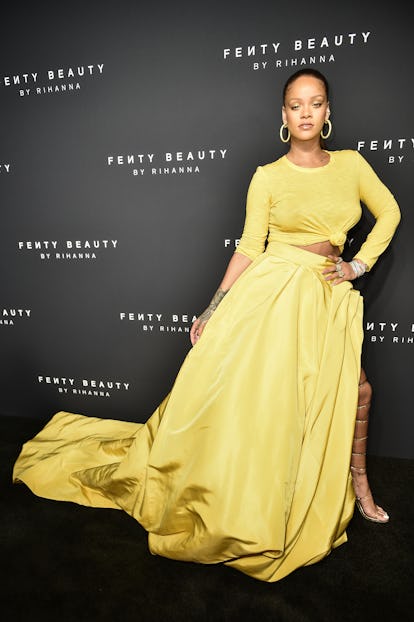 Steven Ferdman
It doesn't matter if Rihanna is making out with her new boyfriend in Spain or at home in sneakers, either way, she earns headlines.
So, it makes sense that the designer's new makeup line, Fenty Beauty, has gotten a lot of media attention, as well. In a Tribe Dynamics' Cosmetics report released by WWD, Rihanna's label racked in an astounding $72 million in earned media value — in just one month.
This includes all social media impressions on a range of platforms, such as Instagram, Twitter and YouTube. Newsweek reports that 132 million people watched Fenty Beauty tutorials in September, and, according to WWD, Fenty's earnings even outpaced Kylie Jenner's brand, Kylie Cosmetics.
Fenty Beauty was in the works for over two and a half years, and officially launched during New York Fashion Week, with an offering of over 40 shades of foundations. At the brand's launch, Hector Espinal, a Fenty Global Makeup Artist, explained, that the line is for, "any culture, any skin tone, any race, any religion, anybody can wear it." Her message clearly spoke to a lot of people
As the A-listers entering the beauty world continues to expand–Victoria Beckham, Kim Kardashian and Gigi Hadid are amongst those who have launched their own makeup lines this year–Rihanna still rules. Now, we just have to wait and see if Rihanna out-earned Kylie Jenner, too.
Everything You Missed at Rihanna's Delightful Fenty x Puma Fashion Show
Inside the Fenty X Puma show by Rihanna at the Park Avenue Armory on Sunday night during New York Fashion Week. Photo by Serichai Traipoom for W Magazine.

SERICHAI TRAIPOOM
Inside the Fenty X Puma show by Rihanna at the Park Avenue Armory on Sunday night during New York Fashion Week. Photo by Serichai Traipoom for W Magazine.

SERICHAI TRAIPOOM
Inside the Fenty X Puma show by Rihanna at the Park Avenue Armory on Sunday night during New York Fashion Week. Photo by Serichai Traipoom for W Magazine.

SERICHAI TRAIPOOM
Inside the Fenty X Puma show by Rihanna at the Park Avenue Armory on Sunday night during New York Fashion Week. Photo by Serichai Traipoom for W Magazine.

SERICHAI TRAIPOOM
Inside the Fenty X Puma show by Rihanna at the Park Avenue Armory on Sunday night during New York Fashion Week. Photo by Serichai Traipoom for W Magazine.

SERICHAI TRAIPOOM
Inside the Fenty X Puma show by Rihanna at the Park Avenue Armory on Sunday night during New York Fashion Week. Photo by Serichai Traipoom for W Magazine.

SERICHAI TRAIPOOM
Inside the Fenty X Puma show by Rihanna at the Park Avenue Armory on Sunday night during New York Fashion Week. Photo by Serichai Traipoom for W Magazine.

SERICHAI TRAIPOOM
Inside the Fenty X Puma show by Rihanna at the Park Avenue Armory on Sunday night during New York Fashion Week. Photo by Serichai Traipoom for W Magazine.

SERICHAI TRAIPOOM
Inside the Fenty X Puma show by Rihanna at the Park Avenue Armory on Sunday night during New York Fashion Week. Photo by Serichai Traipoom for W Magazine.

SERICHAI TRAIPOOM
Inside the Fenty X Puma show by Rihanna at the Park Avenue Armory on Sunday night during New York Fashion Week. Photo by Serichai Traipoom for W Magazine.

SERICHAI TRAIPOOM
Inside the Fenty X Puma show by Rihanna at the Park Avenue Armory on Sunday night during New York Fashion Week. Photo by Serichai Traipoom for W Magazine.

SERICHAI TRAIPOOM
Inside the Fenty X Puma show by Rihanna at the Park Avenue Armory on Sunday night during New York Fashion Week. Photo by Serichai Traipoom for W Magazine.

SERICHAI TRAIPOOM
Inside the Fenty X Puma show by Rihanna at the Park Avenue Armory on Sunday night during New York Fashion Week. Photo by Serichai Traipoom for W Magazine.

SERICHAI TRAIPOOM
Inside the Fenty X Puma show by Rihanna at the Park Avenue Armory on Sunday night during New York Fashion Week. Photo by Serichai Traipoom for W Magazine.

SERICHAI TRAIPOOM
Inside the Fenty X Puma show by Rihanna at the Park Avenue Armory on Sunday night during New York Fashion Week. Photo by Serichai Traipoom for W Magazine.

SERICHAI TRAIPOOM
Inside the Fenty X Puma show by Rihanna at the Park Avenue Armory on Sunday night during New York Fashion Week. Photo by Serichai Traipoom for W Magazine.

SERICHAI TRAIPOOM
Inside the Fenty X Puma show by Rihanna at the Park Avenue Armory on Sunday night during New York Fashion Week. Photo by Serichai Traipoom for W Magazine.

SERICHAI TRAIPOOM
Inside the Fenty X Puma show by Rihanna at the Park Avenue Armory on Sunday night during New York Fashion Week. Photo by Serichai Traipoom for W Magazine.

SERICHAI TRAIPOOM
Inside the Fenty X Puma show by Rihanna at the Park Avenue Armory on Sunday night during New York Fashion Week. Photo by Serichai Traipoom for W Magazine.

SERICHAI TRAIPOOM
Watch: 9 Famous Kids Who Ruled the Runway at New York Fashion Week 2017