Viola Davis Loves That Rihanna's Fenty Beauty Has the Perfect Shade For Her
She's a fan of the 40 foundation shades.
---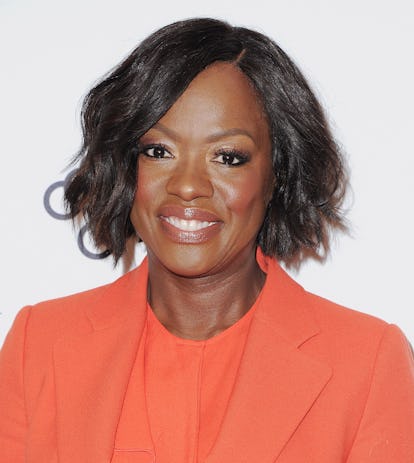 Jon Kopaloff/FilmMagic
Rihanna may not have released any new music this year but she's still dominated it thanks to Fenty Beauty. The line has garnered countless fans and one of them is Viola Davis. Like many others — who were quick to praise Fenty Beauty before it even arrived thanks to the brand's commitment to inclusivity, from the marketing to the actual products — the actress is here for its unprecedented 40 shades of foundation.
"The thing about Fenty, which I own, is that I can get a base makeup that is exactly my skin tone," Davis told Refinery29. "I don't feel like I have to get something five shades lighter, or mix two shades together in order to get my shade. And it feels like my natural skin. It's full coverage, and I'm honored by the fact that I'm recognized in this beauty line. I thank Rihanna for that. As opposed to going to a drugstore and another drugstore, especially if you're somewhere in like, I don't know, Montana where you can't find anything for you," she said. "It makes you think then, Ok no one is thinking of me. It's something that I struggled with a lot.""
Viola Davis' words echo Rihanna's explanation of why she wanted to create foundations that work for so many different individuals. "I wanted things that girls of all skin tones could fall in love with," she said earlier this year. "In every product I was like, 'There needs to be something for a dark-skinned girl; there needs to be something for a really pale girl; there needs to be something in-between.' There's red undertones, green undertones, blue undertones, pink undertones, yellow undertones—you never know, so you want people to appreciate the product and not feel like: 'Oh that's cute, but it only looks good on her.'"
Obviously, Rihanna's approach has worked. Outside of the fact that many of the darker shades sold out at Sephora immediately, Fenty Beauty also has the numbers to back up its success. Last month it was revealed that the brand raked in an incredible $72 million in earned media value just during its first month. And, listening to fans like Davis explain their personal connection to Fenty Beauty, it's easy to see why.
Related: How Rihanna's Fenty Beauty Is Ushering in a New Era of Inclusivity in the Beauty Industry
Everything You Missed at Rihanna's Delightful Fenty x Puma Fashion Show
Inside the Fenty X Puma show by Rihanna at the Park Avenue Armory on Sunday night during New York Fashion Week. Photo by Serichai Traipoom for W Magazine.

SERICHAI TRAIPOOM
Inside the Fenty X Puma show by Rihanna at the Park Avenue Armory on Sunday night during New York Fashion Week. Photo by Serichai Traipoom for W Magazine.

SERICHAI TRAIPOOM
Inside the Fenty X Puma show by Rihanna at the Park Avenue Armory on Sunday night during New York Fashion Week. Photo by Serichai Traipoom for W Magazine.

SERICHAI TRAIPOOM
Inside the Fenty X Puma show by Rihanna at the Park Avenue Armory on Sunday night during New York Fashion Week. Photo by Serichai Traipoom for W Magazine.

SERICHAI TRAIPOOM
Inside the Fenty X Puma show by Rihanna at the Park Avenue Armory on Sunday night during New York Fashion Week. Photo by Serichai Traipoom for W Magazine.

SERICHAI TRAIPOOM
Inside the Fenty X Puma show by Rihanna at the Park Avenue Armory on Sunday night during New York Fashion Week. Photo by Serichai Traipoom for W Magazine.

SERICHAI TRAIPOOM
Inside the Fenty X Puma show by Rihanna at the Park Avenue Armory on Sunday night during New York Fashion Week. Photo by Serichai Traipoom for W Magazine.

SERICHAI TRAIPOOM
Inside the Fenty X Puma show by Rihanna at the Park Avenue Armory on Sunday night during New York Fashion Week. Photo by Serichai Traipoom for W Magazine.

SERICHAI TRAIPOOM
Inside the Fenty X Puma show by Rihanna at the Park Avenue Armory on Sunday night during New York Fashion Week. Photo by Serichai Traipoom for W Magazine.

SERICHAI TRAIPOOM
Inside the Fenty X Puma show by Rihanna at the Park Avenue Armory on Sunday night during New York Fashion Week. Photo by Serichai Traipoom for W Magazine.

SERICHAI TRAIPOOM
Inside the Fenty X Puma show by Rihanna at the Park Avenue Armory on Sunday night during New York Fashion Week. Photo by Serichai Traipoom for W Magazine.

SERICHAI TRAIPOOM
Inside the Fenty X Puma show by Rihanna at the Park Avenue Armory on Sunday night during New York Fashion Week. Photo by Serichai Traipoom for W Magazine.

SERICHAI TRAIPOOM
Inside the Fenty X Puma show by Rihanna at the Park Avenue Armory on Sunday night during New York Fashion Week. Photo by Serichai Traipoom for W Magazine.

SERICHAI TRAIPOOM
Inside the Fenty X Puma show by Rihanna at the Park Avenue Armory on Sunday night during New York Fashion Week. Photo by Serichai Traipoom for W Magazine.

SERICHAI TRAIPOOM
Inside the Fenty X Puma show by Rihanna at the Park Avenue Armory on Sunday night during New York Fashion Week. Photo by Serichai Traipoom for W Magazine.

SERICHAI TRAIPOOM
Inside the Fenty X Puma show by Rihanna at the Park Avenue Armory on Sunday night during New York Fashion Week. Photo by Serichai Traipoom for W Magazine.

SERICHAI TRAIPOOM
Inside the Fenty X Puma show by Rihanna at the Park Avenue Armory on Sunday night during New York Fashion Week. Photo by Serichai Traipoom for W Magazine.

SERICHAI TRAIPOOM
Inside the Fenty X Puma show by Rihanna at the Park Avenue Armory on Sunday night during New York Fashion Week. Photo by Serichai Traipoom for W Magazine.

SERICHAI TRAIPOOM
Inside the Fenty X Puma show by Rihanna at the Park Avenue Armory on Sunday night during New York Fashion Week. Photo by Serichai Traipoom for W Magazine.

SERICHAI TRAIPOOM
Model Beauty Secrets:
The Best Fall Foundations to Buy Now, According to W's Editors