Katy Perry Addresses Las Vegas Shooting At New York Concert: "My Wish Is For Some Freaking Peace"
"No one's gonna steal our joy, are they?"
---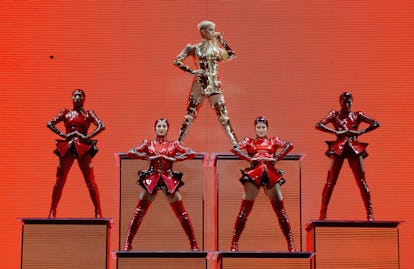 Kevin Mazur/Getty Images for Rogers and Cowan
After the deadly shooting at an outdoor concert in Las Vegas and the bombing at an Ariana Grande concert in Manchester this summer, both of which might have scared music lovers away from live events, Katy Perry is thanking fans for showing up and coming together. Last night at Madison Square Garden in New York City, Perry told the audience, "This is one of my favorite songs to sing—I want to dedicate it to you guys. You chose to come out and overcome this dumb fear…You chose to come into the community of music and to be together…and be inspired," before launching into her hit song "Part Of Me," according to People.
"This week has been crappy. This whole year has been crappy," she told the crowd, adding, "We're stronger than that. No one's gonna steal our joy, are they? We've come together tonight just to escape it all a little bit." Whether or not she's helping her fans escape the crap by bringing it up is for those concert-goers to decide for themselves. In any case, Perry's desires are clear. "My wish is for some freakin' peace! Don't ya think?" she told the audience.
This isn't the first time the politically outspoken Perry has called for community over fear. At her Tuesday show at the same venue, she told the crowd, "Listen, I know it's been a tough day. But music is special. It's magic. It's something that unites us…There's community here that we need to take care of, that we need to surround, that we need to lift up. I know we that we all feel very disconnected sometimes, but I know music brings us together, and it should never be a place of fear, right?"
Perry was also among one of the first to take to Twitter to address the devastating events in Las Vegas earlier this week, writing, "F-cking devastated, furious and heartbroken. I mourn today," joining a number of celebrities who have spoken out about the tragedy, including Celine Dion, Julianne Moore, and Gigi Hadid.
Related: Las Vegas Shooting: Jason Aldean, Celine Dion, and More Mourn Latest Senseless Tragedy
Katy Perry Confesses to Crying to Some of Her Own Songs
Katy Perry Roars for W's September Cover: "I Feel Very Free"
Photograph by Steven Klein. Styled by Edward Enninful. Hair by Shay Ashual at Art Partner; makeup by Yadim at Art Partner; manicure by Honey for Londontown at Exposure NY. Set design by Stefan Beckman at Exposure NY.
Miu Miu dress; Repossi ear cuff; Perry's own nose ring.

Photographs by Steven Klein, Styled by Edward Enninful
Katy Perry wears Saint Laurent by Anthony Vaccarello boots; Tom Ford skirt.

Photographs by Steven Klein, Styled by Edward Enninful
Miu Miu stole; Prada top and skirt; Swarovski necklace.

Photographs by Steven Klein, Styled by Edward Enninful
Photographs by Steven Klein, Styled by Edward Enninful
From left: AG shirt. Bottega Veneta dress; Delfina Delettrez ear cuff; Tom Ford boots.

Photographs by Steven Klein, Styled by Edward Enninful
Brandon Maxwell coat; Repossi ear cuff; Saint Laurent by Anthony Vaccarello boots. Beauty note: Shock hair into recovery with Moroccanoil Mending Infusion.

Photographs by Steven Klein, Styled by Edward Enninful
Miu Miu dress; Repossi ear cuff; Perry's own nose ring.

Photographs by Steven Klein, Styled by Edward Enninful; Hair by Shay Ashual at Art Partner; makeup by Yadim at Art Partner; manicure by Honey for Londontown at Exposure NY. Set design by Stefan Beckman at Exposure NY. Model: Louis Bubko at Fusion. Director of Photography: Mark Luckasavage; Lighting Director: John Torres; 3-d Scanning: Dir Dim; Producers: Jonathan Lia, Stephen Holtzhauser; Video Editors: Artem Nikitin, Alex Hammer; Video Artist: Douglas Abraham; Root Motion: Joshua Steen; Root Producer: Lynn Gaurino; Stills PostProduction: Jim Alexandrou; After-Effects Artist: Alexandre Moors; Illustrator: Michael DeWeese; Digital Technician: Tadaaki Shibuya; Lighting Assistants: John Temones, Kiri Wawatai, Tim Hoffman; Fashion Assistants: Dena Giannini, Devon Head; Production Coordinator: Sverre Wegge Gundhus