All of Katy Perry's Tireless Antics While Promoting Witness, For Better or Worse
Perry has putting her all into her new album's promotion, to the point that she's even been sleeping on camera.
---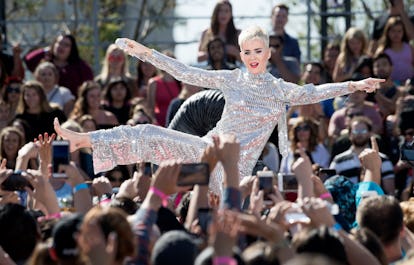 Valerie Macon/Getty Images
It's been four years since Katy Perry wore her hair in cornrows in the music video for her song "This Is How We Do," and performed at the American Music Awards dressed as a geisha, and joked to Jimmy Kimmel she was so obsessed with Japanese people, she wanted to skin one and wear them "like Versace." But it wasn't until this past weekend that Perry finally addressed the cries of cultural appropriation that have been lobbed at her for years—an offense she said she only realized she was guilty of recently, after putting questions like "What does it mean? Why can't I wear my hair that way? What is the history behind wearing the hair that way?" to one of her "empowered angels," the poet Cleo Wade, who apparently set her straight.
"I listened, and I heard, and I will never understand some of those things because of who I am. I will never understand, but I can educate myself, and that's what I'm trying to do along the way," Perry told a patiently listening DeRay Mckesson, the Black Lives Matter activist, as part of a de facto apology tour just in time for the release of her make-or-break fourth album, Witness.
McKesson was just one of the many personalities Perry summoned last weekend for "Witness World Wide," an infomercial extravaganza that saw Perry live stream the 96 hours of her life following Witness's release on Friday, June 9, to viewers across the world. In exchange, they got an up close and personal look at the pop star, whether she was sleeping for eight or nine hours at length in front of the camera or accidentally flashing her butt during a nude massage.
For the most part, though, Perry was most transparent in what she referred to the _New York Times_ as "this strange race to be the most woke." After all, Perry, as she clearly signaled to us in April by chopping off her hair and bleaching it peroxide blonde, is no longer the Katy Perry she used to be: Thanks to an awakening on election night, when she held hands with Lady Gaga at Hillary Clinton's intended victory party before things went south, as well as going "to that dark place that I had been avoiding," Perry is now revealing "her true self," as she told the Times. All of the sudden, she's been "spiritually liberated, politically liberated, sexually liberated," and all at once.
The new, "woke" Katy Perry started her live stream with some yoga and a teary therapy session with Viceland's Dr. Siri Sat Nam Singh that tackled her past struggles with self-image, alcohol—something she gave up in January—and suicidal thoughts, including how she's "ashamed of" having been that depressed. "I'm really strong as Katy Perry, and sometimes I'm not as strong as Katheryn Hudson," she said, referring to her birth name (her new haircut is an attempt to get back to that self).
But just a couple of weeks earlier, of course, she had been on Saturday Night Live with Migos, with performances of "Swish Swish" and "Bon Appetit" that brought Perry days's worth of criticism—not just for her outfit and failed dabs, but for rumors that Perry had stood by Migos when the rap group reportedly refused to spend time with the drag queens that appeared with them onstage. Perry looked determined to make up for this incident when she invited RuPaul onto her live stream, even though they just ended up discussing her religious upbringing.
Perry also hosted a spiritual Friday night dinner with Wade on the live stream, featuring guests like Wonder Woman director Patty Jenkins bonding over avocado toast and kale salad—a much calmer scene than Perry's meal on Sunday night, where guests (like the comedian Margaret Cho) came hard at Caitlyn Jenner for standing by Donald Trump.
Amid all this, Perry kept calm: The second day found her meditating, working out to her own music, recording a podcast with the newfound wellness guru Arianna Huffington, and doing yoga in a t-shirt reading "I Know Nothing," a phrase that's now her Twitter bio. As it turned out, though, she definitely does know how well her exes rank in bed: John Mayer came in at no. 1, Orlando Bloom at no. 2, and Diplo at no. 3, as she told an inquiring James Corden, who dropped by for a round of "answer a personal question or eat something gross."
For the most part, however, Perry stayed away from gossip over the course of her live stream, even declaring her love for and forgiveness to Taylor Swift—despite the fact that Swift made her entire catalogue once again available to streaming services on the same day as Witness's release. She also kept up with the (mostly) clean eating, inviting Gordon Ramsay over to make meatballs and zucchini noodles. "This is great, because this is one of my challenges and this is what I need to start doing more in life," she said of having to follow Ramsay's cooking instructions. "I need to be a listener so that I can actually truly be a great witness."
Still, Perry is partly to blame for reigniting her feud with Swift to begin with: Two weeks earlier, Perry brought back it back into the conversation by telling Corden on a Carpool Karaoke segment that "[Swift] started it, and it's time for her to finish it," taking care to add that Swift had turned down her own attempts to talk it out.
Safely after her album's release—Witness is projected to debut at no. 1 on the Billboard 200—Perry does appear to have actually moved on. On Monday, while capping off her live stream with a concert in Los Angeles, she stayed true to her word: Rather than singing the "don't you come for me" lyric in "Swish Swish," she opted for a much clunkier, less headline-friendly alternative: "God bless you on your journey." To be honest, bland, safe, harmless rhetoric sounds pretty good right now.
Watch a 7-Year-Old Interview Katy Perry: